Ah, Anna Kendrick. She had six movies come out in 2016, and I was disappointed in the five I saw. I am sad to say The Hollars, which looks great, I still haven't gotten around to.
I used to love Anna Kendrick, since I saw her in Rocket Science and Up In The Air. But her choices that don't involve singing in the movies have been bad choices, and that really just sucks.
So on that note, I wasn't rushing to see Table 19. For a lot of reasons, but even the Anna Kendrick appeal was losing its lure on me. At this point it just feels like I should just wait until Pitch Perfect 3 before trying to trust her again.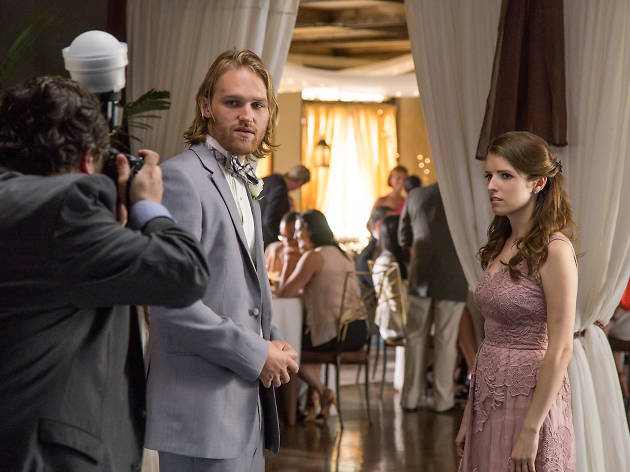 And then Kendrick might have more than one person following her around for paparazzi.
Ah the joys of a wedding. What a splendid time where people come together to laugh, sing, dance, be merry, all in celebration of the love of a couple!
Except for those who feel like they had a pity invite or shouldn't be there. Or maybe people there for alternative reasons. Or maybe you are just Eloise (Anna Kendrick). A month ago you were the bridesmaid, but you bailed out of the wedding due to an awkward situation. You are great friends with the bride (Rya Meyers), but you were also dating her brother, Teddy (Wyatt Russell), the best man. And a month before the wedding, he broke up with you over text. Oh yeah, lot of confusion now over what you should do. '
But Eloise still shows up! She decides to come anyways, for her friend, and maybe for rekindling love, but it is awkward. And she is now put at Table 19, with the random people who they couldn't put anywhere else. The people who came but really, why?
Like Jerry (Craig Robinson) and Bina Kepp (Lisa Kudrow), who own a diner, have a lose connection to a family member of the bride, and sort of hate each other. There is Renzo (Tony Revolori), a high school student looking to just get lucky, who is young and unaware of how to be social. We have Walter (Stephen Merchant), a cousin who is awkward and a criminal. And we have Jo (June Squibb), the bride's first nanny who they love so dearly, maybe.
Eloise now has to exist in misery with this group of strangers who have issues, while hoping she doesn't also accidentally ruin the entire wedding.
Also starring Andrew Daly, Amandra Crew, Charles Green, Jay Klaitz, Margo Martindale, Richard Haylor, and Thomas Cocquerel.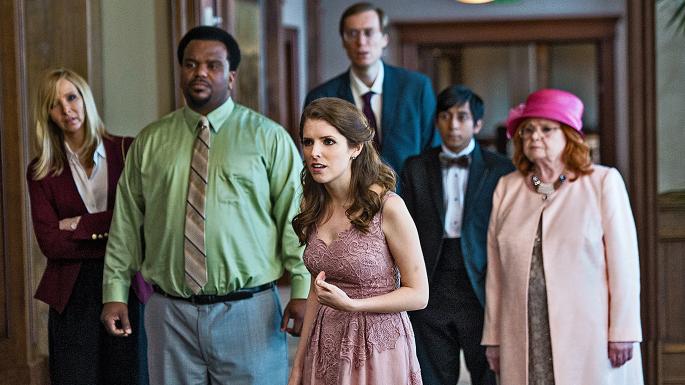 Oh my god look at these freaks and weirdos.
Table 19 is a shocking film. Not in the extreme graphic language, violence, or nudity way. Not in the amount of laughs that it provides. But how different it was from its advertising, which most people would assume is a comedy with a bunch of weirdos, doing weird stuff. But it was hardly ever funny. There were some amusing bits, but it was extremely lacking on the actual humor.
Yep, we have a drama comedy that is more drama, with a bit of romance. It just drives the film into the average territory as it goes for several genres without excelling at any of them. If you have read certain films this year that I have reviewed, like Get Out or Colossal, I praised them for their genre bending. But the difference between them and Table 19 is that when the genres change, each the movie is awesome on each level. Table 19 is just middling, where the shifting doesn't help it but hinder it.
Sure, it is realistic. But a lot of the story lines feel like missed opportunities. Kudrow/Robinson story felt like it didn't help anything, Merchant's story didn't feel finished, and Revolori's plot was just disappointing. The only other character to have a decent story was Squibb, who really brought the whole film together.
Table 19 has some cute moments and the occasional laugh. But the selling points of the film are how Kendrick and Squibb carry themselves throughout the movie, the realism they bring to the whole thing, to give the film a little bit of heart.
2 out of 4.