I imagine that if you want people to enjoy your movie, if you think you have made a fine piece of art, that you realize you need to convince them to spend money and go to see it. So you need posters, advertisements, interviews, screeners, whatever.
And part of the equation just has to be a good movie name. Something long an exciting, something that is visually appealing, just anything, right?
Stuber does nothing for me as a title. Nothing positive.
It screams like a movie I'd want to actively avoid, if I was a normal consumer. Only reason this review exists is because I was invited to watch it. If it was up to me, I would have probably avoided it forever, just on the title alone. Clever joke potential or anything aside, I just hate hate hate this title.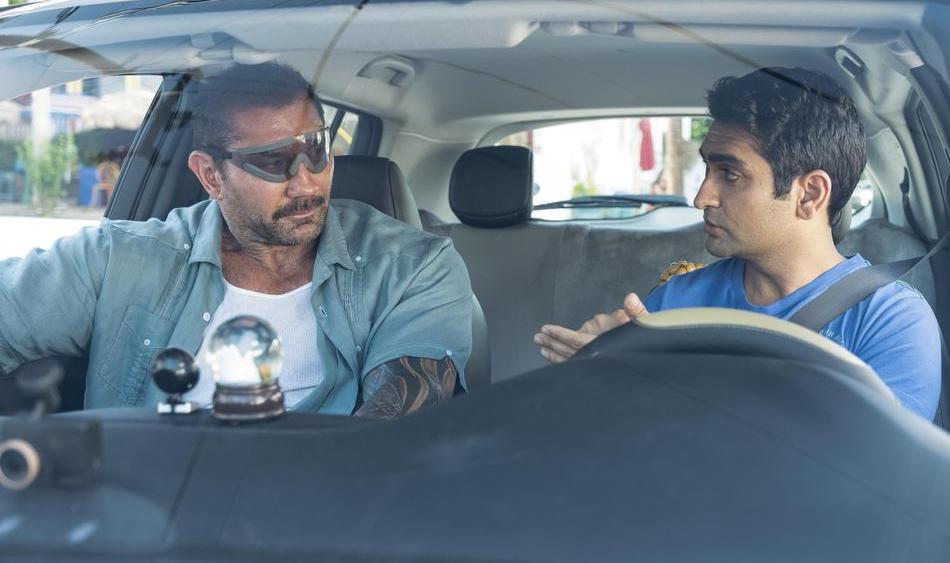 Sitting up front? That means they feel DTT. Down To Talk.
Stu (
Kumail Nanjiani
) is an Uber driver and a clerk at a sporting goods store. Yeah, big player. He isn't even a great Uber driver, which is just his side gig to make more money. He is going to start a woman's only spin cycle class with his BFF, Becky (
Betty Gilpin
), whom he is of course in love with.
Vic (Dave Bautista) has spent many months, years even, trying to bring down a drug kingpin named Teijo (Iko Uwais) in LA, bringing in the hard stuff, that heroin. After tragic events, he escapes and he still has to spend all of his waking moments thinking about Teijo. This puts a strain on his relationship with his daughter (Natalie Morales), and everyone in his life really.
Also he is getting old, and losing his eyesight. So he wants to get LASIK, which is great, minus the being blind-ish a few hours after the surgery. And that is of course when Teijo is finally able to get caught again, doing a big drug bust. Aw shucks. Good thing his daughter just taught him about Uber to get to her art show.
Also starring Karen Gillan, Mira Sorvino, Jimmy Tatro, Scott Lawrence, and Steve Howey.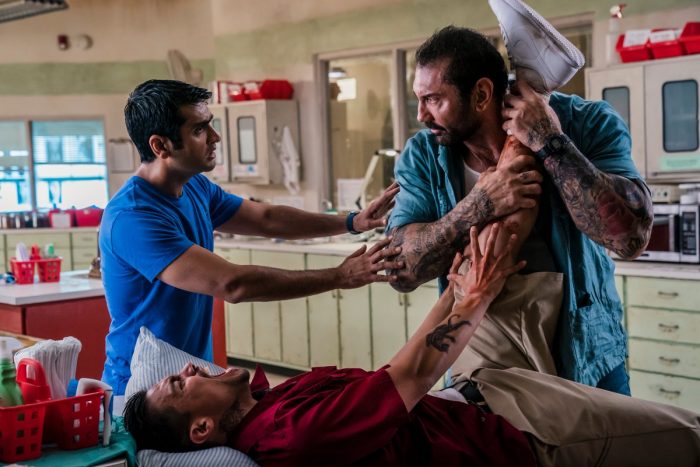 I often contemplate teaching my driver sex moves because I assume their lifestyle.
Now that I have seen the movie and I am past the title, I have to admit, the movie itself also does nothing for me.
Excessive violence can be okay, but the amount of excessive violence in this film never felt believable. It could be partially because of the cop's blindness for most of the film, but he never feels like he is a great cop, detective, anything. He is a big body that can look intimidating, but Bautista never seems to really match the role given.
On the other side of the coin, Nanjiani is also goddamn terrible. It'd be one thing if he was some sort of perfectionist character who needs that 5 star rating to keep it perfect. But holy shit, he is a bad uber driver and it makes the whole thing uncomfortable. Since he is playing such a passive character, it is hard to root for him throughout the film, just so he can show some growth by the end. But the character is just insufferable for most of it.
In Stuber, the twists are lazy, the violence is easy, and the message is missing. Don't be a bitch? Go excessively towards your goals at all costs? I have no idea. I just know it was a waste.
1 out of 4.