Alright, turns out everything I thought I knew about Sparkle was a lie. A lie! When I first heard about it, I was told that it was about a Motown era girl group, like the Supremes. One of them being Sparkle, the daughter of Whitney Houston.
Personally, I had never heard of their group, didn't know Whitney Houston had a singing daughter who was also famous, and didn't know any songs by this person. But whatever.
Well, not even a spoiler, I was way off. Topic, sure, but it wasn't Whitney Houston being a character, it was Whitney Houston just playing a mom character before she died. Oh. That explains why everyone called her Emma…and she never sang…and wasn't famous in the movie. I seriously was confused the whole movie because of this.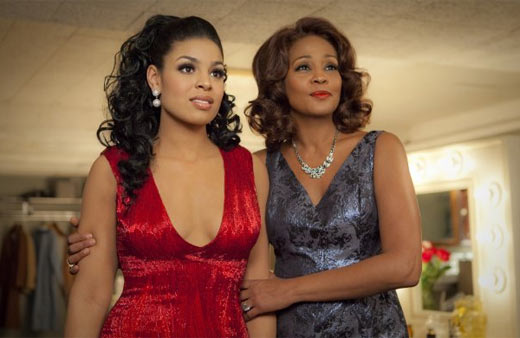 Pictured: Actual Whitney Houston playing someone, not someone playing Whitney Houston.
Sparkle (Jordin Sparks. Okay, that is unintentional maybe. This movie is actually a remake of one in the 1970s. Still weird. Also still fake) is the youngest daughter to her now single mom Emma (Houston). She is 19, while her oldest sister Sister (yes. Carmen Ejogo) is 28 and had to recently move back home due to some issues, and the middle sister Dee (Tika Sumpter) is 24. Turns out Sparkle is a song writer, and great at it, but might have some singing issues. Thankfully Sister is not shy, and performed her song at a club like a star.
Guess who else is at the club? Stix (Derek Luke) an aspiring record executive spots them at the club and becomes interested. He learns that not only did Sparkle write the song, but they all have singing talent too. So he eventually convinces them all to join him and be a singing group, yay! And it takes awhile… But here is some other issues.
Emma doesn't want her daughters getting involved. Dee is just going to do it until she has money to pay for medical school. Sparkle kind of has a thing for Stix. Sister kind of has a thing for everyone. Seriously, a potential serious mate in Levi (Omari Hardwick), and a more successful person in Satin (Mike Epps) who might also get her hooked on the drugs and beat her. Can they keep it together and get a real record deal by Larry (Curtis Armstrong)? Does CeeLo Green have more than one scene in this movie?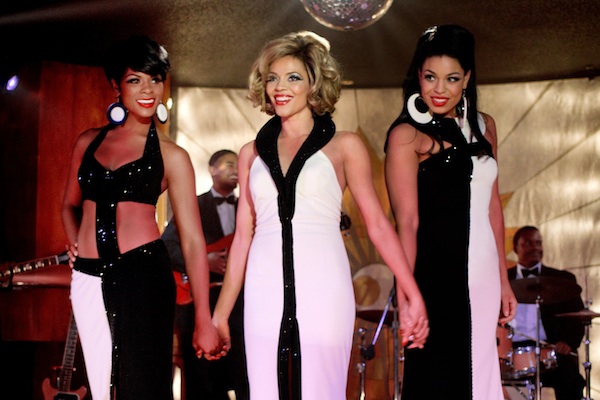 Feel free to guess on who looks like doctor, druggie, and writer.
Alright, so besides my initial confusion, I still felt like this film was a waste of time. I was incredibly bored, and this film kind of qualifies as a musical! Lots of songs in the movie. Some were nice, some were okay. But I couldn't get over the rest of the movie to just enjoy them.
I don't know how this compares to the original Sparkle, obviously, but its general description sounds like a better version of what I watched. "A girl group experiences turmoil after one of their members turns to drugs and another achieves their desired fame all by herself." That makes it seem less like Sparkle, and more about them all. After all, middle sister doesn't even care. Sparkle, by the end does succeed on her own as a solo artist (with a weird concert I also have issues with), but the other sisters don't care. The only problems come from the mom not wanting them to be famous and stick with church choirs. Boring!
This film basically put me to sleep. A lot of nothing kept happening, disguised as things happening. That is all I can really describe it as.
1 out of 4.