You see, Spare Parts is a metaphor. It both describes what they used in the movie to accomplish their goals, and what they felt society thought about them. They were leftovers, trash, extra coleslaw on the side.
Maybe I am getting ahead of myself, but you know I could have described the movie that way without seeing anything about it. That title has to work that way. As soon as I read it, my cheese factor went off, and I knew it had a double meaning.
When I read a brief description, it had every thing going for it to make a classic, and lame, "How do I reach these keeeds?" movie.
And it came out in January. I should stop before I talk myself out of even writing this review.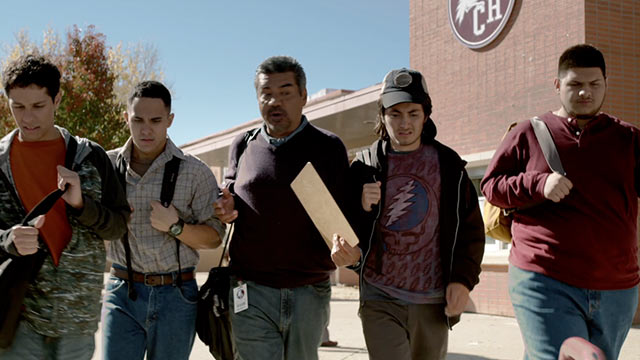 Ah, you teach the kids by taking them AWAY from school.
Let's head on over to Phoenix, Arizona, where it is hotter than hot, in a lot of good ways. There is a lot of immigration going on to, one could describe it as illegal. Like all of the main high school kids in our story. All of them are not legal United States citizens, so they don't have a lot of prospects going for them. Their futures are kind of screwed.
Oscar (Carlos PenaVega) wants to join the military, but you know, can't. So he is disappointed. For whatever reason, he wants to enter an underwater robotics competition in California. He has no team or adviser or anything. Thankfully, there is Fredi Cameron (George Lopez), a real engineer, and he is stuck substitute teaching at the school for a few months. The economy and all. He is the head of the Robotics club as per his job, but he was told no one would sign up.
So Oscar gets the idea to do the competition. They don't have to compete against colleges, there is a high school division. Talent scouts and internships can be won there, along with a whole pile of prestige. Well, only if they can get a few other guys together. So Oscar is able to find a big nerd, Cristian (David Del Rio), a tech guy who is good at cars, Lorenzo (José Julián), and the muscle, for heavy lifting and stuff, Hector (J.R. Villarreal).
But things can't just be that simple though, right? No, they really can. Here are some more cast members.
Jamie Lee Curtis plays our slightly eccentric, maybe on Xanax principal. Marisa Tomei is another teacher and new love interest of George Lopez and a huge team supporter. Alexa PenaVega gets to be random girl interested in Oscar, her real life husband. And Esai Morales gets to be the father who wasn't there for his boy and never cared about his success. The makings of a truly stereotypical true story inspirational film.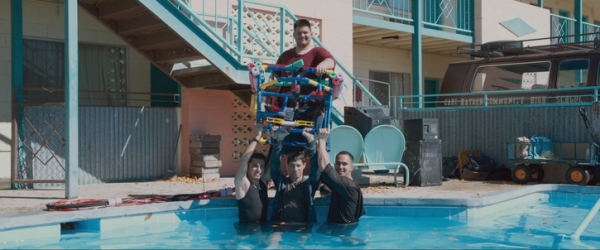 I mean, just thinking about it all makes me wet too.
If it wasn't obvious, I certainly wasn't looking forward to watching this movie. But I did it finally just to get it out of the way.
And you know what? It wasn't that bad. Wasn't bad at all. Was it full of cliches and some stereotypes? Sure, damn straight. Was the true story a bit better than the movie? Yeah, also true. Knowing some of the changes can be quite annoying. But eh, movies, yada yada, we have to get over it.
Here's the thing. The characters were pretty charismatic. At least 2 of the boys one would probably enjoy their story. The other two I didn't really latch on to, as I don't think they told as much of an interesting store. Huh, a very average amount of things that I like.
There isn't a whole lot to say about Spare Parts. You will go in knowing what to expect, and by golly, it will happen. It is a decent feel good story, where the only real difference between this and other ones is its heavy Hispanic influence.
2 out of 4.