March 8, 2012
Sharpay's Fabulous Adventure
This is the 400th movie review! Most of my milestone reviews were based off of the Twilight films, which were also reviews 150, 200, 250, and 350.
There is a clear gap in there for the theme, because when I hit 300, Breaking Dawn part 1 wasn't out yet. Well, part 2 isn't out yet either. Not even in theaters. So for 300 I instead did all of the High School Musicals.
So what is the point? Well for 400 I wanted to try and keep to some theme, if I could, which is why I present to you, Sharpay's Fabulous Adventure, the TV movie spin-off of the High School Musicals!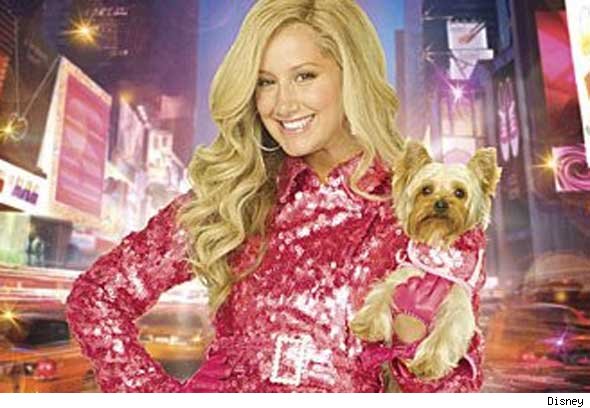 So…damn…pink.
I know what you are thinking. Or at least should be, if you saw the High School Musicals. Why the hell Sharpay?? She is of course played by Ashley Tisdale, but she is the "villain" of the series. A rich girl who thinks she deserves everything, and had most things until the new kid came around.
No one liked her, why does she get a spinoff. Why not her twin brother and that glasses chick who got into Julliard? Or that "pop it and lock it" girl that is behind the scenes in all the movies?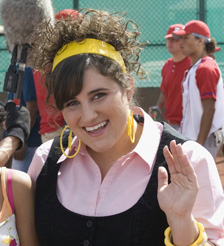 She actually went on to star in something called Fat Camp.
But no, Sharpay. Alright. It begins with her singing and dancing! Like she always does. This time at her parents country club though. Apparently this place is such a small town with no opportunity, yet a country club with filthy rich people. That would explain all the different background kids in one high school.
Yet somehow, there is a guy from NEW YORK CITY there, and he wants her to come down an audition.
After some convincing with her parents, she is allowed to go to NYC! But if she doesn't land the gig or have anything after 1 month, she must go back to the town and get a real job with her dad. Like, gross!
But the apartment she planned for doesn't allow dogs. Bitch please. She gets kicked to the curb, all her pink luggage and shit.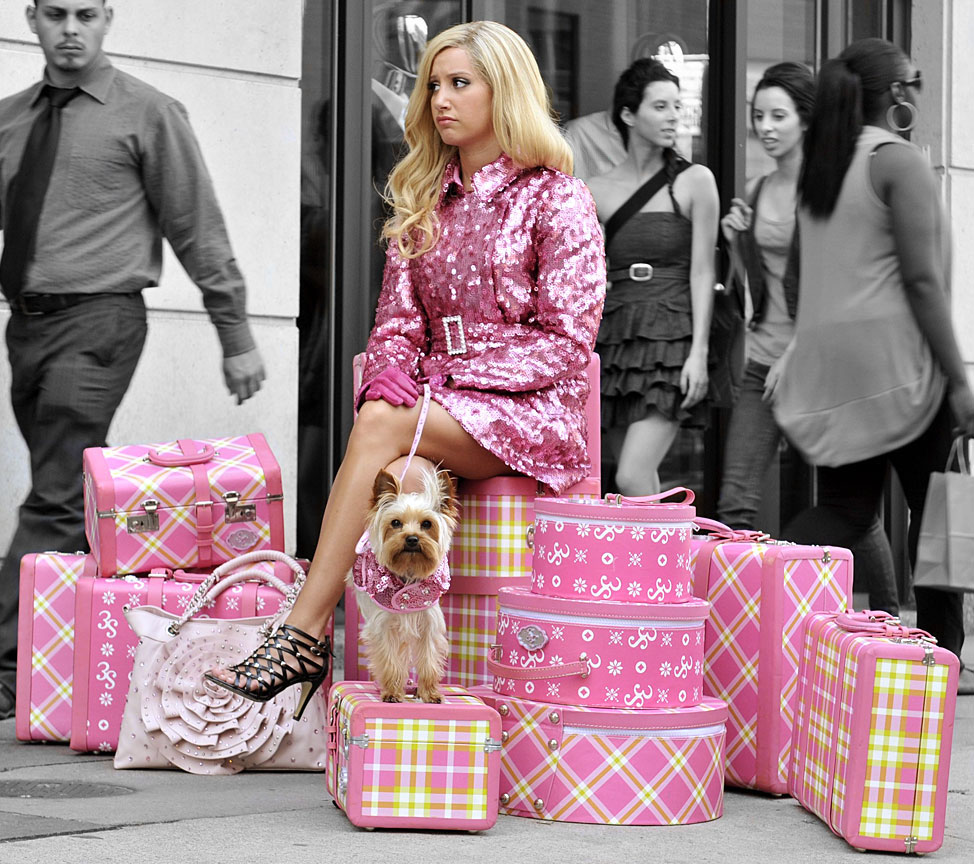 Pink luggage and shit.
Then some guy starts filming her, which often happens in NYC. Oh whats that, its her moms friends son who is in the area, and supposed to look out for her, Austin Butler?? How convenient. Speaking of convenient, he also knows of a studio apartment open in his building. Not as big, or fancy. But allows dogs.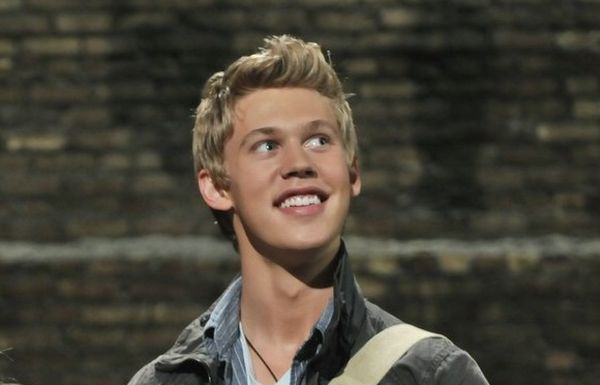 His head is actually always that shape and angle. The whole movie.
But when Sharpay gets to the audition…turns out it was for her dog instead? What the fuck. No it was not her missing the meaning, the guy in his email or in person never actually said it was for the dog. Oh well, "Hilarious missunderstanding!"
The dog will star along Cameron Goodman, a fake broadway celebrity, in "A Girl's Best Friend", about a girl and her dog with big dreams of making it big in NYC. Yes. It somehow mirrors Sharpay's life. The directors (Alec Mapa and Jack Plotnick) like her dog a lot, but unfortunately the little boy, Bradley Steven Perry, and his dog are also kick ass.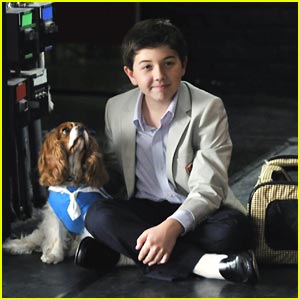 Pictured: Spoiled rich kid with talented dog, who is not Sharpay.
So the directors do the only thing they know how. Cast both dogs, until one is clearly better. Causing them to compete and play jokes on each others time to shine. Stay classy, Sharpay.
Sharpay even becomes the personal assistant to Cameron, hoping to get on her good side. But it turns out, Cameron is a huge bitch. She hates the whole idea, and the dogs. Hell, on the day before the main dress rehearsal, she tries to cut out the dog part completely. What?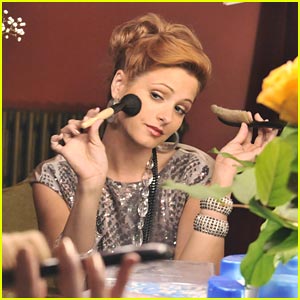 That powder is made from puppies.
So Sharpay eventually goes off on Cameron. Telling her all she learned about how much of a bitch she is (and Sharpay used to be). The star storms off, and Sharpay is kicked out. But thanks to Austin filming her all the time, they find out Sharpy knows all of the scenes for the musical, because Cameron refuses to come back at all. They quickly hire her back, as the stand in star, and she stars in her own musical! And she also isn't a bitch anymore.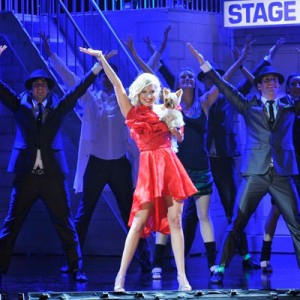 What do you mean this looks like guys and dolls?
So overall, how was the movie?
Well uhh. Surprisingly it was pretty decent. WHAT?
Yes. Taking the hated character, and giving her a spin-off with ridiculous dreams of starring in Broadway, and ending up in one with her dog. Yes. It was decent.
The plot? Not the best. The musical that she happens to get to help and star in matching her own travel to NYC? That is stupid as shit. The final song didn't even sound that good. Tisdale's voice is not good enough to star in a Broadway thing. (She was a last minute replacement for this one. But we are to assume she stayed a star.)
There wasn't as many songs as I expected. Pretty much two near the end, the opening number, and Sharpay/the kid both auditioning singing the same song with their dog. There was some other "popular music" in it, but they were covers. For some reason, the guy who played her twin in the HSMs did a cover of Baby in the background.
But despite all this, for a character so fake and uncaring, some how her transformation into a kinder person seemed real. You believed she had changed her ways, if only because there was a bigger bitch in town. She was even willing to risk her whole "Career" and go back home to do a real job, just to do what was right.
Of course then you can get into how unnatural the plot unfolded. So the bad set up was a big part of the blame. The just okay music was disappointing. But, somehow I liked the last half.
2 out of 4.