January 13, 2012
Serious Moonlight
When I saw the cover of Serious Moonlight I thought it looked like a dumb Romantic Comedy. I mean, it really had nothing going for it. I clearly didn't look too closely, or else I would have noticed something very amiss.
Regardless, the reason I originally picked this movie to watch is because I liked the secondary actors more than the main ones. Dont worry, if they werent in the movie, I would have probably still watched this movie, but more likely months from now instead of right now. I get to have some control over what I watch!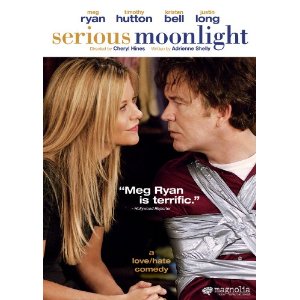 You readers are smart. You can probably figure out the amiss part. I totally missed it.
Timothy Hutton is the main guy and he in his house, with tons of flowers and leading a path of rose petals to the bedroom. His wife, Meg Ryan, will be there tomorrow from a business trip, and he wants to surprise her. With a note. Telling her that he is leaving her, to go to Paris, and to feed his fish. Damn. But in the middle of the note, she returns home early, and he is like…shit.
She quickly becomes sad at the news, and demands that he stay put so they can talk about this and work it out, but he refuses. He doesn't care. So she gets mad and throws one of the vases at him knocking him out. Whoops. He then wakes up and he is duct tapped, very solidly, to a chair, with Meg Ryan vowing to win him back and will convince him to stay home.
Holy shit Meg Ryan is crazy in this movie. But you already figured that out. Turns out he was seeing someone else, a much younger woman, Kristen Bell. (Good choice, sir). Well. Eventually more shenanigans happen, and he is transferred to being duct taped to the toilet (this way he can pee. Problem solved). But when Justin Long eventually comes to the house to mow the lawn, seeing the vulnerable position they are in, he decides he is going to rob the place. Knocks out Meg Ryan, and ties her up too, while making the house his own.
Oh man!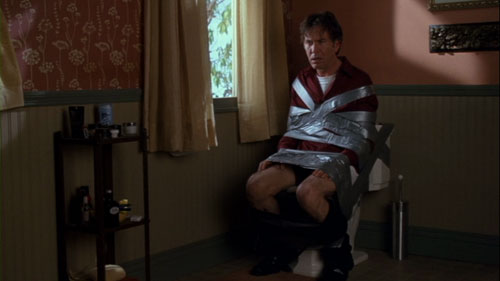 Really, the toilet thing is just a smart idea.
So, the best people in the movie ended up being the main two stars. I knew Kristen Bell and Justin Long's roles wouldn't be as big, but man, Meg and Timothy really took the cake. They felt so believable as a couple that was on its last ropes, their conversations with each other felt so real.
The movie has problems though. I figured I knew how it would end about halfway through, taking away some suspense. And if they get back together, I can't help but think it won't last long. After all, the guy really hated their marriage, and it seemed like unfixable problems at that point, so I feel like they will just pop back up again later, making him miserable. Or at least more sneaky if he decides to leave again.
3 out of 4.