January 12, 2017
Search Party
With only five reviews a week, it is hard to really get to watch those obscure weird films. Especially around Oscar time. But damn it, I sometimes have to just force a review into the schedule. Even if no one has heard of it. Even if I watch it and write it but take over a month to find a place to publish it
That is probably what is going to happen with Search Party.
Despite semi famous individuals in it, it was secretly brought out this year with hardly a whimper. In fact it was supposed to come out in 2014 but got delayed two years because they didn't feel like it.
And now that it finally has gotten released? Well there is a television show of the same name, making it that much harder to find. I wonder if that was on purpose…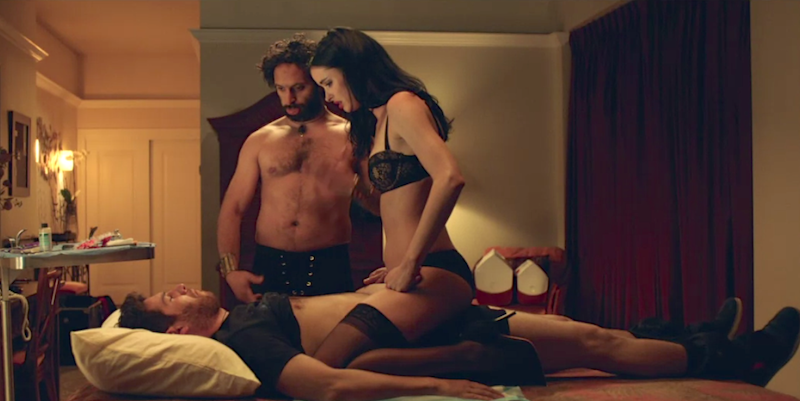 Despite what it looks like, no, this isn't even a sex comedy.
Nardo (Thomas Middleditch) is totally getting married tomorrow! To Tracy (Shannon Woodward) and he is as happy as ever. Of course, the night before he is getting high in a van with his two friends, Jason (T.J. Miller) and Evan (Adam Pally), but it is okay. He made the mistake of wondering out loud if he was making the wrong choice, but that is normal pre-wedding jitters and no one goes out of there way to care about them.
Except, Jason does go out of his way. He thinks about it long and hard, but he decides no, Nardo doesn't want to get married, he has to break it up during the ceremony and stop it from happening. And stop it he does, feeling like a hero.
So Tracy is upset and goes on the honeymoon alone, to Mexico, taking both tickets, leaving Nardo with his friends. But damn it, Nardo wanted to get married. So he is upset, everyone goes back to their lives.
And later that night, Jason gets a phone call from Nardo, who is naked and alone in Mexico. Apparently he his car stolen and they took his tuxedo as well, and now he needs help. So Jason picks up Evan sort of against his will (he has a side plot line involving his job, and his boss (Lance Riddick) and coworker (Alison Brie)) and they head to Mexico to find Nardo! Well, search for him. And they plan on partying a little as well. Search Party.
Search Party also features Octavio Gómez Berríos, Maurice Compte, J.B. Smoove, Rosa Salazar, Krysten Ritter, and Jason Mantzoukas.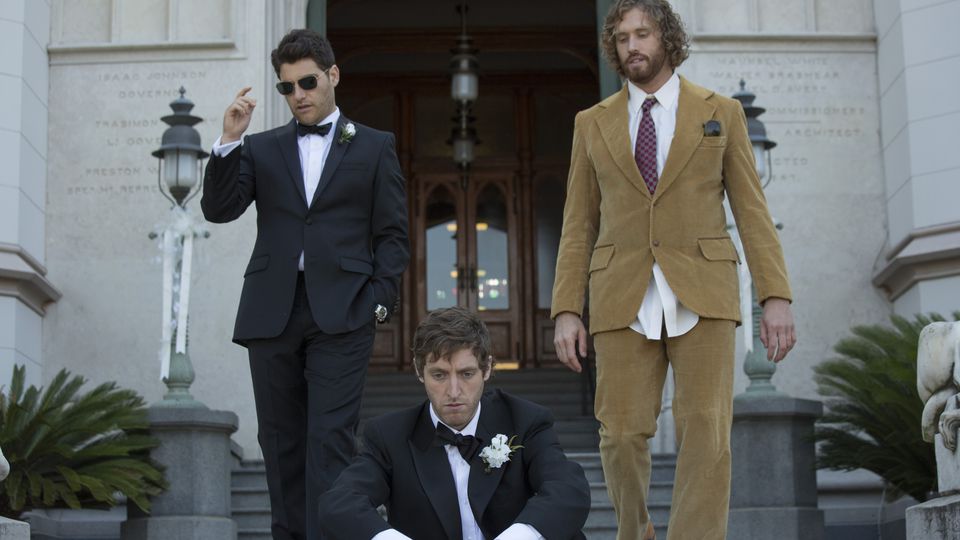 The wedding was doomed to fail because they didn't go with the cummerbunds.
Search Party seems like a movie that wanted to take a format similar to The Hangover, but zanier and with cheaper stars. Two guys from Silicon Valley and one from Happy Endings, brilliant!
Well, no. It feels like bad joke after bad joke. And the jokes they choose to tell go on so long. We get a kidney stealing joke and it is one of the major points of the film, but it isn't funny.
Middleditch is actually the worst here. Miller and Pally have to carry most of the story while bad things happen to Middleditch and he does a terrible job of carrying on his own plot. It is just high pitched squeals and constantly freaking out, coupled with poor decisions.
At least Miller and Pally develop some amount of chemistry, no matter how bad or forced it seems. I don't know if switching the roles around so that Miller/Middleditch got to interact more would be better, because apparently this thing was filmed either right before Silicon Valley or shortly after it started. But they didn't feel like a group of old friends, but instead people who hated (and reluctantly put up) with each other.
And you know what? If your jokes suck and your friendship doesn't really work, the movie is just doomed to fail. This film was pushed back because they knew it sucked. But apparently also this year is a similar film called Joshy with some of the same actors. I don't even.
1 out of 4.