October 20, 2019
Satanic Panic
It's Spooktober, so it is time to watch a lot more horror movies and actually get off my ass and review them. Especially if those horror movies aren't super mainstream, because I will be honest, there aren't really any coming out this month? Where the hell are the horror movies? Is it too cliche to come out in October now?
Satanic Panic came out last month to VOD, and I am surprised it didn't get a theatrical release. Based on the name alone, it could have gotten a lot of people in the theaters.
Comedy horrors don't always pack the seats in, and its mostly unknown people, and sure maybe religions groups would boycott, and maybe it wouldn't get an R rating as easily if it planned to go to theaters. Oh okay, I guess it makes sense to be straight to video.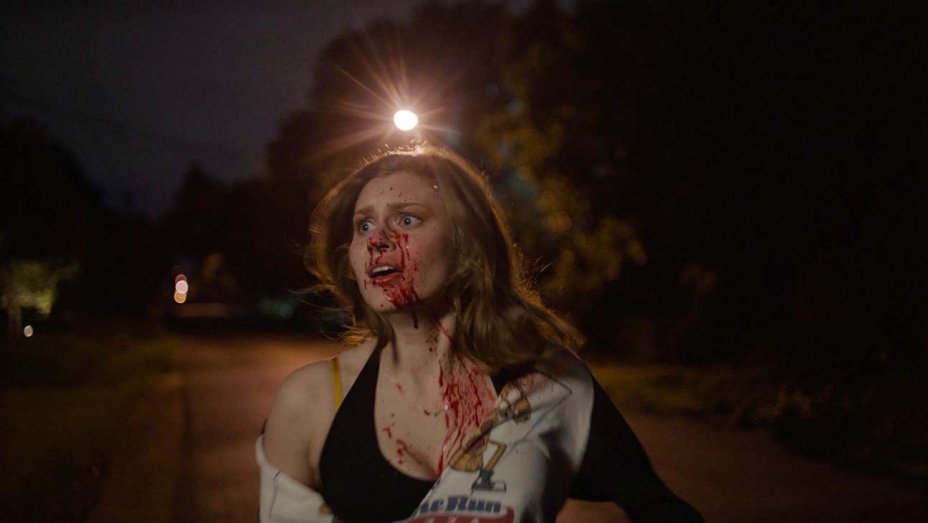 Here is the panic!
Gypsy (Arden Myrin) is just down on her goddamn luck. She has a little scooter, just got a job delivering pizzas, but really has no other assets. She needs money for gas and to build up funds to finally better her life. But it turns out, people suck at tipping and delivering pizza is a lame as hell job.
And Gypsy gets really annoyed when she delivers a really big order to a mansion, and gets absolutely nothing extra. Shit. She is almost out of gas. She can't find the guy who paid for the pizza, but barges in anyways and sees some sort of meeting going on, led by some sort of inspirational speaker, Danica (Rebecca Romjin). Lot of red.
Next thing she knows, she is locked in a room with some man (Jerry O'Connell). She is going to be part of a ritual? To be sacrified? For a demon?
No way. That's all made up shit. Rich people are crazy.
Also starring Hayley Griffith, Ruby Modine, and AJ Bowen.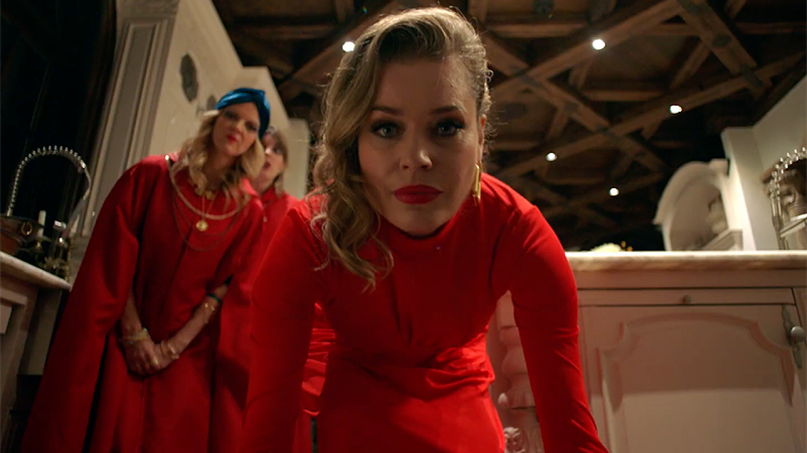 Here is the Satanic!
Satanic Panic is very graphic, as graphic as the name implies it should be. Gore, sex, creepy ritual shit. A lot of deaths and red. It is not something those with the faint of heart would watch. But of course, it is a comedy, the extreme nature of these deaths is part of the fun and the reason you'd want to see.
The characters involved are all okay. They give appropriate levels of freakout and evilness. It is definitely a film where the women are here to shine showcase their talents.
Overall, it is exactly what it set out to be. An enjoyable experience, with a lot of surprise deaths. I will note that being a pizza delivery person appears to be a very unsafe job. We had this VOD film about them, and last year we had another VOD film in Slice. Why do they gotta scare us so much of the time as delivery people? I don't want to be killed when I am just trying to make a buck.
3 out of 4.