November 14, 2014
Rosewater
I don't often use the democratic process when working on my website, but I like to keep things interesting. Because I only go to 1 pre-screening a week now, I have to sometimes make difficult decisions on what I want to watch now and watch later. I had FOUR choices this weeks of screenings, and since none of them were Foxcatcher, I took to Facebook and Twitter to let the people decide.
And overwhelmingly, the people decided on Rosewater.
Like most people, the only thing I knew about Rosewater is that it was directed by Jon Stewart. And that is it. Current events be damned, sometimes I don't keep up with all of the happenings all around the world.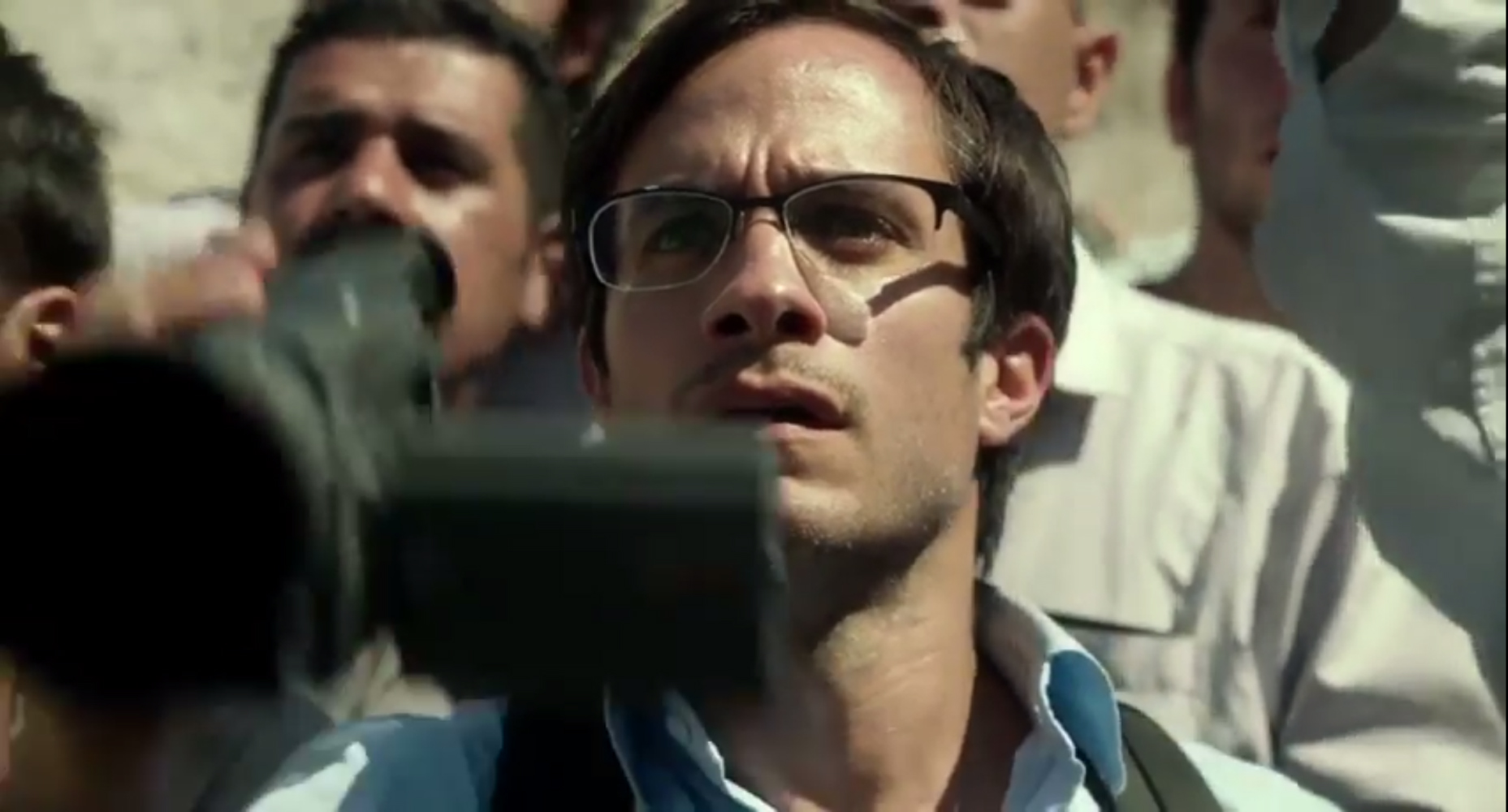 Don't look too shocked, I am just super America-centric.
Rosewater is the true story of journalist Maziar Bahari (Gael García Bernal), a guy who worked for Newsweek in London. Mazier was born in Tehran, Iran, but he left it to go to Canada to get the college education and has mostly stayed away since then. Now, in London, he has a pregnant wife (Claire Foy) and things are looking good. They are sending him to Iran to cover a new election. It is a big one, because a dude who has been there forever and very religious might actually lose the election. The people are clamoring and demanding change, so they are going to maybe elect a professor who wants to help his country grow.
Very exciting times.
But while there, he ends up hanging out with some activists who are really anti the current Iranian government. Thanks to them, he can see Iran as it really is, with the protests and the underground movements. And when the conservative guy wins again? Iran blows up. Figuratively. Protests, anger, rah rah rah. Now Maziar is there a lot longer than he expected. Oh well. As long as he doesn't do anything illegal, he should be good.
Well, he gets locked up anyways. Just for filming and showing it on the news. And he gets called a spy. And he has to stay in solitary confinement, with blindfolds, for almost 120 days, while they mentally torture him believing him to be an American spy. Weeee~
Also featuring Kim Bodnia, Dimitri Leonidas, Haluk Bilginer, Shohreh Aghdashloo, and Golshifteh Farahani.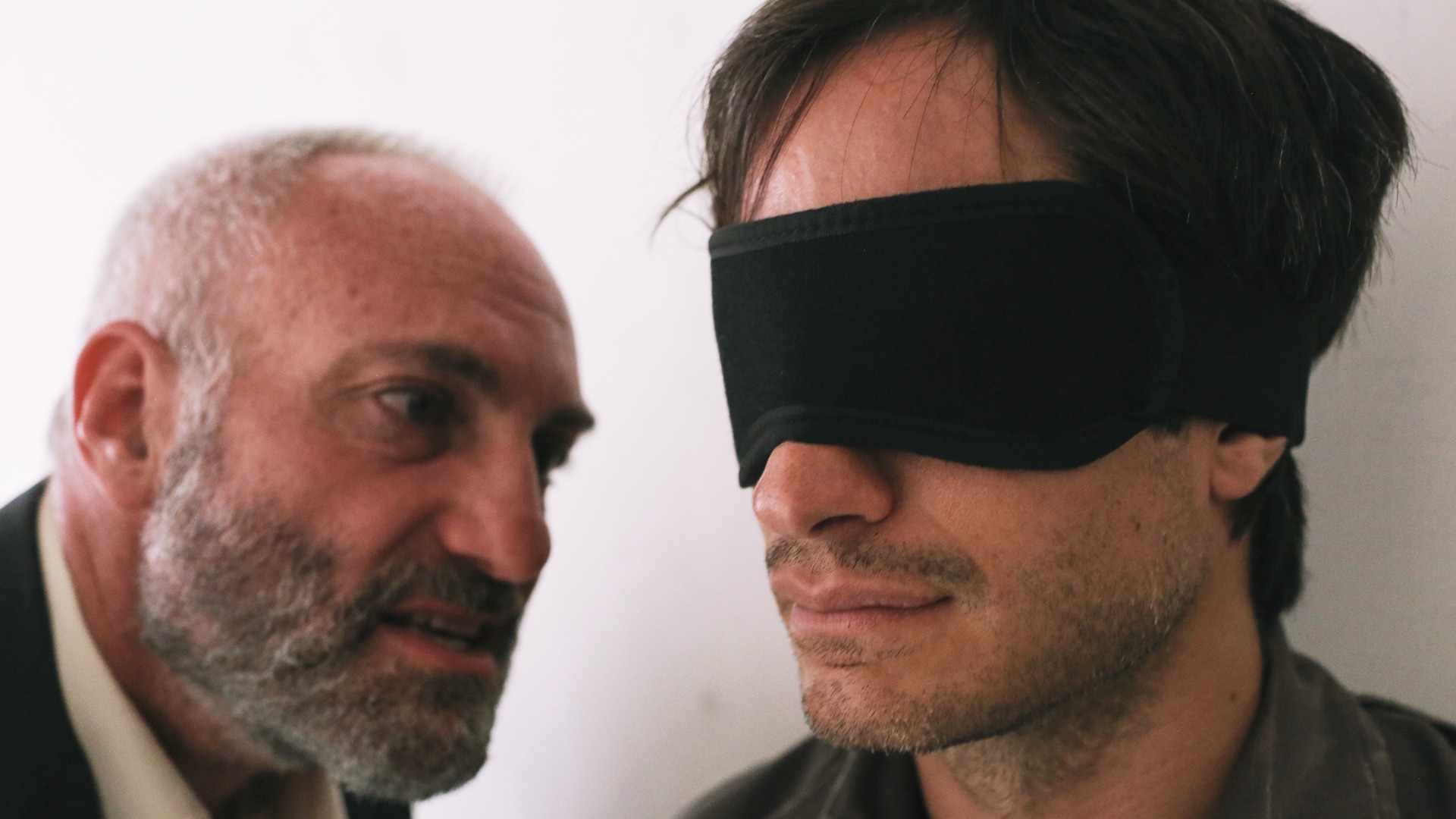 He probably got a lot of sleep with that thing too.
In case you didn't know, the reason why Jon Stewart felt compelled to tell this story in movie form is because The Daily Show had ties to Maziar. Maziar was interviewed by The Daily Show when he was in Iran for this election in which he was jokingly called a spy along with other terrorist jokes. The Iranian government used that interview as part of their proof that he was in fact a spy, despite the nature of the show. Yeah, Jon probably felt pretty bad. But they go over that in the movie.
In case you didn't know where the title came from, Rosewater is a scent and the main interrogator for Maziar had that type of cologne or whatever smell on him. However, awkwardly enough, the movie didn't really explain or say that, from what I can tell. Just a small snippet about it at the beginning and then never really brought it up again. Seems to be an important point.
Rosewater really is just an average movie. I liked the cinematography, but the aspects of it as a complete film are probably Jon Stewart's faults. It felt like a movie 10 years ago showing the few "social activism" scenes, like trending hashtags and news reports about his situation. They stood out way too much and seemed like a way to escape the film and the horrible conditions Maziar was in. Because of the frequent interruptions and weird way to present his imprisonment, I rarely could connect with him. It just didn't feel serious enough.
I also couldn't really figure out the purpose of this is, outside of maybe letting more people know that Iran government is kind of corrupt. It was a shitty situation, but one that also kind of got resolved pretty easily and the whole thing just felt…weird. I heard there was a documentary on the same subject, it is probably a better source of information and maybe even more entertaining.
2 out of 4.