November 28, 2012
Rise of the Guardians
Holidays are now in full swing and the makers of movies are finally tired of the same old crap. Do we really need another movie about Santa or the Spirit of Christmas? Or trying to explain why a bunny celebrates with eggs? How the tooth fairy is able to gather teeth all around the world? No, the consumer is tired of all of that. We need new tales, new ideas, but preferably with characters we already know. Which is probably why Rise of the Guardians will be such a success!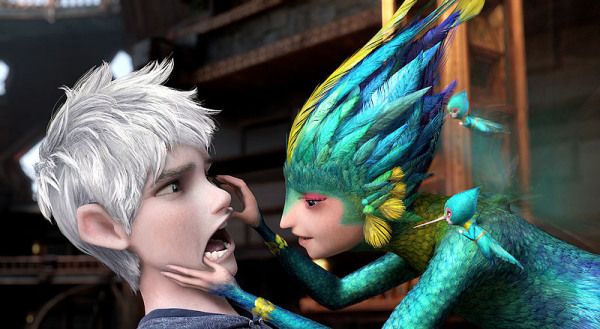 Yeah, I kind of like the Tooth Fairy in this film. I would do things, horrible things.
The Guardians are a team of holiday figures and legends who have banded together to protect the children of the world! Formed by the mysterious man on the moon, it consists of North (Alec Baldwin) aka Santa Claus, Bunny (Hugh Jackman) for Easter, the Tooth Fairy (Isla Fisher) and the Sandman (who doesn't talk).
They haven't had any problems the last 900 or so years, with the last threat being a man named Pitch Black (Jude Law), aka the Boogeyman. But they banished him so long ago, he can't cause any problems. After all, you aren't even visible to humans unless they believe in you. He still has some scary powers, just harder for him to cause wide scale havoc.
Unfortunately, those last 900 years he has been in hiding, planning to take out the guardians by making the kids of the world stop believing in them, Yes, no more happiness, only fear! Mwhaha! But then there is Jack Frost (Chris Pine), forever trapped a teenager in his weird life. No one has ever really believed in him, so he is used to being ignored. Despite that, he still tried to bring fun and excitement to the world, one snowball at a time.
Adding a new entity to the battle is not what The Boogeyman had planned for, but can some snow and ice really stop the eternal darkness? To me, personally, it seems like it would help bring upon eternal darkness. Yes, I am saying snow is dumb.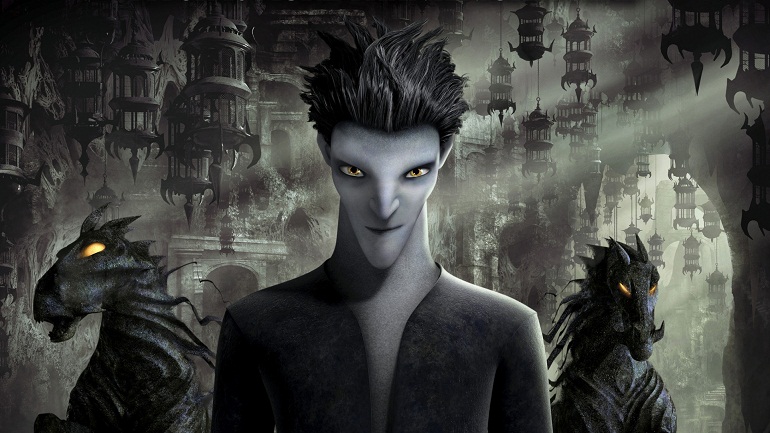 Pitch Black has a very Hades vibe going on, but darker. Probably because no fire on his head.
As I have stated before in many reviews (Tooth Fairy, Hop) I can't stand when they make a movie about holiday figures, but don't make it work in the world they created for the film. That is, why would adults no longer believe in the Easter Bunny, if he is really the entity out painting eggs and hiding them around yards? If the parents aren't doing it, then clearly it is something else. No reason for them to not believe in it, when there is plenty of evidence that they actually exist.
Besides that, there are some other plot holes. For some reason, the guardians lose their powers if kids don't believe in them. Why? Not sure, since clearly Jack Frost and Pitch Black have not had problems in the power department, despite the clear lack of belief. Arbitrary penalties for nonsensical rules.
Outside of the large plot holes, I found the movie on its own to be pleasant. The animation was almost mouth watering. I loved the attention to detail on the characters and the large fight scenes between Jack Frost, Pitch Black, and The Sandman. I think all the actors did well voicing their respective characters, especially Baldwin as a sort of Russian, extreme Santa Claus.
Oh, and yetis. There are yetis in this movie. Yetis can single-handedly save a bad movie if utilized properly (The Mummy: Tomb of the Dragon Emperor). I am sure they will be selling stuffed versions for Christmas, so I will put it on my wishlist.
Rise has great visuals and a decent storyline, as long as you ignore the prevalent plot holes. If anything, I can say it is entertaining and a movie families will definitely enjoy.
2 out of 4.