Rio 2. Did it need to happen? The first film, Rio, told a complete story. I don't remember how I felt about the movie initially, but I quickly grew to hate it.
That's right, I now hate the first Rio. The songs are terrible, the story is dumb. The songs are really really terrible. After one listen, I knew I could live without hearing them again (but of course I did hear them again). But whatever, I don't have to dwell on it.
But it got a sequel because it made money, makes sense. Now they have a family of birds, doing family stuff, and living in Brazil full time. At least this time the plot won't be an inability to fly.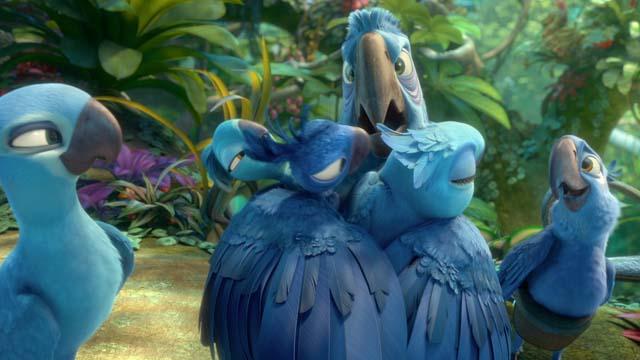 No, this time it is an inability to be fly.
Tulio (Rodrigo Santoro) and Linda (Leslie Mann), the humans, are off doing human things. Roaming the Amazon rain forest, looking for cool shit. They stumble on some cool shit, but also some bad shit. I am literally done talking about them.
Needless to say, the bird type that Blu (Jesse Eisenberg) and Jewel (Anne Hathaway) are have a huge home in the middle of the rain forest, away from humans. I mean, after all, they had to come from somewhere right? That's right, Hathaway actually voiced the same character for the sequel, unlike the travesty that occurred for Hoodwinked Too.
So they take their family and friends to find the lost tribe. Or whatever. Living in the Amazon! Yay! There they meet Jewel's dad, Eduardo (Andy Garcia) and former lover I think, Roberto (Bruno Mars). Now that Blu knows how to fly, he has to learn how to really be a jungle bird if he wants to make sure his wife still loves him…?
Oh, and uhh. Nigel (Jemaine Clement) is back, wanting revenge. He also has a poisonous frog friend named Gabi (Kristin Chenoweth) who really loves him for whatever reason. And there are loggers. And there are parrots or something that share the forest with the Blue Mckaws.
All of the random ass bird and dog characters are also back (Jamie Foxx, George Lopez, Tracy Morgan, and Will i Am) and yes, they serve even less of a purpose in this movie.
These two, plus ant eater, plus parrots, plus loggers, means like, 10,000 villains.
Rio 2 is a strange movie. Like I just said, there are so many dang villains, it just felt excessive. Because of that fact, Nigel didn't have a great send off. When his plan finally came true, it all was super rushed and then the movie ended.
The music for Rio 2 was a little bit better, but not amazing still. This franchise's problem is singability. I don't want to go and sing any of these songs later, just like the first one. Just all of them are so erratic. My favorite song was the Poison Love in which Chenoweth goes full Broadway crazy on hitting all sorts of notes. Yes, surprisingly, her character was the funniest of the whole film. She didn't even have that much time in the movie either it felt like.
I think, somehow they went even more stereotypical than the first movie. There is even a big soccer like match with the birds, including announcers acting exactly as you'd expect.
Everything else was ehh. Was hard to keep paying attention to the film, due to how pointless the plot lines felt. I hope there isn't a Rio 3 in the future, doing the Olympics or whatever in a couple of years. That will be stupid.
1 out of 4.