Well Fuck.
That is kind of what I said after watching this movie. I mean. What did I just see? Is it super deep? Is it very dumb and predictable? I don't even know!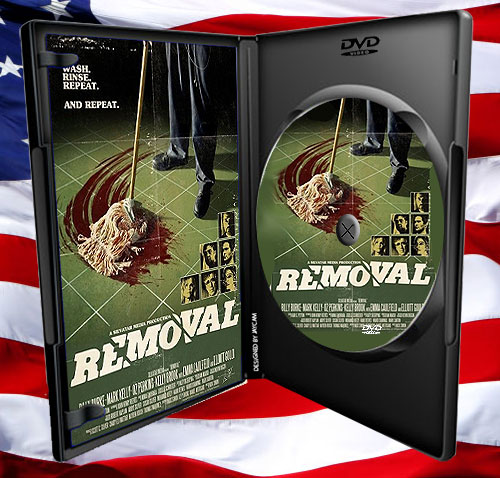 Here is a very patriotic picture of the disk?
Beginning of Removal starts off weird. Billy Burke is naked and bloody, and there is a dead woman in his shower. Also, he then kills himself when Mark Kelly(I will call Cole) shows up on the scene. He is a floor/rug cleaner.
Shortly after that we find out that Cole is kind of crazy. He has hallucinations in his head. He went therapy, but his wife doesn't feel safe and she wants him to have more. But he says screw that, he is good, too expensive.
ONE YEAR LATER.
Cole is still a cleaner. After working his third double in a row, he is forced to go to a rich guys mansion, just to do an estimate. Rich guy, Oz Perkins, however says that he will give him $5000 extra, in cash if he cleans it all that night. By himself. Sketch, yes. Especially once you find out that no one has seen the rich guys wife in weeks.
Hmm.
And really. That is all you are going to get. A lot of things happen in that night. Including surprise rooms. Possible hallucinations, possible crazy people. Who is to say really?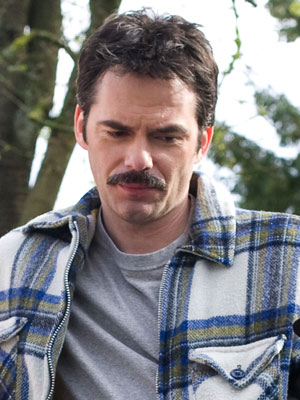 I just found out the naked dead guy also plays Bella's dad.
So there really isn't much to say. I had a hard time deciding if I liked it or not. I also had a hard time figuring out what happened. Thankfully I talked it out with my mom (Yeah!) and have concluded on what I think happened in the movie. So there is that. Some may argue the movie doesn't really end either. But I am not sure at all.
So I say it is worth the one watch. Preferably with someone else cause you will probably want to try and find out what other people thought about it. But then again, there is always me.
2 out of 4.