September 11, 2013
Remember Me
What have YOU done lately for me to remember, huh? Okay, one of you I guess was in Lost awhile ago. Went all crazy, had a baby. Then had some small pointless role in Once Upon A Time. So I can only really remember you from TV shows.
The other one? Well, you were just in Cosmopolis, and who knows what happened in that movie. You also gave Water To Elephants and kind of went passive Vampire for five movies.
Seriously. Not much to remember.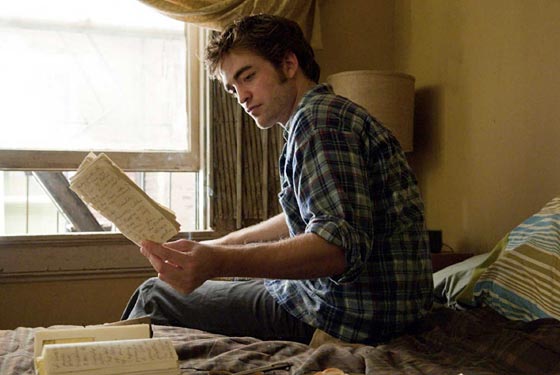 Oh wait. No. I will always remember you, Cedric Diggory.
The movie begins in 1991. A little girl, and her mom, waiting for a train in NYC. Muggers. Mom gets shot. Daughter is sad. Her dad was on the job, and could not save them.
FLASHFORWARD TEN YEARS LATER.
Ally Craig (Emilie de Ravin) is still living with her dad, Neil (Chris Cooper), who has been a NYC cop this whole time. There is some guilt there, I bet.
Meanwhile, at a different part of town, Tyler (Robert Pattinson) has moved out of his parents home. His parents are divorced. His dad, Charles (Pierce Brosnan), works in some really big building/workplace in NYC, is super rich, but has no time for his family. That is why he and the mom (Ruby Jerins, who really isn't in this movie much), got divorced. Also, because one of their sons ended up killing themselves. Eek. Now Charles is ignoring his youngest child, a daughter, and it really pisses off Tyler.
Two attractive people in broken homes in 2001. Of course they meet each other. Well, only because Tyler gets arrested by Neil, over a silly dispute. Tyler and his friend hate Neil now, so the friend finds out he has a daughter. So Tyler should totally go out with her, sex her up, and break her heart. That will show that lame cop. Yeah. Yeah.
But love, though. Love.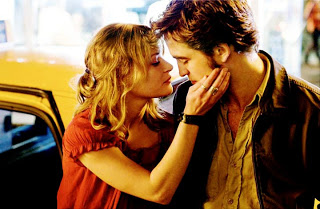 See? Love.
I reviewed this movie on purpose today, and I think I left enough hints. So if you missed them, you probably were skim reading and not paying attention to details. Probably not even a scientist! Either way, by now, you might realize something that happens in this film.
In fact, that something is basically the ending. Like a secret twist, that they were hinting at throughout.
Overall? I thought it was kind of lame, the ending. The event happens, they decide to not show any of it, and then we flash forward a year or so, to watch how all of the characters lives have changed in the meantime. It felt almost like a copout to me. I wanted more, damn it.
The rest of the film before hand I didn't think was that bad. Sure, I didn't feel too sorry for either characters situation. Neither actor really fit the role they were given, in my mind, so it was hard to believe.
But I did like the acting. Actually, I thought Robert Pattinson did incredible in this movie. Better acting from him than any other movie I have seen him in, and I have now seen NINE of them. Nine fucking movies with Robert Pattinson, holy shit. This is his top one. I think he had top notch emotions and really felt his anger over his father and family, despite not believing his role on its own.
Yeah, I don't get it either. So unfortunately, despite his great acting, I probably will not remember him for this movie, because his other roles are just too gosh darn famous. But I'd say overall, it is okay on its own, if not a little bit slow. Sorry for ruining the ending. But not really.
2 out of 4.