Honestly, with a title like Puzzle, I didn't know what the movie would be about. Certainly some sort of drama. But I could also consider a mystery or thriller. The stars could be in all of the genres!
But more importantly, I didn't know it was based on a foreign film. Not even until the credits roll was this made obvious to me. It was a 2010 film from Argentina of the same name! Well, but in Spanish.
The other film title was Rompecabezas. What an amazing word. Puzzle itself is a fun and amazing word. But Rompecabezas? Hot damn.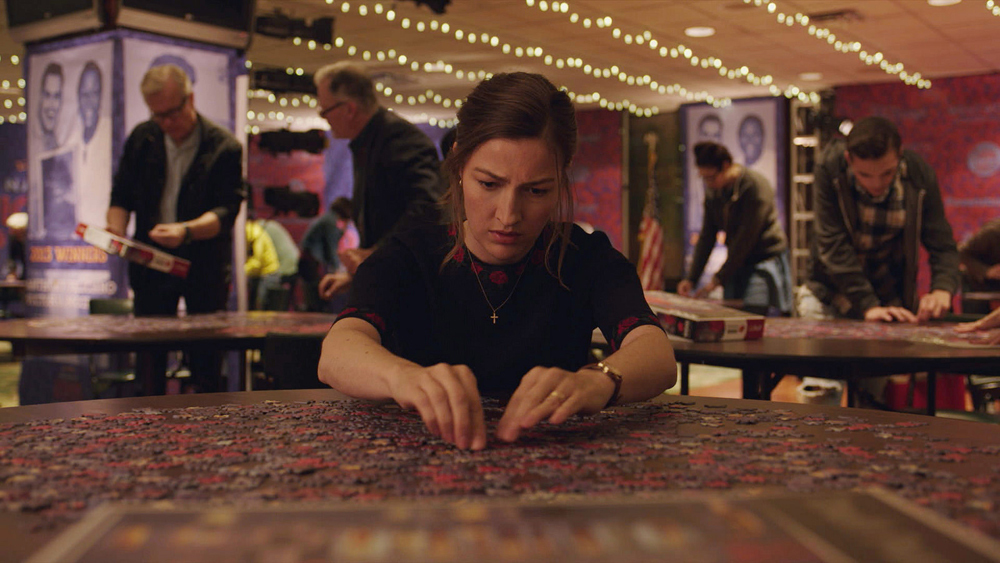 Look at all those Rompecabezas pieces.
Agnes (Kelly Macdonald) has a very unfortunate name, reserved for old ladies, and maybe that is why she in fact seems like a very old lady. She doesn't have a job of her own, or any real notable hobbies. Her husband (David Denman) owns and works an auto repair shop. He has a crew, he works every day, he works hard. He gets home and supper is on the table. Everything is taken care of at home. Agnes cleans, she prepares, she shops, she goes to church group. She doesn't need or want that smart phone for her birthday.
But someone got her a gift, a puzzle, a whole thousand pieces. And she decides to try it out. And there goes her time! Hell, she puts it together twice, because why not.
And it turns out she is really quite good at this puzzle thing. When she goes all the way to NYC to a shop to buy and look for more (because that is where the first one was bought), she finds a note that someone is a puzzle champion looking for a partner. A puzzle partner? For competition.
Agnes doesn't really do things. And this is way out of her way. And it would be with a man (Irrfan Khan). These are not things her husband would be able to understand. Not that it matters, since they have been disagreeing more lately, especially about the direction of their sons (Austin Abrams, Bubba Weiler).
No. Fuck it. It is Agnes time.
I am sure her married won't be tested at all.
Puzzle was a very simple film that had a few weird stretches, but overall gave a wonderful performance by our lead Macdonald.
Well, I guess I will give more details. Both sons played their roles well, as catalysts and having their own personality. Denman seems forever plagued to live in roles of bad husbands and lovers. It just must be that face. (Logan Lucky aside, but he was still clearly a jerk in that relationship).
But Macdonald is a goddamn quiet force in this picture. Her mannerisms, her quirks, her voice, her attitude and face, and her growth throughout the picture. It is clearly her film and her life and we are just passengers along the way. I love, love, love her performance.
And in all honesty, yes, I wish the film would have ended differently than it ended it up going. And it took me over a week to write this review, but I believe it is a great ending for her character and breaks a few cliches. A surprise in that regard.
Who would have thought that a movie about joining a puzzle competition could be so captivating? Probably the same people who made movies about spelling bees.
3 out of 4.