January 8, 2013
Promised Land
Promised Land, on first glance, looks like your typical Oscar Bait movie at the end of the year. After all, it had a super limited release on December 28, but didn't get widespread release until January. In addition to that, you can tell right off the back it has a high chance of being a super liberal movie with a clear message. We're talking George Clooney amounts of liberal here. Oh well, maybe it will be subtle about the whole thing?
Fuck.
Steve Butler (Maaaatt Damonnnn) is a closer for a natural gas company. Along with his partner, Sue (Frances McDormand), his job is to go into a community and buy the mining rights on property from the farm owners. They get a set price per acre, and a fraction of the profit they gain, while getting to keep their land for farming. Pretty sweet deal.
Heck, Steve came from a farming community himself in Iowa (what what). But once a local plant went under, the community died, their town crumbled and all was lost. He is providing these communities a safety net, and he is good at it too. But what happens when shit start to hit the fan?
A lot of negative talk about fracking in the news, and now everyone has google, so it is hard to tell who is telling the truth about the risks and why. Steve accidentally lets the community hold a vote on fracking, thanks to a persistent science teacher (Hal Holbrook). Because of that opening, all of the sudden there is an environmental group in town, trying to persuade voters just the same (John Krasinski).
Will Steve lose his mind trying to help the small town? Can he get the girl (Rosemarie DeWitt)? Why does Rob (Titus Welliver, aka The Man In Black from Lost) sell Guns, Groceries, and Guitars?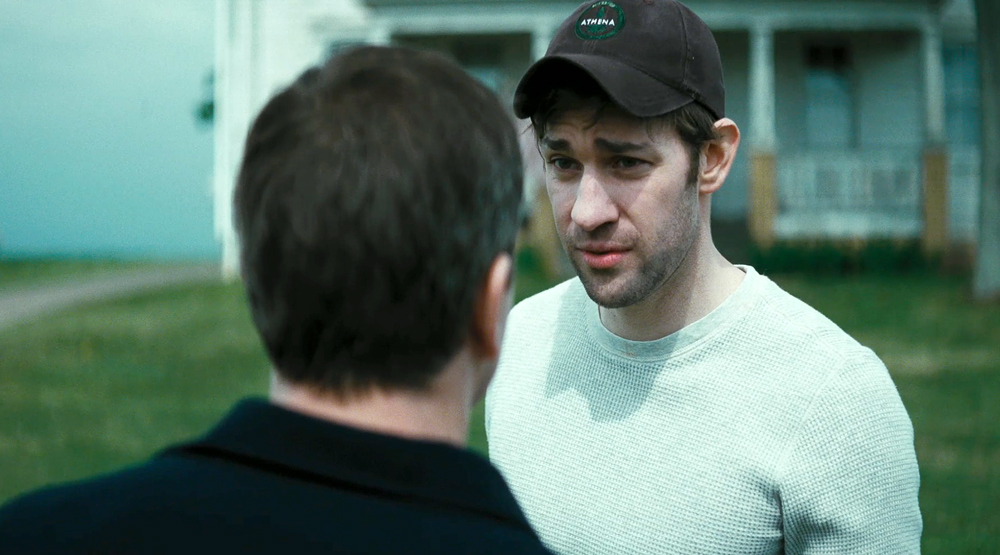 Do you really not know how this thing will end?
For a movie about fracking, this film took the strange route of not really ever talking about fracking. Heck, Damon's character is a self claimed not expert on the science, he just buys property and answers questions. They made his character not perfect, not the best speaker if he is nervous (or hungover) to give it a nice realism, but also to make it a crutch. I guess they wanted to make him look like a puppet to the man in the grand scheme of things.
The anti-fracking side doesn't do much in the use of actual science to defer the town either, both sides using specific tactics to get people trust them. Does that mean this is a fair and balanced movie on the subject? Heck no, and you shouldn't expect it either. There was a big surprise near the end, but not the ending itself. Everything I expected to happen, did happen. But the surprise I both loved and hated. It was an interesting way to take the movie as a drama, but I hated it because it felt like a cop out and a grossly inaccurate portrayal of real life, which was great up to that point.
I am almost certain this movie won't go anywhere in terms of awards, was just a meh movie by the end of it. Come on Matt, I expected better of you!
2 out of 4.