September 4, 2020
Pauly Shore (Screwball McGee) – Guest House Interview
[Editor's Note: Wow do I suck! This was a phone interview, and the phone interview didn't save record. It is the right length, but no sound at all thanks to my phone's settings. I did write notes during the answers to the questions, but not all of the wonderful detail that he gave, so these answers are going to not be as great or detailed as Screwball McGee requested. ]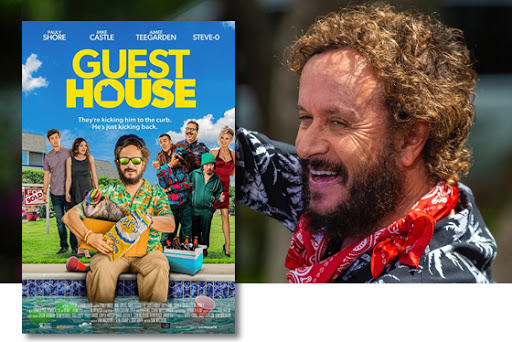 Gorgon Reviews: Thank you for this interview! First of all, would you like me to call you Pauly or Mr. Shore or something else?
Pauly Shore: I want you to call me Screwball McGee!
GR: I can do that! Definitely one to remember. Again, thank you for the interview. I want to say that I saw all of the 90's films a lot growing up, so I am a fan, but clearly my dad is a bigger fan of you, since someone had to buy all those VHS tapes. As soon as I got the interview I called him up to let him know and he is finally proud of me.
Screwball McGee: Sweet, dude.
GR: Here is the question I always ask people right away, what is the first movie you remember seeing in theaters?
SM: Ahhhh, fuck man. Let me think. It was probably the Marx Brothers. My mom would take me and Peter down to the theater, right on Sunset Boulevard. Yeah it was definitely the Marx brother films.
GR: Sorry about the recent passing of your parents by the way. You obviously got your start working in The Comedy Store your parents founded and it is said you used to open for Sam Kinison. Do you think he had the biggest effect on your comedy career? Were there other comics you idolized around then as well?
SM: Yeah for sure Sam, watching him was something incredible and unique, his emotion and energy he brought to the stage. But also at the time Richard Pryor, Eddie murphy, and Jim Carrey.
GR: When you developed "The Weasel" character for your show, was it based on someone in particular or just a fictional version of your self?
SM: Oh it is based a little on everyone, my friends, my parents, Sam, random people I've met. The community really brought him out, and I was the only doing something like that at the time, with the unique pauses between words and dialect. But I didn't go out and say "Oh, this is the Weasel idea" and make him, but it just came about all together. Like sometimes when you are setting up a one person show, you don't even necessarily know what the name of the show is until you actually make the show.
GR: Do you ever get worried that people will never be able to separate "The Weasel", from you, the real Screwball McGee?
SM: When you get older and past 50, you don't really worry about how people see you. Adam Sandler said something similar in a quote [Editor's note: Which I won't even pretend to write down, but its you know, similar.] You can be all these different things to so many different people.
GR: I guess I will talk about the movie too. Guest House felt like a more R Rated version of your early 90's work. Is that how you took it too?
SM: This is actually the first R rated film I have ever done, even though my stand up pretty R Rated.
GR: How did you land the major role in Guest House after so long away from movies?
SM: Actually, they brought me n to be like a police officer for the film, but once the director found out that they had access to me, and after he saw my interview on the Joe Rogan podcast, he wanted instead to get me in the lead spot. So he went around and just asked the whole cast and crew if it was fine and everyone loved it, and it went that way
GR: Final question, which of your old co-stars would win in a fight between Stephen Baldwin, Andy Dick, Sean AStin, or Brendan Fraser?
SM: Oh uhhhh, I think Stephen Baldwin, he is a beast.
GR: 90's Baldwin or now Baldwin?
SM: Either of them. Both of them. Have you seen him and his family?
GR: Thank you again for chatting with me barely about your new movie and more about your life!
SM: You're welcome, tell your dad I said "hey. "