July 13, 2015
Paul Blart: Mall Cop 2
The original Paul Blart: Mall Cop came out very early in 2009, which was a weird time in America. A lot of people lost their money and jobs, so they wanted entertainment to take them away from this brutal thing called life, to help them pass the time until something good finally happened.
That movie was just another kick in the nuts for America. In fact, it was so bad, no one even noticed when Observe and Report came out two months later. That ended up being the better film, but no one wanted to watch something with another mall security guard.
Now, six years later, the movie gods have decided that we have forsaken them over and over again, with shitty film after shitty film. So they have decreed there would be a sequel, aptly named Paul Blart: Mall Cop 2!
And unless we change our ways, they have even threatened us with a television show for his story to continue, guaranteed eight seasons. This news blurb came to me in a deep theater based prayer.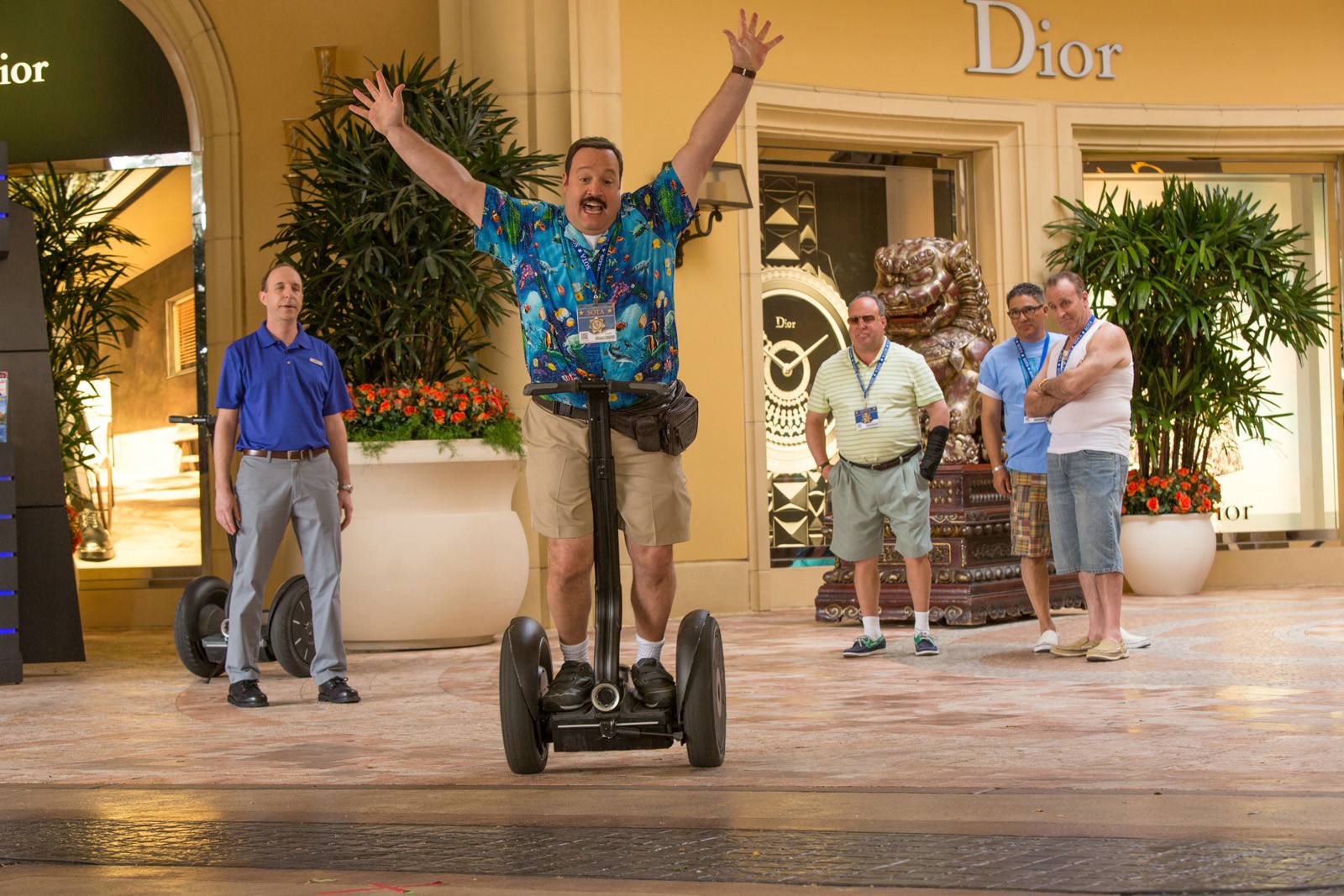 Bow down movie watching mortals and repent! For he acts for your sins!
Paul Blart (Kevin James) was lucky. That is what we have learned since the first film. Six years later he is still working the same crappy mall security job, doing what he loves. However, his wife that he met in the first film left him after six days. And then his mom died after getting hit by a vehicle while checking the mail. Yep. Everything is shit for Paul. At least he still has his daughter, Maya (Raini Rodriguez) who loves him. However, she got accepted into UCLA, and that would have her move far from home. Best to ignore that until a critical moment later in the film.
Thankfully, there is the perfect distraction. Paul gets invited to a security guard conference in Las Vegas, very exclusive, only for the best of the best!
Unfortunately, bad things are also afoot at the conference. Vincent Sofel (Neal McDonough) is there with a bunch of bad guys! They are going to steal works of art from the hotel that are worth millions! Mwhaha!
Too bad they are going to underestimate the small security guard conference sharing a hotel with them. Typical bad guys, ignoring mall security. Have they learned nothing in six years?
A lot more people here, but none of them are really important enough to talk about their characters. But they are played by David Henrie, D.B. Woodside, Nicholas Turturro, Loni Love, Gary Valentine, Ana Gasteyer, Eduardo Verástegui, and Daniella Alonso.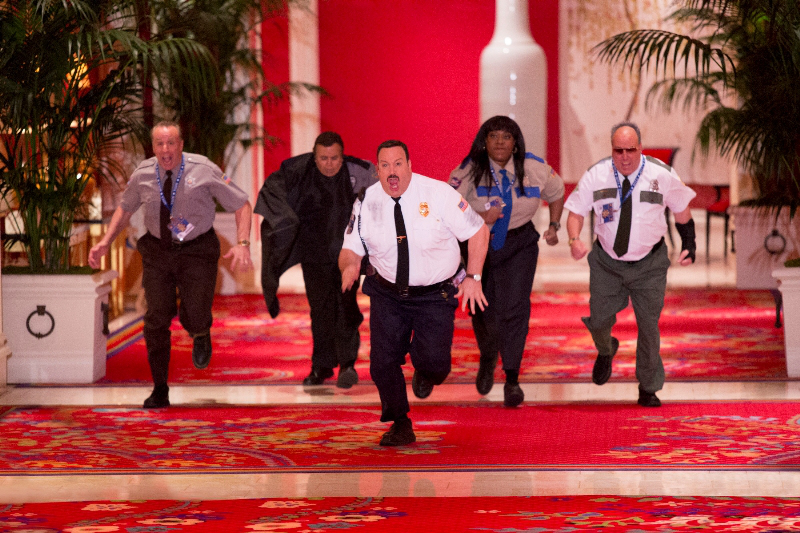 This picture makes it look like Kevin James has a tiny mouth under his real mouth.
I don't hate Kevin James, I actually like him. I am not saying he is a great actor, but he can be a funny dude. Remember Hitch? Hitch wasn't that bad. And I thought Here Comes The Boom was way better than it had any right to be. My first media intake of James was actually his stand up special Sweat the Small Stuff (I never watched The King of Queens) and loved it for years! It just seems that no one outside of Adam Sandler is giving him any work to do which is sad. Everything is also super family friendly. He could do great with some more at least upper teenager material.
Unfortunately instead we get shit like Paul Blart: Mall Cop 2, where everything is a fat joke, slap stick, or just awkward in the worst ways.
The acting is bad, the plot is worse, the characters are boring and not funny. Nothing works in this movie. Sure, technically it tells a mostly cohesive story, but it does it in the lamest ways possible. It doesn't even want to treat its hero correctly. Watching his mom get killed by the car and the divorce so soon into the film, it was clear this was a movie to make fun of a man and shit all over him and not to laugh with him. Those things felt mean, not funny, and set the tone for the entire rest of the movie.
Kids might find this movie funny, but I would never show it to my own. I try to only show them good material and not just the lowest common denominator film for the cheapest laughs. That is why they will never see Planes under my watch. And hopefully they won't even have to live in a world where a third one of these films gets made.
0 out of 4.