I am not going to harp about how Michael Bay is the worst guy since whatever. Yes, he did the Transformer movies, and fucking Pearl Harbor, and he is about to kill the Ninja Turtles, but he has some decent stuff. Like. Independence Day. I love Independence Day!
I am just saying, there is no reason for me to assume Pain & Gain will be bad. The trailer just makes it look…weird. And apparently a true story. Okay, yeah. Sure.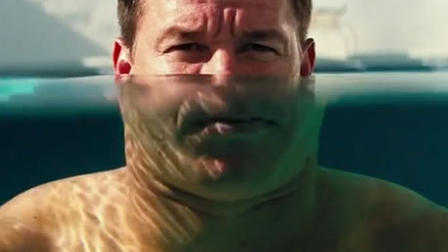 So far, Michael Bay is clearly experimenting with different light refraction techniques. He is growing!
1995. Miami, Florida. Danny Lugo (Mark Wahlberg) is the current main manager at Sun Gym, after serving a short sentence in prison for fraud. He promised his boss (Rob Corddry) that he would triple the membership and get the gym back on the map, and boy did he ever. Through some questionable means, but who cares when you got dat income.
He is great friends with Adrian Doorbal (Anthony Mackie), another former criminal and bodybuilder. But they are both poor and tired of it. Tired of a bunch of assholes, like Victor Kershaw (Tony Shalhoub) who are self made rich men, and think everyone else is a piece of shit. After all, Danny is a doer, not a donter (lessons he learned from Johnny Wu (Ken Jeong)).
Doers do, and so Danny had the simple plan. Kidnap Victor, torture him until he signs away everything and ruins his life completely, then kill him and live the life of luxury. Just need a third man. Like Paul Doyle (Dwayne Johnson). Paul just got out of prison, was a cokehead from NYC, but found Jesus and wants to turn his life around…but he also needs cash.
Simple plan, nothing can go wrong if they have enough can do attitude, muscles/fitness, and positive thinking! Yeahhh… Ed Harris plays a private investigator, and Bar Paly a stripper turned confidant.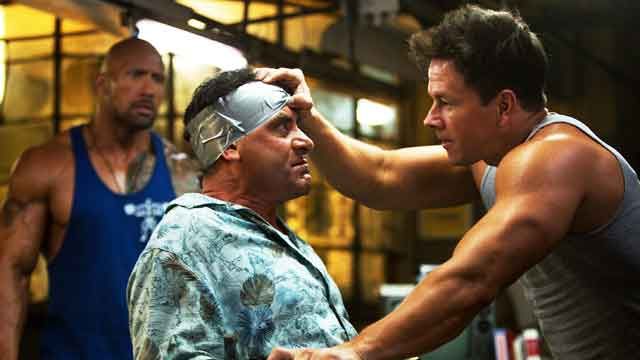 Step 1: Identify self to kidnappers. Step 2: ???? Step 3: Profit
Fuuuuuuuuuuuuuuuuuuuuuuuuuuuuuuuuuuuuuuuuuuuuuck. It is not cursing if you take 10 seconds to say it.
Hot damn, this film was awesome. And amazing! And abstract. Abstract? Yes. Totally. I wasn't just looking for more A words.
Seriously, this film was definitely something special. Who thought Bay had it in him? I was laughing and cringing, often in secession. There is just so much ENERGY in this movie, I'd find it impossible to lost focus at all.
Dwayne Fucking Johnson, I don't even know you anymore. He acted the fuck out of this film, and was 100% the best part. Not saying Mark Wahlberg wasn't amazing (because fuck, he was!), he just had to compete with The Rock! The two of them were out of their minds the entire time filming this, and made their characters their bitches. That is the only way to describe it. Literally. No one else has tried. If they did, they used those words.
Just. Aggh! The true story itself is a fascinating one, which is also not as funny as the movie took it out to be. Check it out here, but be warned it is a long read (so…its like reading the book version?). I am not saying the movie made light of the events in the film, because very serious shit went down and they talked about a lot of it. Just still had a more comedic tone overall, while also splashing your face off with shock juice.
4 out of 4.