I didn't know a whole lot about Okja going in, but I did see a few posters and just knew, just knew, I had to see it. Like, as soon as possible.
I also definitely thought it was a horror film, a foreign South Korean horror film. About a beast? I don't know, the name and poster sort of scared me.
But then the advertisements got a bit more flashy, and I realized this was going to be a film bigger than itself. I also heard that it was directed by Joon-ho Bong, an established director who I have only seen one film of before, Snowpiercer. Yeah, I bet you saw Snowpiercer as well. One of the better indie "Have to see this movie!" campaigns over the last few years.
And this time, his film is right away on Netflix, allowing that same sort of campaign to happen, but for even more people.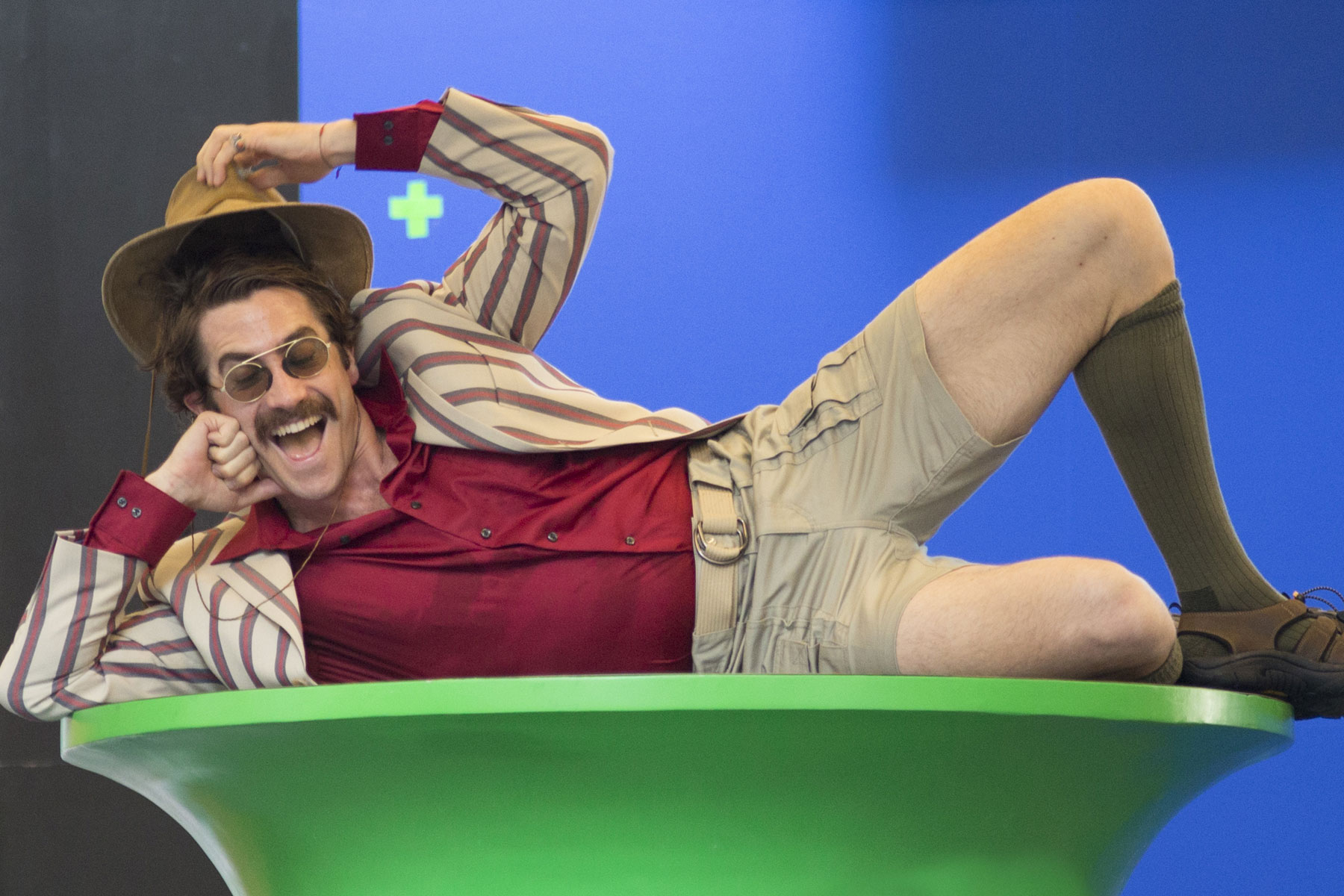 But come on, we all came for the gratuitous sexual overtones.
Lucy Mirando (Tilda Swinton), new CEO of Mirando Corporation, has taken over from her father, a controversial man. It is a meat factory, and she is introducing a new superpig that they have bred/discovered/something like that. And over 20 of these pigs are being sent around the world to various farms, to see who could raise the biggest and best super pig in 10 years time, with the winner being crowned in a giant event.
And now, ten years later, we get to meet Okja, a superpig, living in the mountains of South Korea. Okja is being raised my Mija (Seo-Hyun Ahn) and her grandfather (Hee-Bong Byun) alone and really don't want to let Okja go. But they come, they love Okja, and take him away. They even brought Johnny Wilcox (Jake Gyllenhaal), famed TV animal show guy, but that doesn't soften the blow.
So despite their best attempts, Okja is still taken, so Mija decides to chase after them. Fuck the corporate people taking her friend over the last decade. It turns out she isn't the only one after Okja either. So is the Animal Liberation Front, an animal rights group, who apparently tries to practice non violent behavior. They want to free Okja and bring down Mirando Corp.
Oh joy, caught between animal rights groups and a meat company, Mija just wants to be alone and happy with her family and friend.
Also starring Giancarlo Esposito, Paula Dano, Steven Yeun, Shirley Henderson, Daniel Henshall, Lily Collins, and Devon Bostick.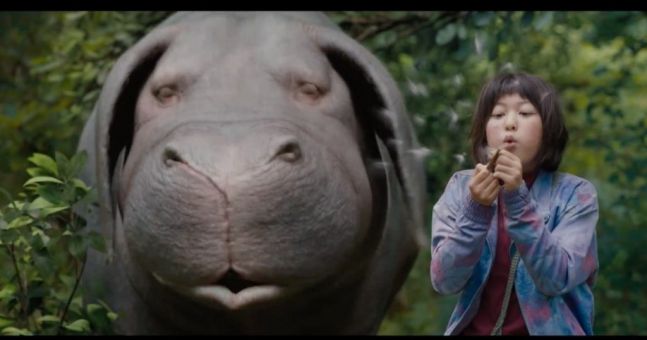 I'm glad they told me this was a pig, because if not, I would have assumed…well, lets go with hippo dog.
Okja, for a lack of better words, is an experience. The very first scene is so bright, vivid, and Tilda Swinton, that you are immediately wondering just what sort of film you have gotten yourself into. But it will drive your curiosity and you will find yourself needing to sit through to see where the fuck it is going.
And then after the opening, we get quaint wilderness, giant pigs, and subtitles, so immediately a lot of people may be turned off. A whole lot of this film is subtitles, along with English language, because it is set in the real world and it wants to be authentic. Also because the director is of course Joon-ho Bong and he probably wants to represent his country in the movies he is making.
The characters in Okja, besides Mija and her family, are downright zany. They go to the extreme and bring characters outside of their normal roles. Gyllenhaal is super weird and has a higher pitched voice, it is a bit bizarre to imagine him the star of a successful animal reality show. Like a gone stupid version of Steve Irwin maybe. And Dano? He normally plays the eccentric strange character, but compared to other members, his Animal Liberation Front frontman seemed a bit…ordinary. A guy who would go to great lengths to get what he wants, sure, but relatively normal.
The CGI for the beast was pretty good, but it was still pretty awkward at times. Watching random characters badly interact with Okja as it is stomping and running around leaves a lot of room for error. But it never took me out of the experience.
Okja is a dark film at times, a light film at other times, and balls to the wall in a few other parts. It is probably one of the best Netflix Original films ever made, it just doesn't feel like one of the best films I have ever seen. But a very strong film regardless and one that a lot of different ages and groups would enjoy.
3 out of 4.