June 10, 2015
Night at the Museum: Secret of the Tomb
It has been awhile since Night At The Museum: Secret of the Tomb came out, but I am finally now ready to talk about it. Why did I wait so long?
Well, I had never seen the first two movies, Night at the Museum and Night at the Museum: Battle of the Smithsonian. I have owned the two Night at the Museum movies, which came out out in 2006 and 2009, since 2012. I just haven't "found the time" to see them. Never in the right mood.
A few things helped put me in that mood. One, Robin Williams died, very sad, I really needed to see more of his movies. Two, the kids were about to go home for the summer and we had a long Memorial day weekend where I didn't have anything to show them. So it was easy to watch one, then the next a few days apart, and finally, FINALLY, the third and last movie.
Fair warning, I thought the first movie was kind of terrible, and the second one had its moments, but was overall okay.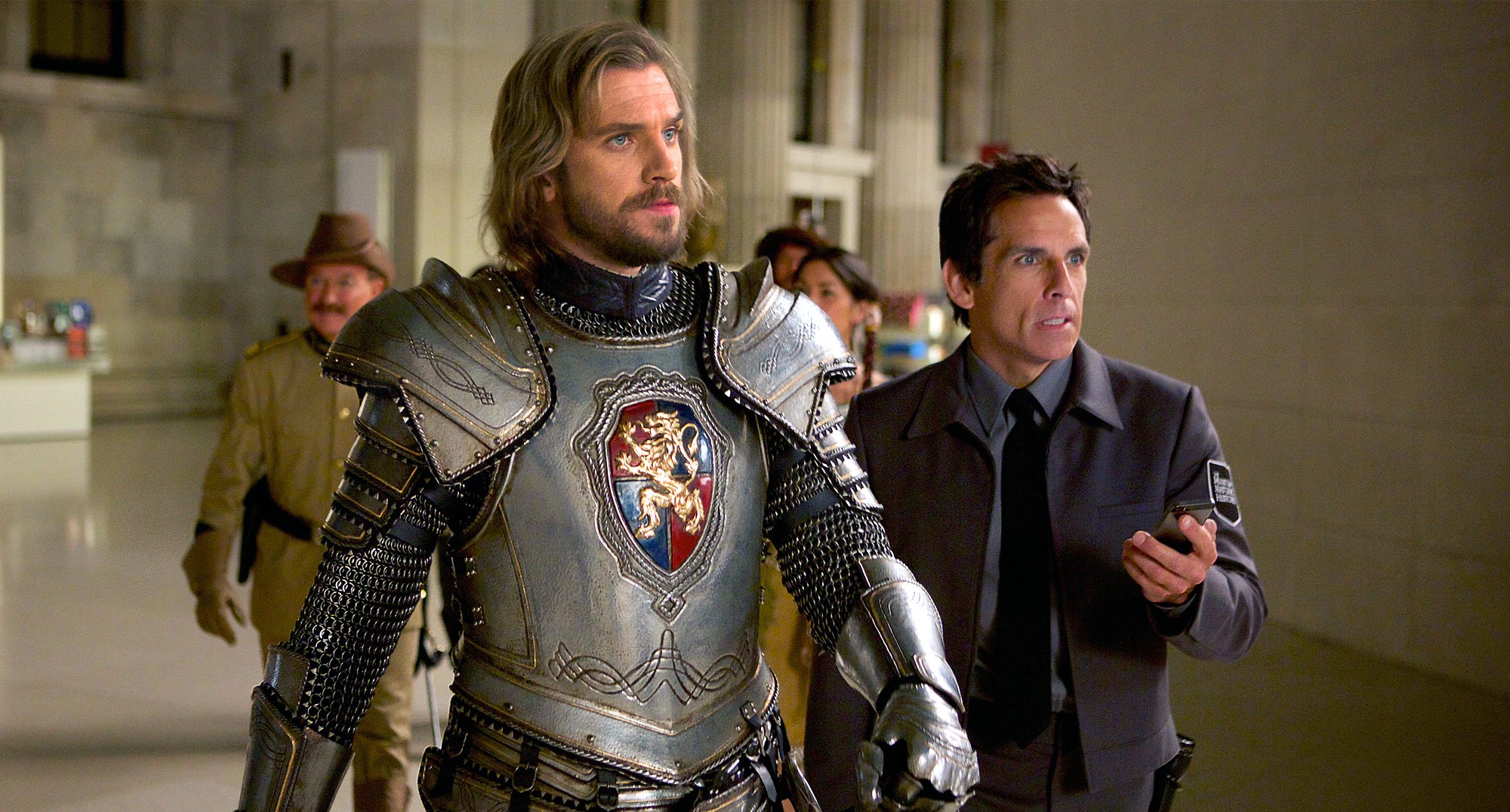 But those movies lacked a dreamy knight in shining armor.
Years later, that museum is still popular! Larry Daley (Ben Stiller) is opening up more cheating night things. This time, constellations. Well, shit goes badly and he gets fired. Why? The magical tablet is acting all fucky. People are freaking out, getting meaner. Who knows what is going on?? Well, apparently the parents (Ben Kingsley, Anjali Jay) of Ahkmenrah do! Yes, but they are in a museum in London.
So the gang gets together, tablet in hand, to go to a new museum at night and find out how to fix the tablet. Pretty simple plot actually. His son, Nick (Skyler Gisondo), played by a new guy, is also going to come. For reasons. You know, get him back on track and shit.
Oh hey, and we also have Rebel Wilson playing the London night guard. And Dan Stevens, yes, that Dan Stevens, as Lancelot. Sure, he is a fictional character, apparently in a museum, but go with it, assholes.
And there are all the returning characters of course. We still have Teddy Roosevelt (Robin Williams), Octavius (Steve Coogan), Jedediah (Owen Wilson), Ahkmenrah (Rami Malek), Attila the Hun (Patrick Gallagher), Sacajawea (Mizuo Peck), and even Dr. McPhee (Ricky Gervais). Hell, we also have the old geezers back played by Dick Van Dyke, Bill Cobbs, and Mickey Rooney (who also is dead now).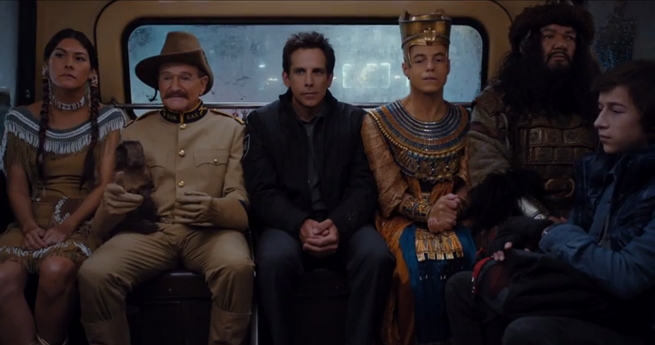 Just a bunch of eccentric Americans and killers hanging out, riding a bus.
The overall problem with this franchise are the inconsistencies. And the inconsistencies are all shrouded behind a mysterious Egyptian tablet and magic, so that any of them can just be written off. But no, it is incredibly annoying.
For instance, why do some things come alive and others not? Statue and wax people? Fine. But in this movie there is a display of Pompeii, and it even explodes and has its own lava and everything. What? The things are supposed to be alive people or animals or creatures. They are just making things up as they go.
The tablet was losing its power and so people were slowly reverting back to their original forms. Apparently people who get transformed for the first time didn't turn back slowly because it was their first night. They are apparently just making up rules on the fly because why not. In this movie, they say people act a lot weirder right when they transform and get used to the change eventually. This wasn't true at all in the second movie, as we saw tons of people come alive and go straight into character and being fine with it.
A more structured, less clusterfuck, is all I ask.
Now this one has some interesting jokes and I laughed a few times. Despite the fact that the main new character was a fictional person who makes no sense to be a museum exhibit, Lancelot was killer. Rebel Wilson also did a good job. But the issue with the tablet was lame, as was the "threat" behind it all. It all seemed poorly done, where conflict continued to be created for the stupidest reasons.
2 out of 4.