June 29, 2016
Never Back Down: No Surrender
I have still never seen the UFC themed movie Never Back Down. I barely even know it exists.
But I did watch the sequel, Never Back Down 2: The Beatdown. When I rented it from Blockbuster (old movie alert), I didn't see the 2 on the title, just saw that Michael Jai White was involved (and it was his first time directing!) and decided to give it a shot. I don't think I needed to see the first film to get it, so all was well.
And now, years later, we have Never Back Down: No Surrender, the third awaited Never Back Down film. This one is starring and directed again by Michael Jai White, only his second time at the head of a movie.
And again, that is why I am watching this movie. White makes me excited, what can I say?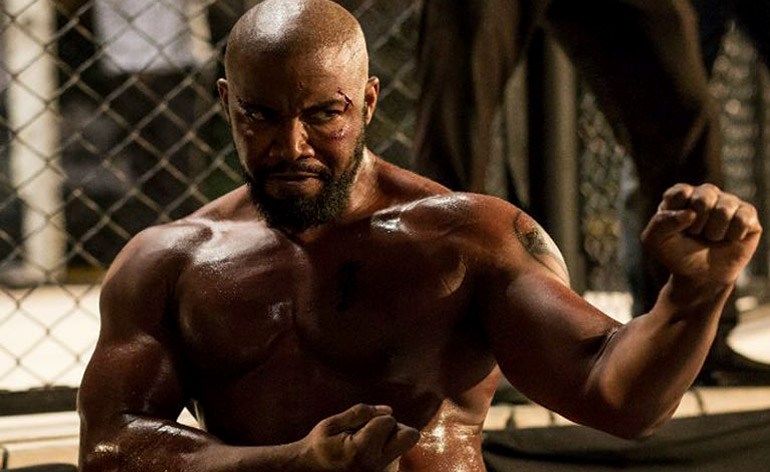 Has Michael Jai White ever turned down a role that lets him take his shirt off? I think not.
The third film takes place some amount of time after the last film, and things are different now. I think. Case Walker (Michael Jai White) is thinking about getting back into the ring and slumming it out on his own. But that is ridiculous, he is a great fighter and shouldn't be worried about minor scuffles.
He runs into an old friend, Brody James (Josh Barnett), who is an elite fighter as well and Brody convinces Case to join with his gym and get back into the big ring. So he does sure, no pressure.
Speaking of pressure, they decide to go to Thailand to train and fight. The PFC is holding their big match there in a month or so, James vs Caesar Braga (Nathan Jones), a scary looking man with anger issues and a criminal record. Of course! The whole thing is being promoted by the legendary Hugo Vega (Esai Morales), who cares only about profits. Hell, they even allow performance enhancing drugs in their league, no judgement.
And of course, Case is just there to help James train. He doesn't care about getting on the ticket. But when people find out he is there, he gets popular again. They hear about how great of a fighter he still is. He gets a viral video. So things begin to happen to get him on in the ring as well, no matter who gets hurt along the way.
Also featuring Gillian White as our necessary love interest/publicist, Stephen Quadros as a trainer, Amarin Cholvibul, Dan Renalds, and JeeJa Yanin as lesser fighters in the gym, and Sahajak Boonthanakit as the only press person to talk.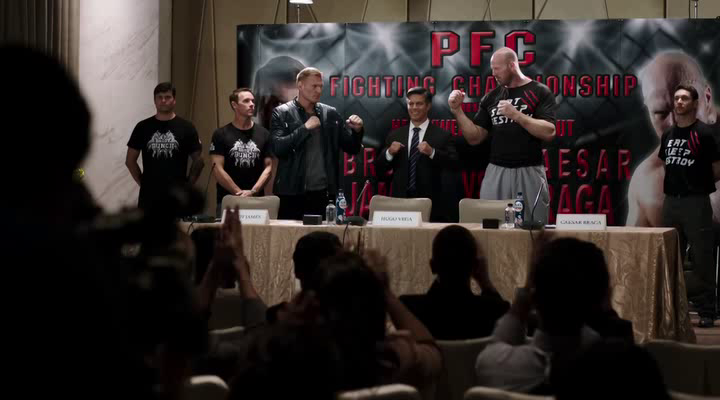 That dude is like a head taller than the other dude. That is a head worth of 'roids.
Never Back Down: No Surrender is not going to win any awards. It won't be nominated for awards either, unless there are UFC film awards, because I don't know how many of those come out in a year. This film is not the amazing, wonderful, tear inducing, Warrior. No, this is the third film in a straight to DVD UFC series.
So by its own standards, it is just going for some entertainment, with some decent fights. The fights are decent, and the entertainment is also light. That's right, just light entertainment.
If the movie was less serious or more comedic, then I probably would have thought it was okay. The way our main character got out of a serious conundrum by the end was pretty smart, but still feels disingenuous at the same time. Our hero was against the fight he was forced to take and didn't want to do it. But he ends up still doing it, just in a weird way. It gives the film a final fight that they advertise on the cover and poster, but in reality, it shouldn't have happened at all.
I can honestly say I don't remember a lot about the last movie. But I remember smiling more and thinking it was at least fun. This one was just mostly awkward, with some bad acting and an occasional decent to watch fight.
1 out of 4.