December 6, 2018
Mowgli: Legend of the Jungle
A few years ago, The Jungle Book remake came out, and people were confused or impressed or didn't see it. One of the first "live action" remakes (whereas everything is still animated but one character basically) from Disney and it was a good way to test the waters with their technology and realism.
The problem is, there was another Jungle Book movie trying to come out before that one. It was to be directed by Andy Serkis, and yes, also mostly CGI, but also a lot of mocap technology, the same stuff that made Serkis famous. HE wanted to see those famous actors pretending to be animals, really getting into those characters.
And because of the Disney release, they decided to delay this one. Wait a couple of years, and release it fresh with new eyes. But The Jungle Book announced a sequel, which means there will never really be a time when there isn't a Jungle Book movie coming out, so they just needed to get it out at some point. People rushed things, advertising potential was low, so they instead sold it to Netflix, so that it can hopefully just be successful there.
Poor Serkis, there is no way he wanted his movie to premiere on Netflix. And at some point they changed the title to be Mowgli: Legend of the Jungle, because Mowgli apparently wasn't good enough on its own.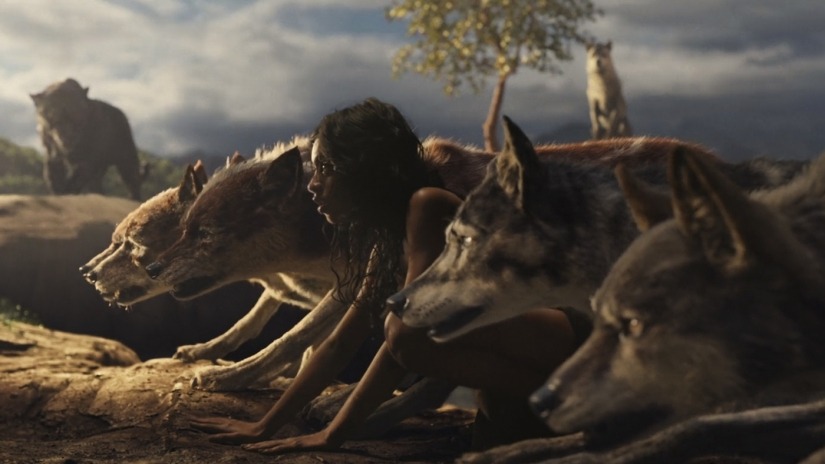 Mowgli and the four realms wolves.
Look, I know and you know, that you are not here for the plot. We know that a boy has his parents get all murdered by a mean tiger (Benedict Cumberbatch), so some wolves take him in and raise him. He is also watched over by a panther (Christian Bale), who is soft or something, and really wants the baby to not die, while also being pretty darn afraid of a tiger.
And occasionally, a bear (Andy Serkis) is around to give advice/teach/protect. The snake? Well the snake (Cate Blanchett) is less evil and more godlike, with a bit of an oracle-sense, she is there to be unnerving, not just looking for a bite to eat.
Anyways, the boy (Rohan Chand) tries to be a good wolf, not realizing he is actually a human, and you know, not die to tigers.
Also starring the voices of Naomie Harris, Jack Reynor, Peter Mullan, and Eddie Marsan. If you want other real people, Matthew Rhys and Freida Pinto are also notable characters who have more than just a voice.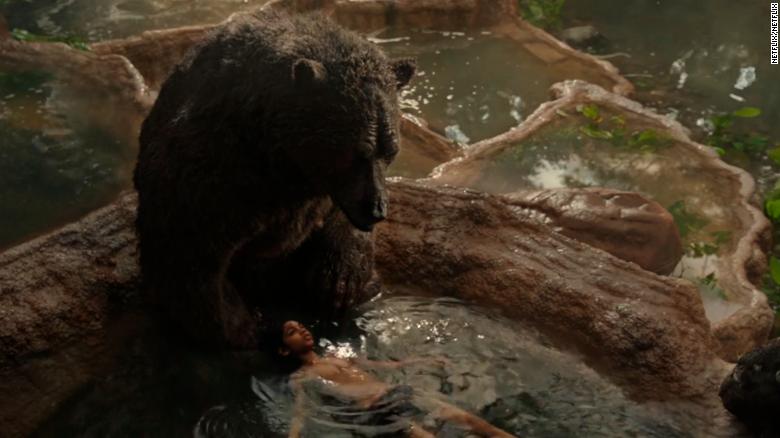 When bathing, make sure you focus on your bare niceties.
Really, to have two movies based on the same source book around the same time, those movies better be really different. They need a reason to exist and not just because they wanted to see who can do it better.
And regardless of who had the idea first, or how pitch meetings went, this just feels like a competition to try and see who can do it better. I would like to do a big list of comparisons of the two and argue which is better, but I saw The Jungle Book years ago and don't really want to make that sort of review. This film has more zoomed in looks at the animals faces, probably for mocap reasons as they created animals around acing faces. None of them looked like people creepily, but the mouth movements felt a bit more natural to have human words coming out of them.
But that doesn't make the graphics better. I am having a hard time to really figure out which one counts as better, so just put the movies as good enough graphics. They are telling the same basic story too, except this one is a bit darker at times. The monkey scene in particular is really frightening, as are some of the chase scenes. The snake scene is more confusing than anything.
However, this film has problems. Namely, when Mowgli gets to the village. That isn't the end of the movie, but maybe two-thirds of the way through it. Once that happens all momentum is dropped. The movie seemingly comes to a stop and just takes forever to move the hell on. It loses its steam and can never really gain it back, as most people then decide at that time to start checking their watches waiting for it to end.
Voices are fine, graphics are suitable, darkness is less appropriate for a family movie, and holy shit does it take awhile to just end. Easy pass, but since it is on Netflix, you will see it large and around for weeks, and sure, it will probably frighten your kids.
2 out of 4.