August 22, 2016
Money Monster
George Clooney, you little vixen you. That little grinning face of his, I cannot help but swoon.
But I also can't help but note he has been in a lot of meh lately. Tomorrowland, The Monuments Men, and A Very Murray Christmas, ugh. I actually enjoyed Hail, Caesar! but it had very mixed reviews.
So now I am looking to George to try and fix this ship. Give me something good. I did end up seeing the trailer for Money Monster before some movie and hey, it interested me. I tend to love hostage situations (in film), and I am definitely interested in people angry about financial crashes, thanks to The Big Short.
Give me something to cheer for, Mr. Clooney.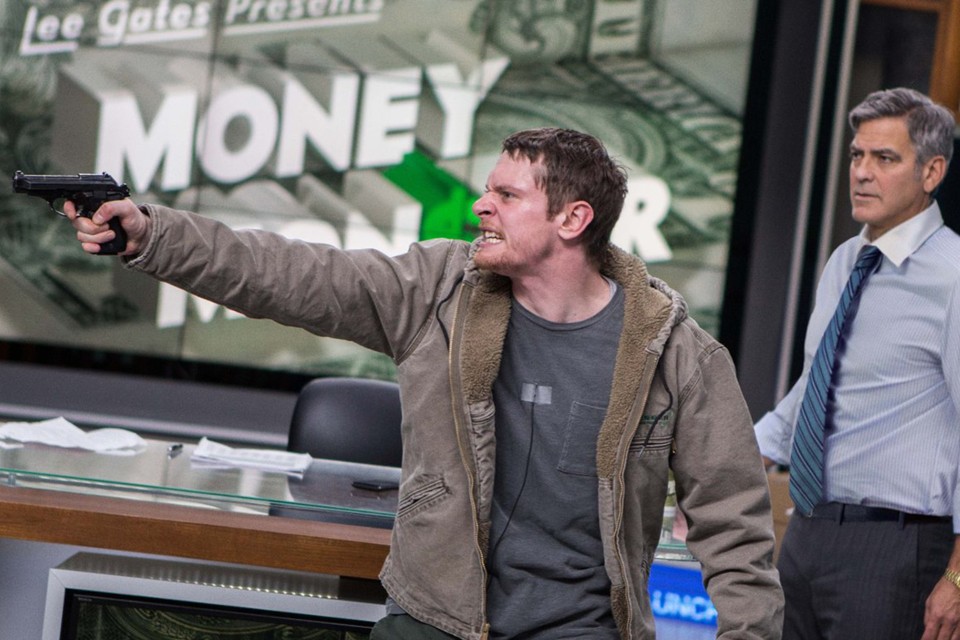 Oooh guns. I love cheering for guns!
Lee Gates (George Clooney) is basically Jim Cramer from Mad Money, that is your main introduction to him. But he also can dance! He has been on the air for a long time, his director/control room person is Patty Fenn (Julia Roberts), and she too is good at her job.
The stock of the company IBIS crashed in a big way the day before and the CEO Walt Camby (Dominic West) was supposed to be show up for an interview but was somewhere else around the world, so they couldn't explain it. Instead, a PR lady (Caitriona Balfe) was going to badly explain the situation, but hey, a gunman (Jack O'Connell) showed up!
With a gun!
And he is pissed. He lost all of his money thanks to the IBIS crashed, which Lee Gates promised was the best stock ever. Sure, he only lost $60,000, and some people lost way more, but he has a pregnant girlfriend (Emily Meade). And he is depressed. And he wants answers.
Also starring Aaron Yoo as mysterious Asian man, Dennis Boutsikaris as angry executive at IBIS, Giancarlo Esposito as a police captain, and Lenny Venito as the world's most dedicated camera man.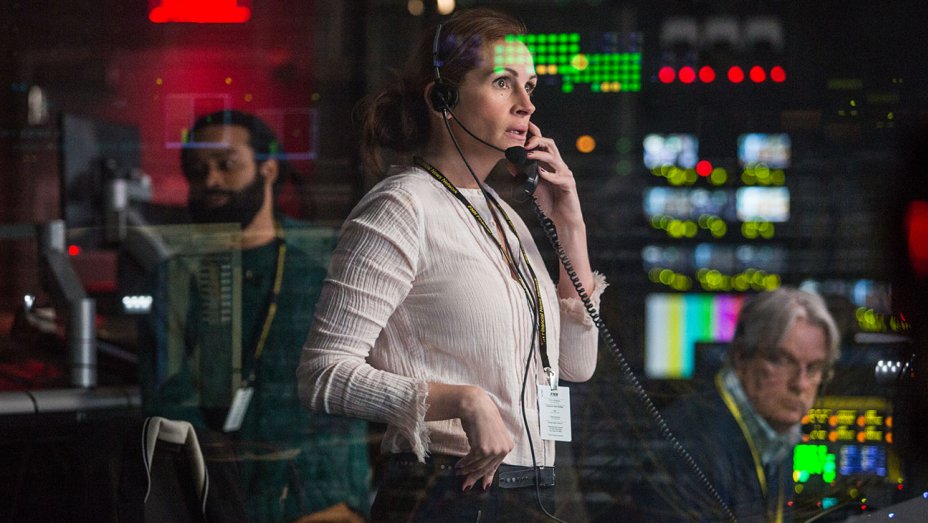 And let's not forget how much money this hostage situation will make the channel.
Guns and Money, Celebrities and Scandals, Money Monster is potentially one of the most American movies ever. It is directed by Jodie Foster, who hasn't directed a film since the wonderful The Beaver. The Beaver was weird, unique, and touching. Money Monster is none of those things, but at times, it is a bit interesting.
I think the beginning and middle of Money Monster are the more interesting elements. The ending just starts to get weird once they leave the studio and decide to walk down NYC, straight to the source. Not weird in the good way, just awkward.
Clooney, Roberts, O'Connell were all fine in their parts, but no one in particular really stood out and seemed exceptional. The message is one that has been hounded before in many better films. And, overall, the ending is a bit uninspired.
I didn't really get my big cry moment like I do in a lot of hostage films. Or the large amounts of witty banter, or really anything.
Movie watchers will not get anything new out of Money Monster. But hey, it got a little close at some points, so it could have been a lot worse.
2 out of 4.