January 31, 2019
Miss Bala
January being known as a dumping ground for films, so does that include February 1st? I mean, that is barely out of the month, most of the previous week is there!
Miss Bala is actually not an original film, but a remake of a 2011 film of the same name from Mexico. It looks like from casting and rough plot that they aren't trying to change much, given the lead. This is what I would say is potentially a good example of a time to remake a foreign film. Why? Because I had not heard of the original.
Not that I, Gorgon Reviews, is the final say of what can be made in movies, but remaking something that was met with a lot of critical acclaim and famous is silly. If it is already great and well known, why bother? The things we should be remaking are the films that didn't do well, or didn't have a strong word of mouth. Because that means something may have actually gone wrong, and it could be improved on with a new version.
It is a smart way to not worry about comparisons. But for some reason, companies rarely do this, as they'd rather just rely on name recognition to make that money, good or bad. Oh well.
Also, the original Miss Bala did actually reach critical acclaim, but it just wasn't seen by most of the world.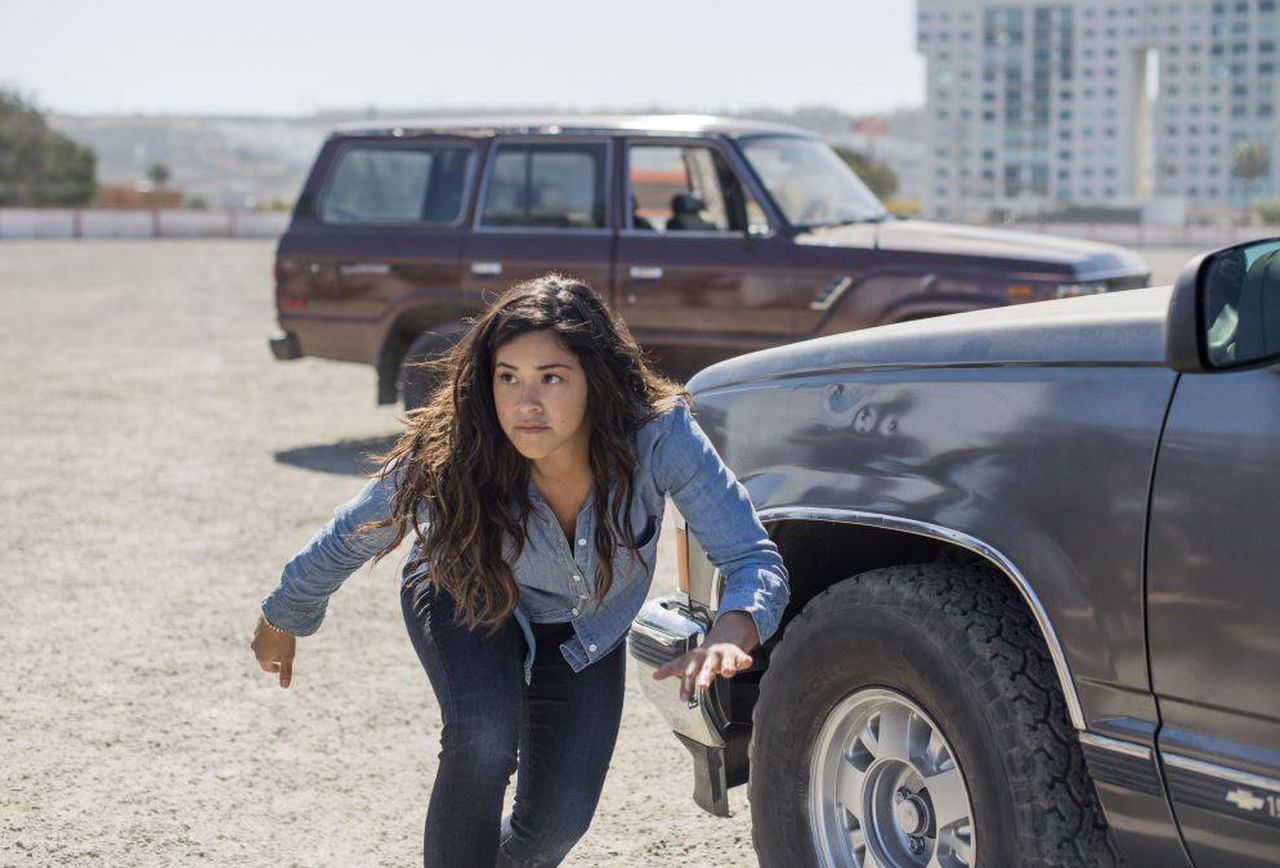 This doesn't look like its in the middle of action, it looks incredibly posed.
This is not a movie about a girl named Bala, but instead a girl named Gloria (Gina Rodriguez), just like that other movie, Gloria. She works in LA as a make up artist, for models and sometimes celebrities, so she is pretty good. And she uses her talents for her friends, like her friend Suzu ( Cristina Rodlo). Suzu lives in Tijuana, which Gloria used to live in for a bit, but always feels a bit weird there. Judged for being an American and not perfect at Spanish.
Suzu is going into a pageant show for Miss Baja California (I have to assume Mexico pronounces it as Bala… and that is where the title comes from. Or its a Spanish pun that doesn't translate to this film, who the hell knows), and Gloria is going to make her look good.
Unfortunately, the night before auditions really begin, they go to a nightclub to try to get an in with the owner and some dudes with guns bust in looking to kill. Gloria loses sight of her friend when running to safety, and has to spend the night worrying about her safety, since she cant seem to find her any hospitals. And when Gloria goes for help, she ends up getting kidnapped by the gun men who did the shooting, putting her life, her body, and her friend potentially at risk. But…are they really the bad guys?
Also starring Damián Alcázar, Ricardo Abarca, Ismael Cruz Cordova, and Anthony Mackie.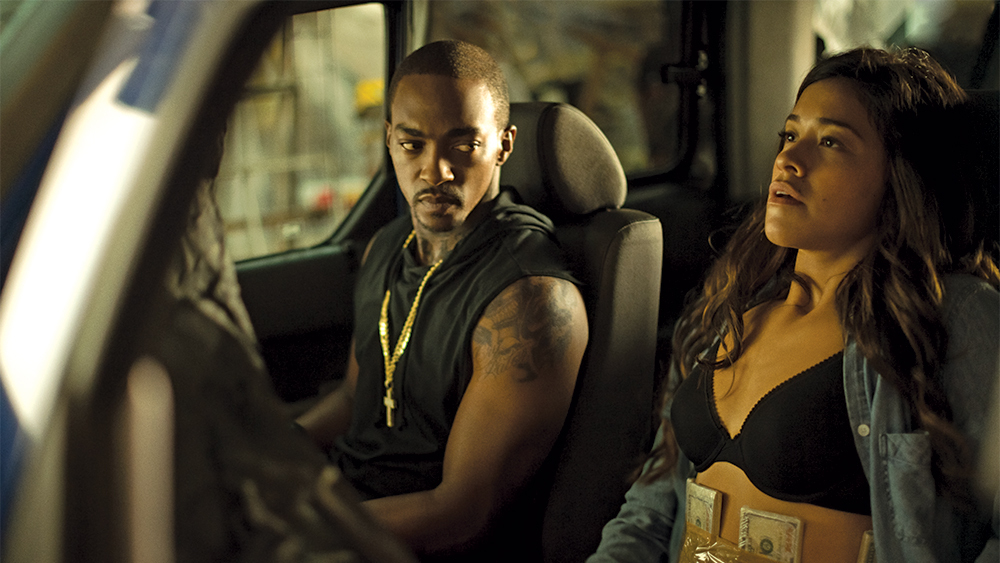 They are trying to sell this movie on sex and dollars, yo.
Miss Bala is a film with a lot of twists and decisions for the main character. Sometimes too many twists can make a film feel annoying, because at a certain point, you don't believe the twists any more and you just want it to get to the end to be done. One way to combat the twist fatigue is to have only two outcomes overall, so each twist just makes the viewer change sides. That way you cannot get overwhelmed, which seems to be the strategy with this movie. However, the twists feel extra pointless, because with only two sides, the stakes are low and it is still relatively easy to guess how the whole thing ends up.
If I had to say something nice, I liked that it featured a setting not traditionally given to women led films. It was definitely HER movie and her making a lot of decisions. Now, from these decisions, the audience can get quite annoyed with them and maybe even think they are poor, but they do seem to match the character and make sense for her. For the most part. It also didn't solve all of its problems with violence. There was some smart moves in there, and a lot of panicked thinking. But this is not a gun toting heroine who is going to rid Tijuana of the cartel influence.
Despite all of that, this film doesn't go too many new places. All of the side characters are still cardboard cutouts for the eventual resolution of the plot to unfold.
The ending itself is pretty silly and seemingly tries to set up something that no one would want, in a situation that would not happen. Overall, Miss Bala will probably easily find an American audience that loves it, but it still feels rather January.
2 out of 4.