2017 has been a shit year for animation. That is basically how I begin everything for animation at the end of the year, by the way.
At this point the only films I gave okay ratings to were Coco and Captain Underpants: The First Epic Movie, which is saying a lot about my opinions on these films.
Well, Leap! was released at the end of last year in France and Europe, but didn't make it to America until August. I had been waiting for a bit and waiting even more. When it finally came out, no one seemed to care, due to lack of advertising, and even I forgot about it.
It is one of those weird films that is already in English, but has a slightly different voice cast depending on the country. Not many changes were made, but the European version had Dane DeHaan as the boy lead. And honestly, without hearing it, it was probably a good change. We don't need to hear 12 year olds with extra deep voices as if they are constantly pretending to be batman.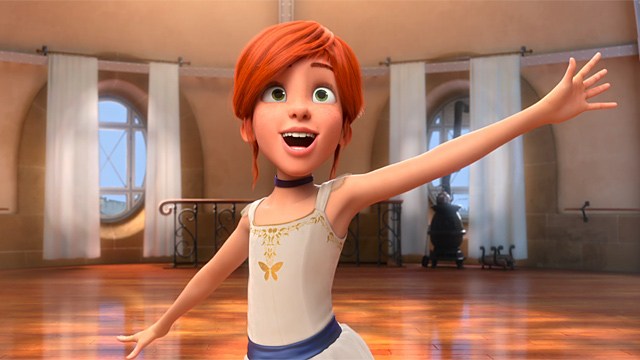 Now if DeHaan had voiced the lead? I would pay extra for that uncomfortable version.
Felicie (Elle Fanning) is an orphan in a small French town, in a Church. She doesn't want to be there of course, she wants to escape and become a famous dancer! Partially because the only thing she has from her mother is a dancing figure in a music box, her main treasure. Her best friend, Victor (Nat Wolff) also wants to escape with her. He has dreams of being an inventor and is focusing a lot of his efforts on a flying machine.
Well, Victor finds a flyer for a famous ballet school in Paris, so they decide they should run away and make it there! And they do!
But they immediately get separated, so Felicie is on her own to achieve her dreams. She finds the dance hall, sees an amazing dancer, but gets found out by the groundskeeper and almost given to the police, but a cleaning lady saves her. Odette (Carly Rae Jepsen) walks with a cane, clearly having once been a dancer and had her life ruined by something or another. She stays in the guest house of a mansion, she just also has to clean it up as well. And the owner, Regine (Kate McKinnon), is a huge bitch.
She is rich though, so she can be a bitch. She has raised a bitch daughter too, Camille (Maddie Ziegler), who just so happens to be a dancer. And because she is a bitch, Felicie steals her invite to the dance school and pretends to be Camille to get a shot of her dream coming true. She just has to be good enough every day to not be the one person cut, so she can have a feature spot in the upcoming Nutcracker show.
Also featuring the voices of Shoshana Sperling and Mel Brooks.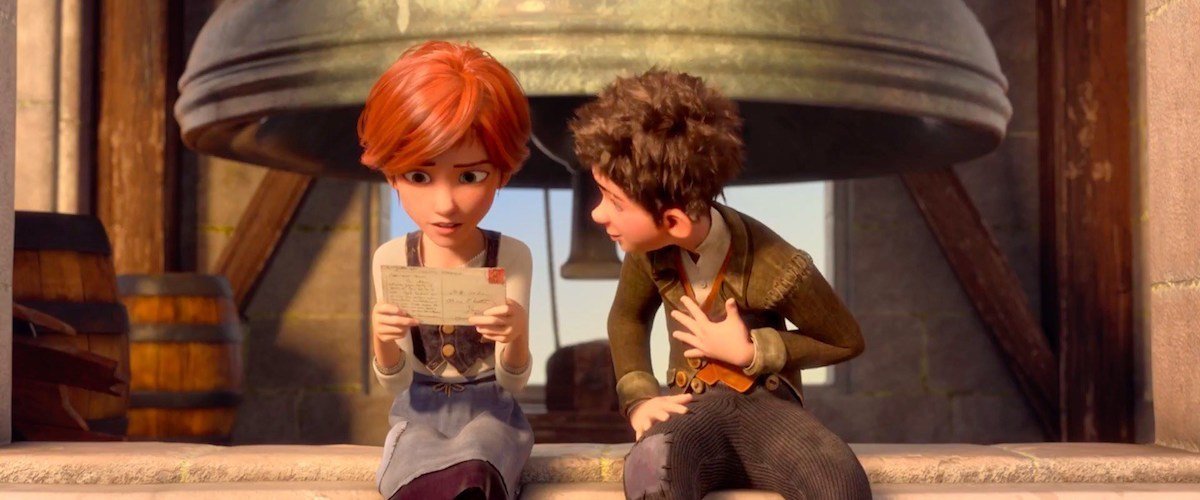 Oh he is definitely in the "best friend for years until she loves me" role. Silly boy. This isn't the 90's anymore.
Leap! tells a very standard story about a girl and a boy running off to achieve their lofty ambitions, and do so, quite easily! How they both fall into their respective positions is meant to be quick and easy, which is part of the comedy and charm, so that is not an issue.
It has its moments, both funny and cute. The animation is fine, Victor makes a good comic relief, and Felicie a great go-getter lead! The film also had some Karate Kid moments, just to keep things interesting.
But the devil is in the details, and this film was a mess. I first noticed it on my own, after three very specific references happened, and I was curious if they all were around the same time. That would be, The Eiffel Tower, the Statue of Liberty, and Sherlock Holmes. The first Holmes story was in 1887, the Eiffel tower started being built in 1887, but the Statue of Liberty was already in America in 1886. So to show it barely built at the same time as the Eiffel Tower was barely built is just wrong. And it had the statue already green, which is also quite annoying.
So I figured it must be set in 1887 and they had one mistake, sure. But apparently the film was set in 1979, years before all of these things. In addition to those facts, the dancers were trying out for a part in The Nutcracker, which came out in 1892. I learned the last fact and more from IMDB's goof section, after I already found out these inconsistencies. If they are going to set the film in a lively part of the world and go for a realistic story, then it just seems terrible to have so many references just wrong.
Another aspect that just consistantly threw me off was the soundtrack. There five or more pop songs used as montage music mostly, including songs from Sia and Jepsen, and these things took me out of the experience. They never quite melded well with the scenes behind it. Given the subject matter, actual ballet, opera, classical, anything music wise like that would have felt better for the story.
Despite being called Leap!, this film was unable to rise above other animated films this year. It just ended up okay like the rest of the best.
2 out of 4.