February 3, 2014
Labor Day
Yesssss, a Jason Reitman movie!
Who is Jason Reitman? Well, he did Up In The Air, Young Adult, Juno, and Thank You For Smoking.
That should be enough for you. I guess, he also directed Labor Day. He has pretty interesting movies, so I expect good things from this super drama looking movie. Like. Seriously. The trailer shows like no comedy at all.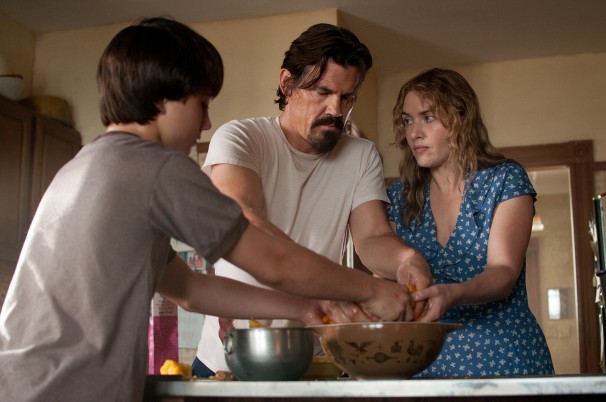 This is the strangest sex scene I have ever seen, and it involves a minor!
Labor Day takes place in the late 1980s, and you know, was a book and shit. Henry (Gattlin Griffith) is living with his mom, Adele (Kate Winslet), after his dad (Clark Gregg) has left her for his secretary. The dad has a big second family now, but he wants to live with his mom, who never really recovered from the divorce/cheating, as if the entire concept of love had left her.
She doesn't leave the house much, maybe just once a month to get supplies, but that is all. Well, unfortunately, on her monthly shopping trip, Henry is approached by Frank (Josh Brolin), and he is hurt. He needs a ride, so Henry takes him to ask his mom. Turns out the ride he needs is to their place, and he seems threatening.
Ah, he is an escaped convict, sent to the paddywagon for murder. Pretty extreme. Although he seems "nicer" at the house, he still has to put up appearances of taking them hostage so that they won't get in trouble if he is found out. Some light bondage, if you will. But while he is there, he fixes things around the house, cooks food, you name it. He wants to hop on a train that goes by their house, but a dang holiday weekend (guess which one!) kind of ruins it all.
But even more remarkable, is that eventually, there is love.
This film also has James Van Der Beek as a random cop (small role), J.K. Simmons as a random neighbor, and it is narrated from the son's point of view, but also by Tobey Maguire, not Gattlin. Only felt a little weird there.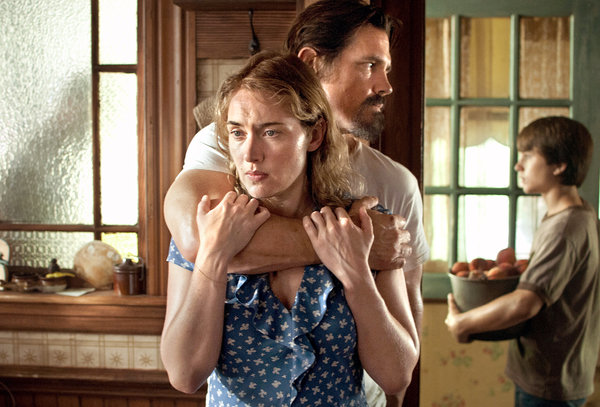 Apparently, hostage holding has gotten a lot more seductive.
Well, shit. I guess Jason can make a movie I don't like or higher.
I was kind of disappointed with this movie, like, super disappointed. Like, bored. It was very slow moving, and extremely simple.
What is giving it the higher rating is mostly Kate Winslet. She acted the hell out of that role, really incredibly. She said so much with her eyes and hands. Acting for the win yo. Brolin was good too, and an interesting character.
I just didn't find any bit of the situation believable. The ride to their home, him staying over, just…it all felt awkward and fake. Having Tobey Maguire narrate it felt weird, because it clearly wasn't the kids voice. Thankfully he was in the movie at the very end, reflecting on the 4-5 days, but still, it was super dang awkward.
The ending was a bit awkward too in that regard. It did catch me off guard, and you know, suddenly tears, but the story I still kind of hate. Just, Kate Winslet's acting yo. If you watch it, watch it for her. I don't know if this movie is a 2013 movie delayed, or an actual 2014 movie. So, who knows about its award potential.
2 out of 4.