October 18, 2013
Kevin Hart: Let Me Explain
Aw yeah, technically my first review of a stand up special ever.
Why this one? Why now? Well, I don't plan on reviewing stand up specials pretty often. Not only because they mostly just appear on Comedy Central/HBO first, or some guys website for $5. No. They are just strange to review. I don't know if I can measure my laughing amount on a scale too easily. In fact, most of these I do laugh throughout, except the occasional odd one out. It would be too difficult.
So why this one? Well, Kevin Hart: Let Me Explain was given a theatrical run, not in my area, but it still got one damn it, and I didn't get to see it. Like a bitter ex, I have waited for it to finally come out on DVD just so I could review it for this website.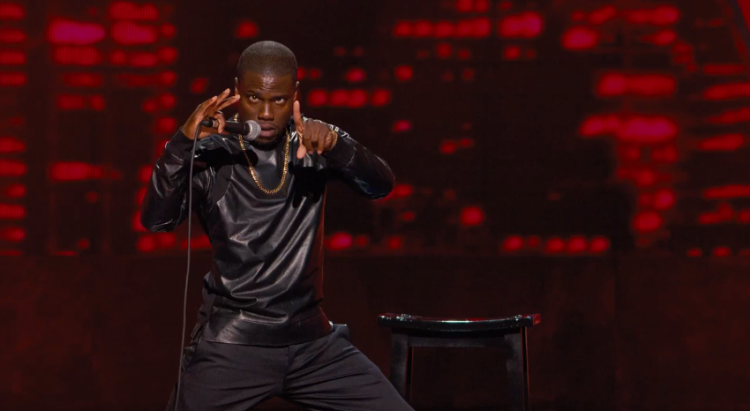 That tight clothing got even tighter when the fire came out.
Turns out the Trailer was very misleading for what this movie was about. It shows he went on a world tour, got into shenanigans, and did comedy. Like most concert films, all of the performances/material are actually taken from one show, and yes, that show is usually Madison Square Garden. But in between songs/performances, we normally get to see the performers doing fun stuff around the world. Not in this film.
I'd say about the first 15 minutes or so started off with a skit, and then went into travel the world mode, where we saw him for a few minutes, do zany things around the world. Then the next 60 minutes is his stand up routine presumably uncut, all in one go without any breaks, then the film ends with some more running around in the credits. That is it.
So basically, it is just another stand up special. There is very little not stand up special, and I don't get to see what the trailer is about 50% of. So those scenes in the trailer? Most of them appear in the dang credits, so as the movie was ending I was more confused than anything.
As for Kevin Hart's stand up, sure it was funny. Most of this hour was dedicated to really long stories about his fame and overreactions. Some hit hard, some missed. Oh well. After it is over, I can only really remember a few that I truly laughed at, but for a comedy special, having those moments is still gold and still worth it.
I am just disappointed there is nothing really unique about this whole affair, despite being in theaters, and the misleading trailer.
2 out of 4.