February 18, 2012
Jonah Hex
As a general rule of thumb, I say hooray to all movies based off of graphic novels. As a rule of my pinky, I usually say "Oh damn it, a movie with Megan Fox."
Thus the overall rule of my hand is that I had no emotion towards Jonah Hex, except one telling me to continue to put it off until I get bored enough to watch it.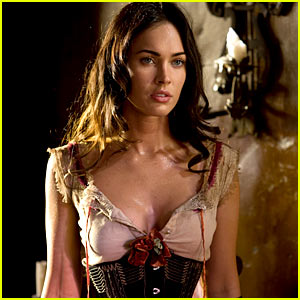 She is why we can't have nice things.
Josh Brolin plays Jonah Hex, also known as the guy who can't really die. They tried to kill him, but apparently some nice Indian folk brought him back to life. So he also, having spent time being dead, can now talk to the dead. That's nice. With his touch, the dead come back until he lets go, and its good for interrogating. For some reason its easier to bring back people who have been dead for a longer time.
He was killed for turning his back on former Confederate leader Quentin Turnbull (John Malkovich), so Turnbull and his assistant, Michael Fassbender, killed his family, scarred his face and killed him. Or so he thought! Then Hex killed him back, or so he thought!
Later he is a bounty hunter, living on the DL. Sometimes screwing Megan Fox. But the US government wants to hire him, because Turnbull is assembling a great weapon designed by Eli Whitney, that can destroy a nation on the 100th anniversary of America. Aidan Quinn plays President Grant and Will Arnett a high ranking officer (hah!).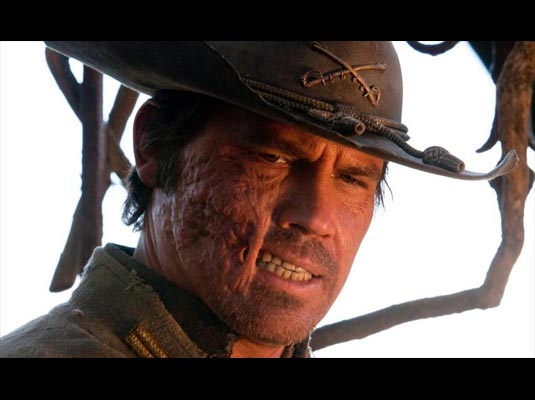 Trick is to not look him in the mouth.
So this movie has a lot of negative stigma behind it. I guess bad acting mostly being why. And it is true, casting choices didn't make sense. Why is Will Arnett in a "serious" action movie? Or Malkovich. He was the oddest casting for me, as main bad guy. I don't think it worked at all. The only decent role would be Brolin as Hex. I'd say Quinn as President, but he really didn't have many scenes.
But interestingly enough I actually found a lot of the action early on great. It didn't bog me down with a lot of back story at the beginning, but gradually showed it throughout the movie. Was great to get you right into the story. Unfortunately the action by the end was a lot less interesting than the beginning. So poor ending, poor acting. That is a poor movie.
1 out of 4.