May 16, 2019
John Wick: Chapter 3 – Parabellum
John Wick: Chapter 3 – Parabellum? Oh fuck that. That title is awful. Is this a book? For a movie, your subtitle should be the words, or Chapter 3, but not both. And yes, it is different if the word chapter wasn't there. But this title uses a colon and a dash? Who has got time for this?
This movie is now called John Wick 3, as everyone will end up calling it anyways.
Recap! John Wick was amazing! John Wick 2 expanded the universe and was weird and had extremely long fights in some tunnel. I don't remember a lot about that movie, besides so much universe building, but it ended with Mr. Wick going on the run with everyone going to come after him with no help. I don't remember how many dogs were involved.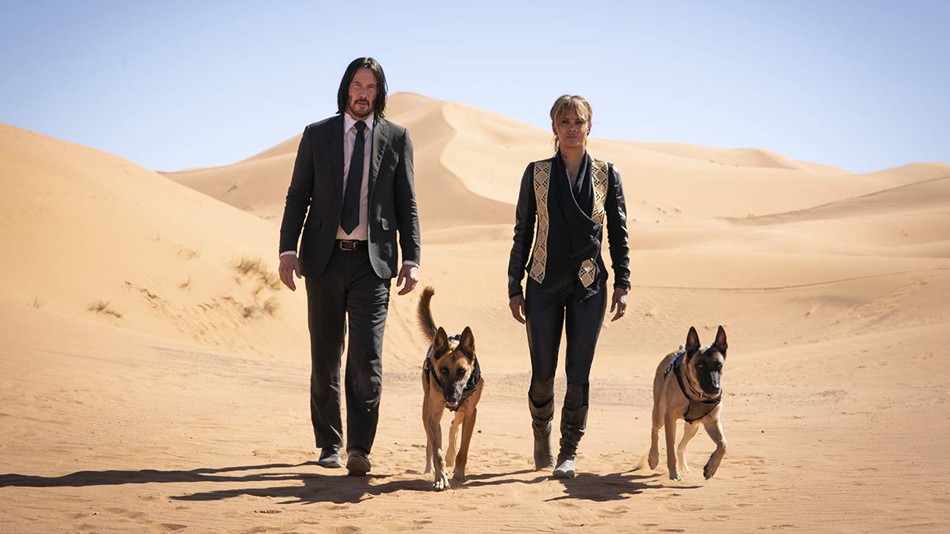 Two times the dogs, two times the revenge…?
John Wick (
Keanu Reeves
) is in New York City. Is that where the last one ended? I guess, it must have. Okay.
He has an hour to deal with his shit before he is excommunicated and can no longer use any of the services this band of guns for hire offer. Medical, dental, vision, banks, safe spots, gun places. Nothing. And a $14 million price tag on his head means every miscreant will risk it all to take him down.
Even his old friends (Ian McShane, Lance Reddick, Laurence Fishburne) cannot really assist him. Sucks to suck.
Instead he has to call in old favors, that are super serious and above the excommunication. He wants to get to the top of the organization and reason with them so he can just live out his life and be normal. And along the way hundreds must die.
Also starring Halle Berry, Mark Dacascos, Asia Kate Dillon, and Jason Mantzoukas.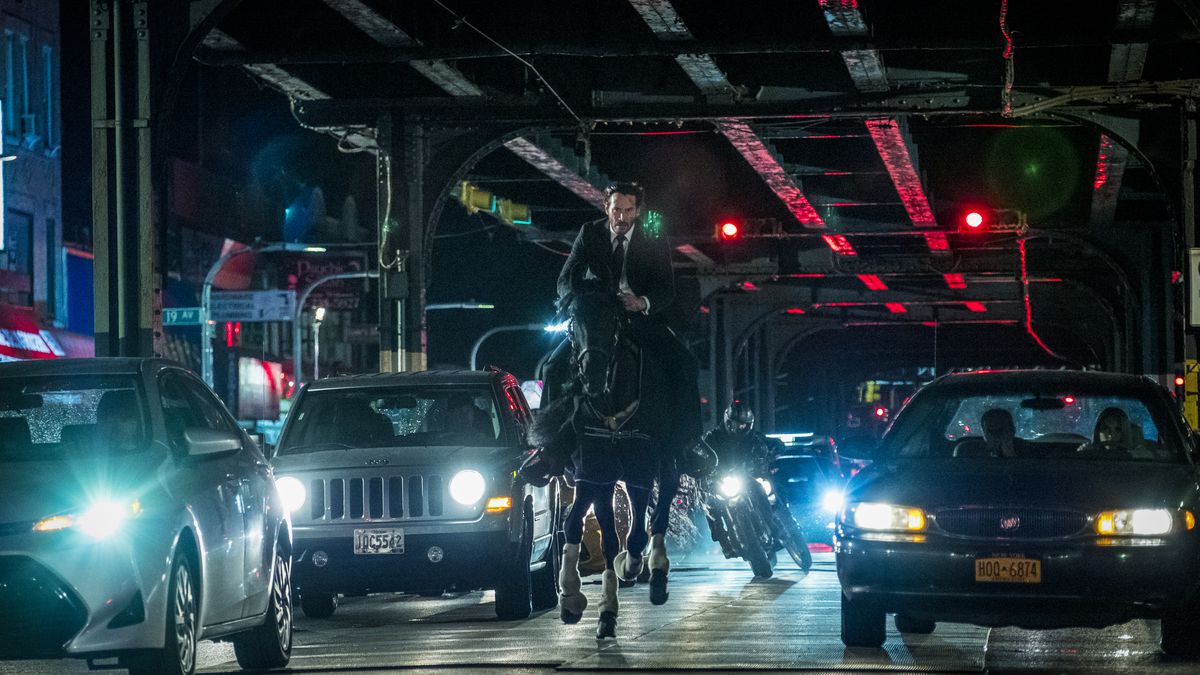 A horse is really just a big doggo.
John Wick 3 is a roller coaster. There are highs, and lows, and frankly, by the end of this review I might change this rating based on how I feel. And unless I explicitly state it, you wouldn't know it was changed, because this is a static writing page and not a video.
First of all, I liked the action more than John Wick 2. Early on a fight scene occurred in an antique weapon shop and was amazing. It was a bit egregious, but amusing, awesome, and painful to watch. The sound guy won't win any awards for using the same breaking class sound over and over. It set the pace early on and I expected it would then become a non stop action movie that just had Wick going through waves of henchmen and bad guys until no one in the world remained.
But it did not do that. It was slower. There were several scenes of Wick having to convince people to help him, despite repercussions. Then we got an extended shootout that was only interesting because of dogs, because everything else was long takes and head shots and it wasn't too creative in the long run. Then more slow, then more long fight scenes with boring battles. And finally, finally, the last last set of fights was so painful to watch, because apparently Wick lost all sorts of fighting ability and went through at least 10 walls of glass. These things would explode at a touch when the plot mattered, but other times barely crack if punched/kicked/hit with a weapon.
I understand that paragraph is uncomfortable to read, but looking back at the film, that is what I feel. It was visually pretty to look like, but the beginning was far better than the end, with the movie having no reason to be over two hours long.
The biggest problem I have with the movie though is that There is virtually no difference between the Wick at the beginning and the end of the film. This movie spent over two hours failing to tell a complete story. It decided to tease another film instead, leaving this one just…filler? The only problems solved are ones that were introduced in the film itself, not ones that the whole story has been working towards.
And that is messed up, given the makers of this franchise claiming before the second movie that it was "always a planned trilogy" despite the first being a completely fine stand alone movie and this one also ignoring that statement.
1 out of 4.