March 15, 2012
Jack and Jill
Generally when you sit down to watch a movie (like Jack and Jill), knowing that it was nominated for the most Razzies of the films that year, you might go in thinking it will be bad. Which is understandable, can't avoid it. If you haven't heard of the Razzies, you might have guessed it by the the many commercial previews for it, that looked bad.
Well, yeah. It was. But how bad? A lot of the times bad movies by Hollywood standards are considered rage inducing bad, with people carrying their pitchforks to take down the director, but they are also fueled mostly by people who hadn't seen the movie. That will always happen, forever, because the general reasoning is "No, why would I want to watch that? Its bad!" The whole reason for this website, pretty much, to fight that behavior.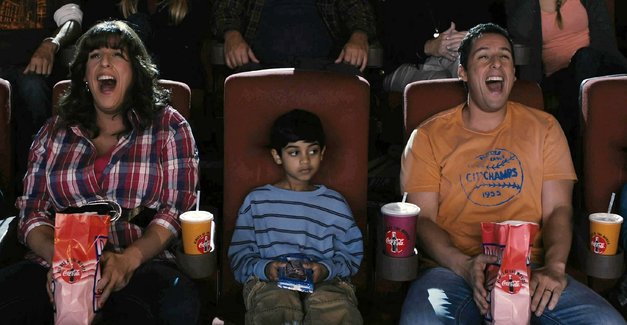 So let us all go watch supposedly bad movies anyways, just to make sure its not a conspiracy!
So Adam Sandler plays Jack, a sort of successful commercial director/advertisement agency thing. Thanksgiving is coming up, also known as the annual visit from his twin sister, Jill. Why do they look identical minus hair and stuff? No idea, shits impossible. She used to live in the Bronx with their mom, but now that she is dead, it has been only her and her bird. So she is lonely. That is most of the plot really, his twin sister is annoying, but just trying to be less lonely and sad.
Jack's family involves his wife (Katie Holmes), his daughter (Elodie Tougne), and adopted son (Rohan Chand).
His boss is played by Tim Meadows, and his atheist assistant is Nick Swardson. The big problem they are facing is that Dunken Donuts wants to pull away from their company, their biggest client,if they cannot get Al Pacino to be in their new commercial product line for a "Dunkacino". But that is Al Pacino, there is no way they could get him to do something so silly. [I think I just got that the commercial is a metaphor for this movie?]
Al Pacino, playing himself, falls in love with Jill, who keeps making excuses to stay around, and eventually Jack realizes he can use Jill to land Al Pacino (Even if she finds him repulsive). Eventually everyone learns to love each other, and yay family.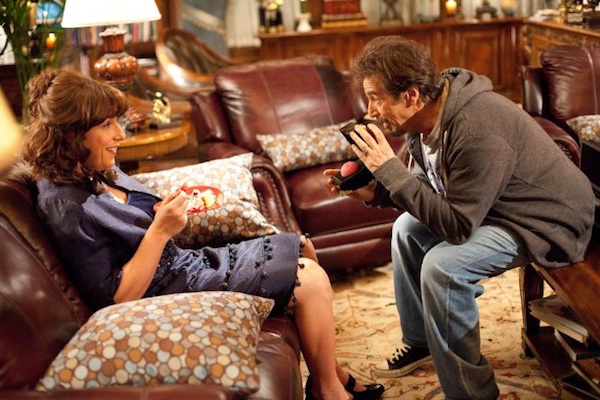 It makes me cry a bit knowing this is a real scene in a real movie.
So, I did find parts of the film funny. The ending with Jack and Pacino watching the commercial and talking about how it must be destroyed, I assume is about the movie, and was funny. The opening and beginning had actual twins talking about their lives (I assume the stories weren't made up) which was neat. Jack also had some nice lines at his sisters expense early on in the film. Obviously Sandler as Jill was annoying and horrendous. So he pretty much ruined all of his jokes, by having her react to them in the manner that she did.
But besides that,I thought Katie Holmes was the worst part of this movie. She felt so fake, and did just a bad job at appearing concerned and caring. Seriously. Her facial expressions were the worst. Al Pacino as himself also hit a nerve. Sometimes he was amusing, but his deep fascination with Jill, on a level compared to stalking wasn't as good as his general anger towards other things in Hollywood.
Lot of cameos in this movie, and thought Norm MacDonald's was the best.
So worst movie ever? Nah. Bad? Sure, definitely. Would have been the same result if it wasn't twins and Adam Sandler just played the role of an annoying sister. Well, at least kids will like it.
1 out of 4.