December 15, 2014
Into The Woods
Yay yay musicals! If you are a long time reader, you know I really like musicals. Which is why I am finally having a musical theme week. Yay Musical Week!
Into The Woods decided to be a musical coming out on Christmas Day. The last time that happened was two years prior for Les Miserables which I absolutely loved. It was also my first real attempt at watching it, outside of listening to a few songs ahead of time. I loved the shit out of Les Mis.
But going into Into The Woods, I knew a lot more about it ahead of time. I saw a performance of it from college actors, which I guess is above community theater and high school actors, but still not great professional people. And you know what? I down right hated it. It took a lot of familiar stories, intertwined them, gave us their endings, and that was the halfway point. The second half was all new material, it felt super awkward, it got darker and more metaphysical, and it dragged on an on. So yes, I thought it was too long. I thought there was only four or so unique sounding songs, everything else kind of melded together and by the end, it was as if everyone got a long slow ballad, one right after the other.
I guess you can say I was not at all looking forward to this movie. But hey, the fact that it was only a little bit more than two hours definitely helped ease it in.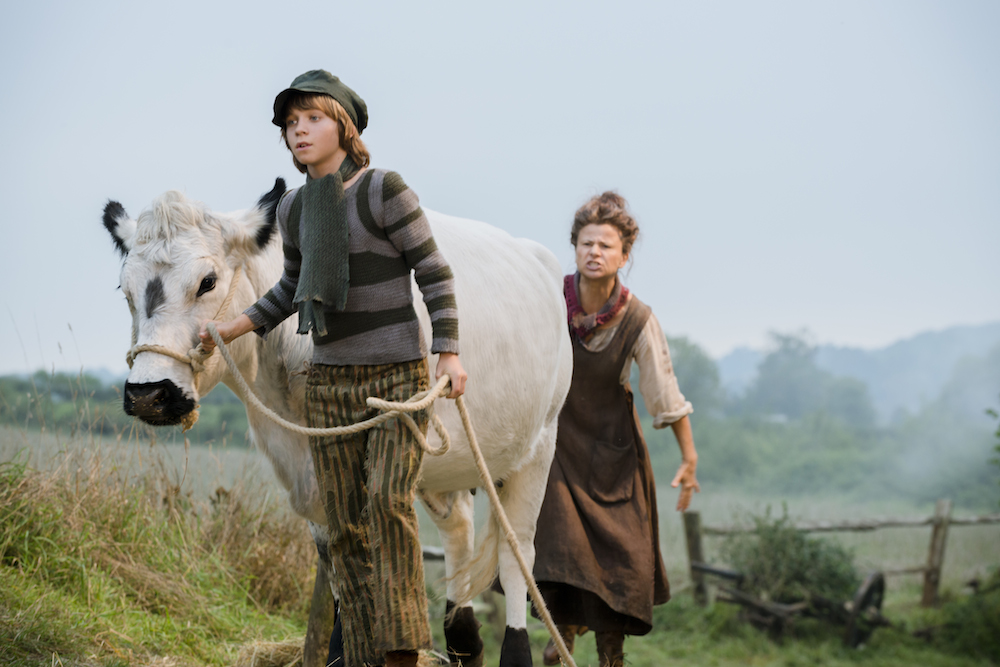 One of the biggest changes is that the cow was played by a real cow. Boooo.
Classic fairy tales go into the dark woods, because the woods were the scariest parts of Germany. This was Pre-Nazis, post Lutherans, I think. So it makes sense.
Like who? Well, Red Riding Hood (Lilla Crawford) needs to bring food to her grandmothers house, in the woods. Jack (Daniel Huttlestone) was told by his mom (Tracey Ullman) to sell their milkless cow in a nearby village, on the other side of the woods. Cinderella (Anna Kendrick) wants to go to the three day ball on the other side of the woods, but she has to get past her step family (Lucy Punch, Christine Baranski, some other chick).
And there is also the Baker (James Corden) and his wife (Emily Blunt) who cannot bare children. Turns out, a neighboring witch (Meryl Streep) put a curse on them. So now they have to go into the woods to get ingredients over the next few nights to fix that with a potion!
And surprisingly, that is most of the plot you need to know. We've got princes (Chris Pine, Billy Magnussen), girls with long hair (Mackenzie Mauzy), and wolves (Johnny Depp)! Shit, I bet the woods even have more secrets than the Library of Alexandria.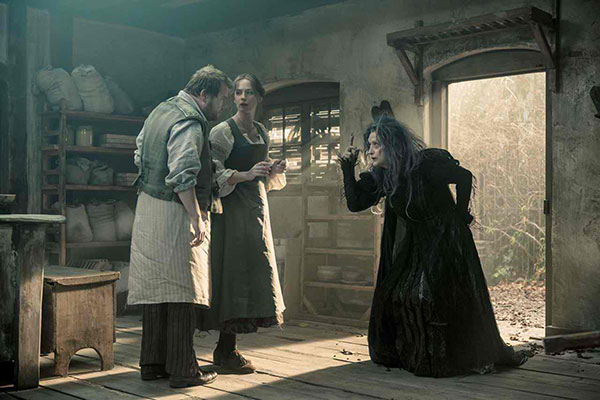 The biggest secret is what is real name of the baker's wife? Can she not have an identity outside of her relationship?
So for those big fans of the musical, there were changes made of course. This is a PG movie because Disney is involved, you aren't going to see everything you saw in the musical. Like most of Rapunzel's story line. The second Agony song. No sex is had in this movie. And the sexy times are subdued.
But the only thing I really was sad to see missing was the Agony song reprise, because like the college school production, it was my favorite part. In the movie, it is probably even better as the two princes ham it up and I was laughing hard the entire time.
I do feel like the beginning of the was extremely quick and just kind of threw you into all of the plots far too fast. (Some of these complaints would be complaints with the actual broadway version. I am not reviewing how close they are, just how I feel watching the movie). So that was awkward. I thought I saw some sound editing mistakes, which is one of the hardest parts about a musical to make sure to get right. I also have a problem with the ending, that seems to just whimper and finish instead of an awesome musical bang.
But throughout the film it is definitely entertaining. My favorite would be Blunt (who had an excellent year). I didn't know she had such singing chops, but she played a great character. I have heard Corden sing before, and it was okay. He was better in this movie than his other recent roles. I was also surprised with the singing voice of Chris Pine, so much that I don't trust it. And Lilla Crawford, a little girl, had a surprisingly powerful voice as well.
Overall though, Into The Woods is a decently good time. Still has its bleak and sad moments and it may be one of the best musicals of the year, but this year was a bit weaker in that genre. At this point, I would say I enjoyed Muppets Most Wanted more, and probably Begin Again had better music. Despite that, the music has now been stuck in my head for several days, so I will most certainly get a soundtrack as soon as I can and listen to half of it over and over again.
3 out of 4.