June 29, 2012
I'm Reed Fish
I'm Reed Fish, bitch!
It's hard to say the title of this movie without adding something behind it.
This is another movie I knew just nothing about before watching, so uhh yeah. Cool story, bro.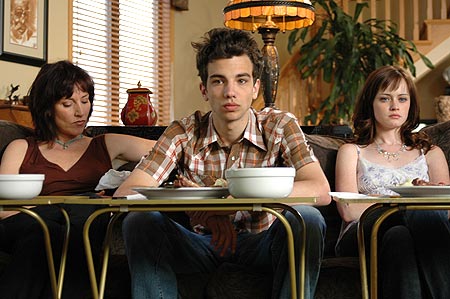 I'm Reed Fish and I just had a revelation about my life! Maybe.
This movie takes place in a small town, somewhere. We are waken up by the sound of a radio, and oh no, Reed Fish (Jay Baruchel) is late to the radio job! Which is in his shed in his yard so he makes it on time, and no big deal. He does the local news around the area, just a simple hour long show that everyone seems to listen to. Used to belong to his dad, before both his parents died, and he took over. Has the help of Maureen (Katey Sagal) and his friend Frank (Victor Rasuk).
He is also getting married soon, no big deal, to Kate (Alexis Bledel). Someone he met after high school. He is letting her handle all the planning, after all, he has a busy job in the community! But then his high school crush shows up in town again, Jill (Schuyler Fisk) back from College and running around the world. Well shit. Time for awkward feelings, Reed Fish.
Now he has to figure out what he truly wants in life. To continue marrying Kate? To see if he can make something work with Jill? (This is a really small town, ramifications man!) Chris Parnell and DJ Qualls also play minor character friends.
Oh yeah, and about 2/5 of the way through the movie, the sound stops and gets all weird. Turns out the movie we are watching is a movie made by Reed Fish about his life, and showing it to the town for a premier. What? So yes, most of the movie is a movie in the movie, technically. This leads to some twists at the end.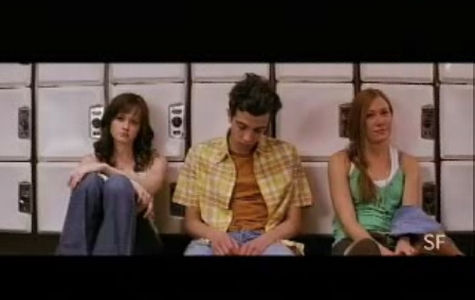 I'm Reed Fish and I like to be in pictures as the meat in a two girl bread sandwich.
Those twists, which add nothing really to the movie for me. It is a very awkward story, this Reed Fish movie, because I wonder what the point of it all is.
Dude cheats on his wife, which pisses off his wife and the whole town. But that isn't how it ends. Can he actually have a relationship with Jill without pissing off everyone further, or will he go back to Kate, just pissing off Jill? Man has 99 problems, and he is the Bitch in this situation I think. Starts fights with friends, etc.
I found the film dull and uninteresting. Could barely even tell twists happened at the end. I also don't see why everyone cheered at the end of his movie. His movie ended stupidly, I think. They probably just liked seeing themselves on screen.
1 out of 4.