December 8, 2016
Ice Age: Collision Course
After I saw the first Ice Age movie, I avoided the rest. It was okay, I just didn't have any interest in future films.
But then I became a movie reviewer, and in 2012 Ice Age 4: Continental Drift came out, so I had to watch several movies in a short span and my brain became fried. Every film got less and less scientifically accurate.
After a few years I figured we were safe, but no, since Blue Sky Studios has practically no other films coming out, we were given Ice Age: Collision Course, involving outer space. Another frontier for science to be destroyed in.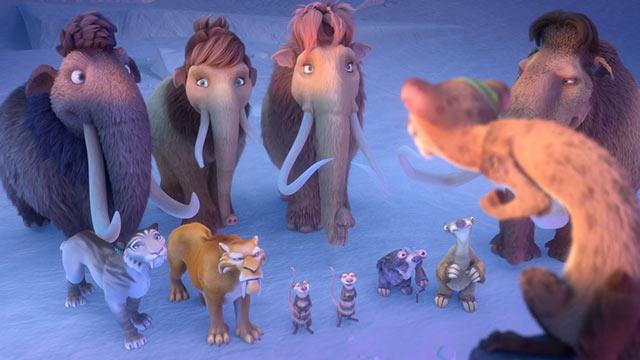 So many god damn characters now.
Look at all the people I get to talk about. Our original Ice Age crew is still around. Manny (Ray Romano), the mammoth. Sid (John Leguizamo), the ground sloth. Diego (Denis Leary), the saber toothed tiger. And by this time most of them have lovers and extra friends. Manny has Ellie (Queen Latifah), and her two opossum brothers, Crash and Eddie (Seann William Scott, Josh Peck). Diego has Shira (Jennifer Lopez) and they are only briefly thinking about kids. Oh and Sid is all alone, technically.
But Manny and Ellie's daughter, Peaches (Keke Palmer)? She has found a long term boyfriend as well now. Julian (Adam Devine), a mammoth who wants to marry Peaches and move her far away from the family. That sucks for the parents, but it would be great for the movie, because this cast of characters is already too large.
Scrat and his nut help cause a series of events that begins to hurtle a giant asteroid towards the Earth, putting a damper on their parties. The giant crew quickly runs into a weasel, Buck (Simon Pegg), who is some sort of extreme adventurer and smart entity, who has been living in an underground paradise. He believes the asteroid is being attracted to the Earth at a certain spot and that if they get there, they can stop it. But with him also comes a group of evil winged dinosaurs (Nick Offerman, Max Greenfield, Stephanie Beatriz), who also escaped extinction. They want the asteroid hit so that the mammals will die out and maybe they can rule again.
There you go! I think I got the basic plot in there.
Also featuring voice work from Jesse Tyler Ferguson, Neil deGrasse Tyson, Jessie J, Wanda Sykes, and Michael Strahan.
Ah, Simon Pegg, always the light in the darkness.
The pattern seems to continue. Check mate, science. Once again, every further Ice Age film in the franchise decides to take a big poop on science, despite starting off strong. I will say that some of the past discretions are more egregious, most notably being off on Pangaea splitting up by 155~ million years or so. This time, we are being threatened by a meteor, going to destroy the planet. One that is going to hit the same place that killed the dinosaurs, and a previous mass extinction event. The MAJOR plot point is literally just to bring up a real event, and repeat it to give it an old ancient past feel, I guess.
Not only that, but they then go on to imply that events in this film would be responsible for Mars becoming a desert, life less planet RIGHT AFTER saying it would have happened billions of years ago, completely vandalizing our poor time line.
One isn't supposed to get bent out of shape when faced with inaccuracies in a forgettable animated film, but when the film series used to be accurate and is still trying to showcase science, it gets quite annoying. What hurts me even more so is that Neil deGrasse Tyson not only lends his voice to narrate a few aspects, but they even make a character that is a flash in the pan to look like him for a couple more lines. Damn it Tyson, this movie is not helping get people smarter.
Outside of the science issues, this cast is way too large. No one gets killed off, everyone stays alive, and no one is leaving. So it started too big and then it grew further into the movie. It is beyond manageable and no one can really shine or matter. Not even the original trio. Okay okay, the new guy Buck shines a fuck ton in this film, and they thankfully make him interesting, but it is certainly not enough to save the movie in any way.
And yet, this is not the worst animated film of the year. This isn't even the worst animated film of the year to imply coldness. Ice Age is lucky Norm of the North exists to give us more context.
1 out of 4.