Urine has always been an attention grabbing headline. Whether it relates to the president peeing in some sexual act in Russia, or R. Kelly peeing on a fan who isn't at the age of consent to be peed on.
People love hearing pee stories, because people generally love peeing, it makes sense.
But people were quite upset at Lance Armstrong when his pee story hit the news. Everything was a lie, nothing was sacred, and all of those drug tests he passed could not detect his doping problems. Fuck.
What now? Are all professional dopers just waiting to get caught? (Yes). And should we care? (Eh, maybe not?). Bryan Fogel, who you definitely do not know, is an amateur bicyclist who went and did a big hard race in France that lasted only a short amount of days. His goal was to top 100 and he ended up in the top 20, but he was playing against basic machines. People who should have been pro.
So he wanted to find out if he could beat the drug tests, if he should take steroids since "Everyone does it" and if it was known out there how to do it. He didn't call it Icarus for that reason, but for the other reasons that will maybe be made apparent.
It took him some time to find someone to help him, but eventually he found Dr. Grigory Rodchenkov, a Russian scientist. He was very interested in doing tests with Fogel, telling him exactly what to do, when to pee, and how they might try and beat the system. And then, a lot more started to happen.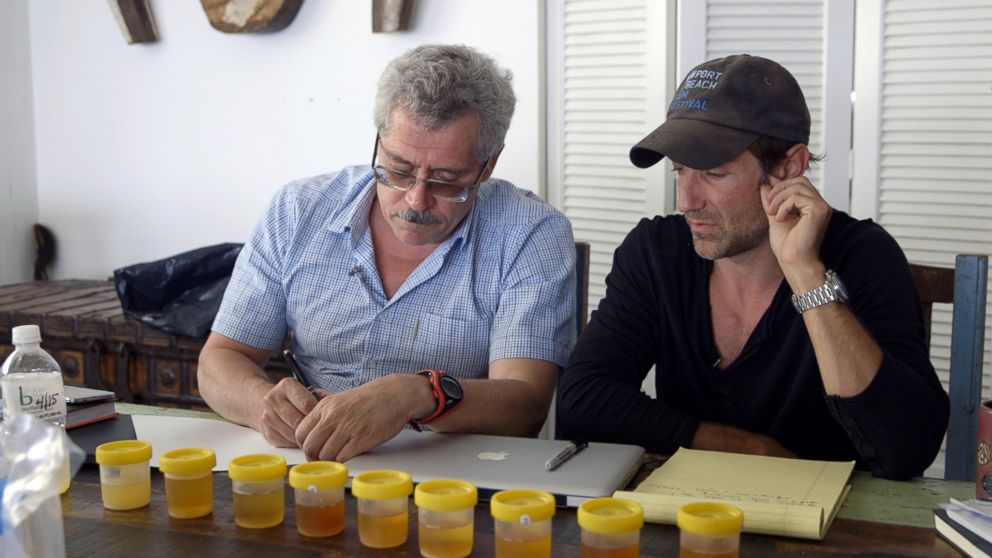 Look at all this urine! Hooray science!
You see, Dr. Rodchenkov was in charge of the Russian center for testing for drugs for their athletes. He had a long storied career, working around the world, and he was in charge in Russia for a bit now. And it was coming out, rumors, that the entire Russian Olympic program was doping, sponsored by the Russian government. Oh shit!
This is news that would affect the 2016 Olympics! And other programs. But it didn't happen, and Rodchenkov was feeling breathes down his back in Russia. So he got out of town, joined Fogel in America, to go into basic hiding. He then told his story to the New York Times and the FBI. And the rest is history.
Just kidding, the rest is still getting started, what with the Russian ban in the 2018 Winter Olympics and all.
Fuck! I love the Olympics, and it is crazy that something like this can actually come to the forefront after all these years. I am talking decades, especially when there was talk of them doing it when they were the USSR. All of my pop culture knowledge has brought me to this moment and it just makes since. We had to know it from Rocky IV, right?
This is one of those documentaries that just feels so lucky. Fogel started it with one purpose, and it grew into something so much larger. It is just so goddamn lucky. It starts off strong with good ideas, and builds into something so complex and politically wonderful. In fact, we need an Icarus 2 in some years just to see what came of everything. Solid documentary, overall.
3 out of 4.