June 11, 2014
How To Train Your Dragon 2
For those with a lot of courage, you may have seen my review for How To Train Your Dragon. Why courage? because that review is old and weak and it certainly shows. It is weak because it was one of my first 100, which I made in like a month by adding words from my facebook status reviews that they came from. And because I tried really hard to avoid spoilers that basically didn't exist.
Basically, parts near the end bugged me so much it lowered an overall fantastic movie to a meh movie. I still haven't rewatched it for that reason.
But now we have the sequel, How To Train Your Dragon 2. This one perfectly allows for the crap that happened in the first to not happen again, because now we are based with the assumption that dragons are awesome, and we should train them.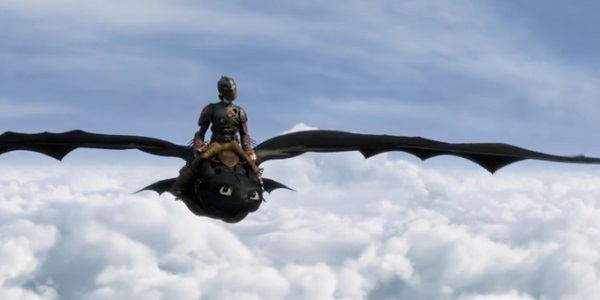 Yeah. So you can stoically sit on top of them doing zero tricks. Good job, guy.
Set five years after the events of the first film, Hiccup (Jay Baruchel) is still a god amongst mortals in his small Viking town. Although technically not immortal, he does have cyborg parts now and a flame sword. So I mean, basically. He has his dragon, and now he is exploring more and more areas outside of the small town. After all, with dragons they now have the ability to explore, because Vikings rarely explored on their own.
While exploring he finds…dragon nappers! And giant sheets of unnatural ice through a fort. The nappers are lead by Erit (Kit Harington), who is collecting dragons with his crew for the great and powerful Drago Bludvist (Djimon Hounsou). A mad man who claims to be able to control all of the dragons and wants to use them to take over the world. Your typical desires from an awkwardly darker skin character than everyone else in an animated movie.
Oh no!
It becomes up to Hiccup to use his excellent cyborg dragon abilities, and excellent sized human heart, to save the day. Especially if he can use the help of the mysterious dragon lady (Cate Blanchett), who you already know everything about if you watched the trailers. But in case you didn't, you are welcome.
A lot of returning characters, such as his dad (Gerard Butler), the smithy (Craig Ferguson), his lady friend (America Ferrera) and his other friends (Jonah Hill, Kristen Wiig, Christopher Mintz-Plasse, T.J. Miller). And of course, dragons.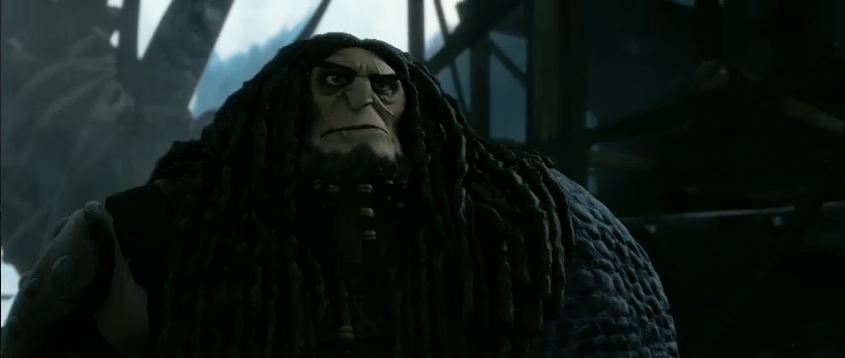 And that is how I met and trained your dragon master's mother.
First off, after the success of the first movie, DreamWorks starting thinking long term about this as a new franchise. So they put into development this sequel and a third film, at the same time. Which is why there was a four year delay between 1 and 2 (heavy CGI movies take a long time if done right (meaning not Planes)), but only two years before the third movie comes out.
Speaking of DreamWorks, I have hated or thought meh towards their last six movies. That is insane. Literally haven't had a winner since Kung Fu Panda 2. Thankfully, How To Train Your Dragon 2 turned that downward spiral around. And I don't just mean clockwise to counterclockwise, I mean up. Like a daring dragon flying maneuver.
This sequel has a lot going on for it. The CGI is extraordinary, which is probably too fancy of a word to describe it, but it really is gorgeous. They spent a lot of time and detail on every character, every scene, every dragon. Speaking of detail, the backgrounds of scenes are rarely pointless. They either showcase great scenes, or have hidden jokes and tomfoolery going on in the background as other characters are talking. It was awesome.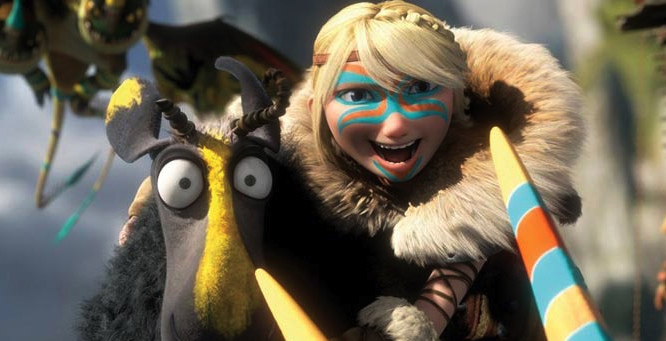 To avoid this wall of text, here is a bonus picture. Just. No. Bonus. Joke.
There is a lot of humor, there is a lot of character growth, there are more than one touching moments, and there is a lot of daring fight scenes. In fact, there were some terrifying scenes, and some darker moments, including some potentially heavy material for a PG movie. One drowning scene in particular still makes me shudder.
I will say there are some issues I found in terms of messages they are trying to convey. I think some parts of the ending directly contradict information said earlier in the film, a similar message given to us by Pokemon: The First Movie – Mewtwo Strikes Back.
But overall? Shit, this thing is enjoyable. Minor moral issues aren't a big problem. The 3D only seemed blurry in the first scene of the film, so that is good.
For those who have saw it, I made a theory halfway through the movie on how the third one might go, and the ending seemed to solidify it. I'd love to talk to anyone in private about my theory, but if it goes the way I hope, then yeah, it will be epic. But this is all jibberjabber at this point. Awesome flick, and probably going to be one of the top 3 animated movies this year (to go with The LEGO Movie, and The BoxTrolls, based on its fantastic trailers alone).
4 out of 4.