November 27, 2012
House At The End Of The Street
House At The End Of The Street has had a little bit of an interesting history. It was actually filmed before Jennifer Lawrence went on to do The Hunger Games. But hey, releasing it before hand is bad for business. Why not ride the hot young actress coattails, and put it off, like, a year.
Heck, I am even fine with their marketing campaign. Shortening the title to HATES is a lot more convenient. Just annoying that it ignores the "of The" part of the title. Can't even argue that it is unimportant articles and shit, since the "At the" is prominently features in the acronym. Oh well, making movie titles into acronyms (or vice versa!) is a lot of work.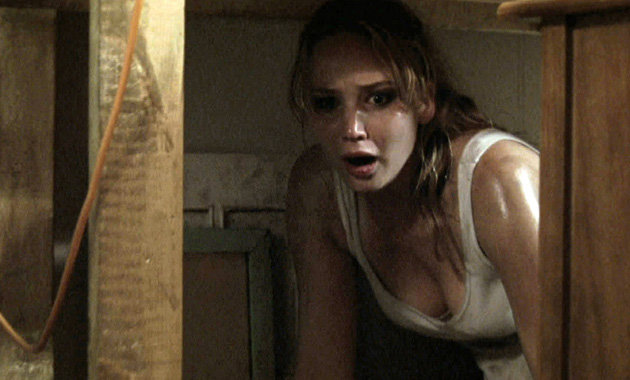 Warning: This movie might feature a lot of miss Lawrence rolling about and running in this outfit.
Elissa (Lawrence) and her divorced mother, Sarah (Elisabeth Shue) have just moved into the house of their dreams. It is actually affordable. Why? Because the house "next door" has a secret. And by secret, I mean well known fact that a double murder occurred there. A girl, Carrie-Ann, killed both of her parents one night, and escaped off into the woods. They think she drowned, but never found her body.
She did leave her brother alive though, how nice! Ryan (Max Thieriot) mostly keeps to himself after the incident. After all, a fucking double murder happened, and he is still in the house. The town wants to buy his house and demolish it, but it is all he has left, so he refuses to sell, not caring about everyone else's poor property values. The only person who doesn't give him crap is a local cop (Gil Bellows).
Unfortunately for Elissa, Ryan is the only guy who actually seems decent. Tyler (Nolan Gerard Funk) is just as mean and pompous as the rest of the town, and just wants some sex. Can't have any of that. So she tries to fix Ryan instead. Hopefully it is not weird either that it looks like his sister is still alive and living in a closet in his house. Whoops!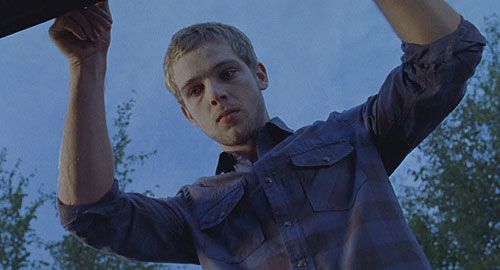 "Why is there a girl up in your trunk? In your trunk? In your trunk?"
On second thought, the title doesn't really make that much sense. There is no real street here, just seems like random houses in the woods, despite it being a mostly rich like area. Even though their house is "right next" to Ryan's, it is also as if there is still a big forest in between them. Can't even tell how much of his house is on the same street. Plus, it seems like no one else lives close by. How could it ruin their property values?
Semantics. I was kind of bored by the movie to start. It had "Jennifer Lawrence" singing original songs at the start. Or at least that was the plan. Apparently someone else sang over her to make it sound a bit more better. That is silly.
But by the end, as it is with most horror movies, some twists began to happen and I actually liked them. It actually added some backstory and reason to the actions of the main characters, pretty surprising for a horror movie. Not enough to make it exceptional, but enough to make it kind of cool. For one viewing. Definitely wasn't really scary either, felt a lot more like a thriller. But don't worry, you will get to see at least two deaths.
2 out of 4.