October 1, 2012
Hotel Transylvania
Oh heck yeah, it is October now! That means we get some Halloween themed movies, and of course, an increase in horror films. I am not as excited about those, but it comes with the territory.
I was a bit apprehensive about Hotel Transylvania at first. Is this just another quickly made CGI movie with a group of characters going on a journey? They have a lot of those. But then I found out it was being made by Genndy Tartakovsky, who brought us Dexter's Laboratory and Samurai Jack. This can only lead to good things.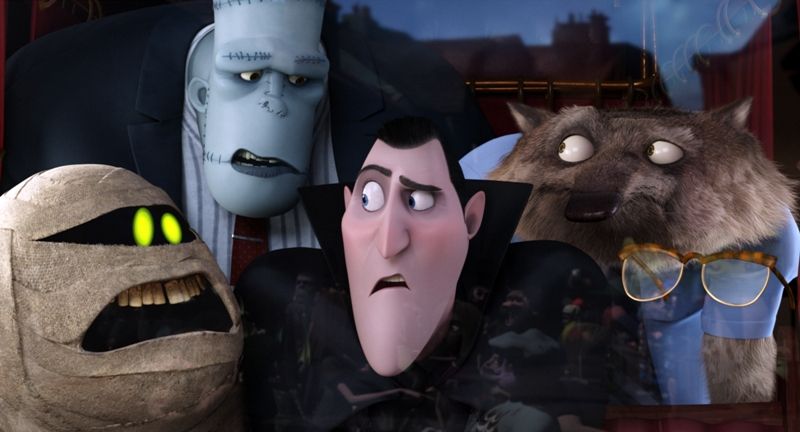 Like in real life, diversity in friendships is expected, with only one of each type of creature/race allowed.
Dracula (Adam Sandler) is a pretty big deal. But now he finds himself a single father, with his wife being killed by those gross mean humans in the 1800s. Well, he vowed to never let the mean old humans mess with his daughter or friends ever again. So he decides to build an enormous fortress, hidden from society. Heck, if he can also scare his daughter Mavis (Selena Gomez) into staying there forever, it'd be perfect. He also decides to run this place as a hotel, a premier destination that has never seen the likes of a human since its creation!
The movie takes place in modern times, the eve of Mavis' 118th birthday! She was told she could go out and see the world at that time, which Dracula lets happen. But he sets up a fake village to scare her into believing him about the horrors of humans, which works very successfully! Unfortunately, it also gets the eye of Jonny (Andy Samberg), a human hiker (stoner?) who is able to stumble upon the Hotel and ruin its perfect streak.
Dracula has to go into a panic! He can't just go and kill him, that would set back monsters hundreds of years, they are over that stuff. Instead he has to hide him, eventually in plain sight as a Frankenstein like monster. Too bad he is also the only one "around Mavis' age", and she kind of falls for him. Whoops. Can he hide the human and protect his hotel's record, while lying to his daughter and guests? Huge cast of people at the hotel, including his friends the Mummy (CeeLo Green), the Wolfman, wife and kids (Steve Buscemi, Molly Shannon), Frankenstein and wife (Kevin James, Fran Drescher), the Invisible Man (David Spade), and Quasimodo (Jon Lovitz).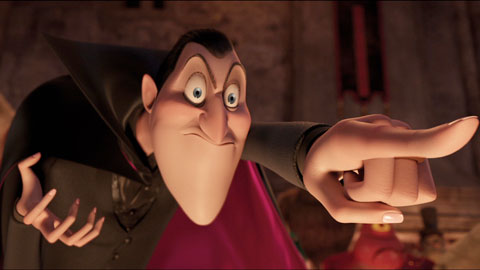 You can't even handle the amount of celebrity voice actors!
Goods news, adults who read this (because I clearly have a large child readership base), you won't be bored by this family movie! That is always a plus. It also isn't full of fart jokes, only about one, which is strange for something with Sandler involved.
It had a lot of things working for it. The quick Dracula explosions, the voice acting (most characters you couldn't identify right away their actor, except for Invisible Man), the animation, the plot. All pretty decent. I didn't like the Jonny character at all, his voice annoyed me and his actions. I was kind of hoping Dracula would just hide him in a dungeon the whole time and be good to go, but eh, it happens. Was just a bad stereotypical modern hippie traveler.
The only other issue for me is that I just know I never really want to see it again. I don't think it will be interesting a second viewing. Very strange, I know. But I think its just a one and done type of deal. So if you are going to go see it, might as well wait til closer to Halloween. Worth a gander, but not a buy.
2 out of 4.