I first heard of this movie from Joseph Gordon-Levitt himself. He came to UNC on some weird tour called HitRecord, and showed the preview for Hesher for fun. When I saw it, I thought "Well, that is shit."
Thankfully enough, I was wrong! This movie was a lot better than I thought, if not weird. It also definitely earned its R rating, so maybe my review should fucking too? I think I only need to say fuck twice to earn an official R. Well done, self!
Hesher is a loud mouth metal psychopath like person, who also is a homeless drifter. He of course befriends a kid and lives his family (dad / Rainn Wilson) who have recently lost the mom, and teaches them how to live life again through unconventional means. Sounds like a bad sitcom? Yes.
But this was pretty fantastic. Lot of violence, some OH WHAT scenes, and language and sex. Also Natalie Portman plays a nerd girl.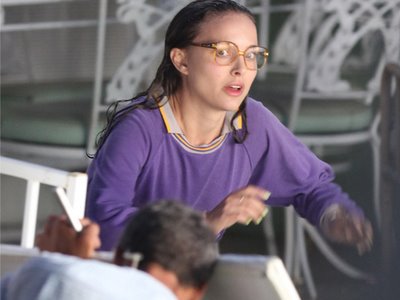 I prefer my Natalie to be Nerd Natalie. So does Thor.
Joseph Gordon-Levitt pulls off this role, and I don't think anyone could have expected that. I mean, this is the wing flapping, invading earth, cobra commanding JGL here. How dare he gain the ability to grow long hair and listen to metal. But it was very captivating, and off beat.
3 out of 4.