July 18, 2013
Grown Ups 2
Here are some facts about Adam Sandler!
Adam Sandler has never made a sequel to any of his movies before Grown Ups 2. He has been in one sequel before, Deuce Bigalow: European Gigolo, but he wasn't in the first film, and he obviously didn't make, direct, or star in it.
Who would have thought that Adam Sandler secretly had some standards? He only works with new(ish) ideas. That is unless his film makes a lot of money, like Grown Ups did.
Okay, that is really just one long fact about Adam Sandler. Sorry if you expected more.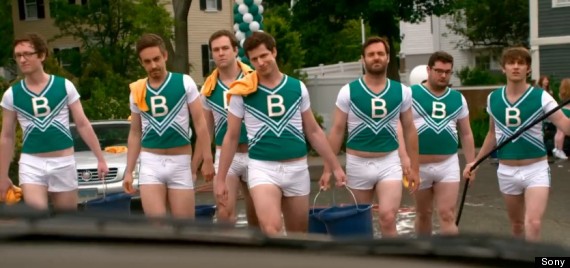 The scene from the trailer where he says "Your car is filthy" is cut out. Disappointment.
The movie takes place soon after Grown Ups, except now in a small town! Lenny (Sandler) has moved his family away from Los Angeles for a quieter and simpler life. Long story short, Grown Ups 2 is a day in his and his friends life.
Lenny's wife (Salma Hayek) wants to discuss having a fourth kid. Marcus (David Spade) just realized he has a son who is visiting him today. Kurt (Chris Rock) wants to celebrate his 20th wedding anniversary, but his wife (Maya Rudolph) forgot. And uhh, Eric (Kevin James) really loves his mother and hides that fact from his wife (Maria Bello)? One of his kids might be dumb? His part doesn't really have a plot.
There are other characters too. Like Nick Swardson, playing some sort of extremely drugged out bus rider. Or Taylor Lautner, leader of the frat boys, with assistance from Milo Ventimiglia.
Sorry agian, but I think that is the best plot description I can give of this film. Honestly, it feels like it is a skit movie. The plot is basically childish adults hanging out, so most of the scenes are really unrelated. It isn't set up like a traditional skit movie, like the recent Movie 43, but it feels like it could be a long strange episode of Saturday Night Live. Or a live action Family Guy.
The amount of cameos in this movie only helps that stigma. Here is a big list! There is Colin Quinn, Tim Meadows, Steve Buscemi, Jon Lovitz, Shaquille O'Neal, Steve Austin, Dan Patrick, Aly Michalka, Andy Samberg, Will Forte, and even Paulina Gretzky, daughter of (of course) Wayne Gretzky.
Yet no Rob Schneider. Where the heck did he go from the first movie?
I say some shocking things in this review about Mr. Lautner. Read on to find out! D: D:
There is a lot wrong from this movie. All the jokes are extremely low-brow, almost 100% poop and sex jokes. In fact, there were so many sex related jokes that I was surprised this movie was rated PG-13 still.
It just felt bad overall. Yes, I still found some of the scenes humorous, but because it was put together so badly and without any context, it just left a rank taste in my mouth. There might have been ten minutes worth of plot. Maybe.
The CGI was out of place in this movie too. The Moose didn't look real, nor did the "tire rolling down the hill" scene. It almost felt like a cartoon, in that people were doing things that should have killed them, but they were completely fine afterwards.
The ending itself is lazy humor. I am describing it as slap stick to the extreme, as it ends with all the adults in a literal fist fight with a group of frat boys, and kicking there butt. I do mean all the adults, as in everyone linked to above. The ending of the movie is just a long brawl.
Speaking of the frat boys, Taylor Lautner was literally the best part of this movie, and he had a huge role as the main villain, with tons of dialogue. Yet he wasn't even listed in the credits? What? Six different frat boys were credited, only two of which had real names, but not the main frat guy.
Just an example why this whole film was a mess. That and the unexplained disappearance of Rob Schneider.
1 out of 4.