November 21, 2018
Green Book
There were quite a few Green Book screenings in the Houston area leading to this films release. The first one was still in October, I just didn't feel like going to see it then because it would have been my third film in three nights, and I knew there were more. The second screening was at a location I disliked, so I passed on it. The third one ended up being during the day on a Monday, and that is silly. So screening number four? Well, I almost missed that one too.
You see, that was the same night for screening Creed II and Ralph Breaks The Internet. Both of those films are the kind that draw in clicks to your website, but I didn't love Creed so it didn't bother me, and I really didn't think Ralph 2 looks swell.
And in my past, skipping a film four or more times usually comes up to bite me in the ass. Like I would have loved it, or award nominations and I am sitting around like an asshole who hasn't seen an obvious award favorite. I don't need to be an asshole, I just need to see this movie finally!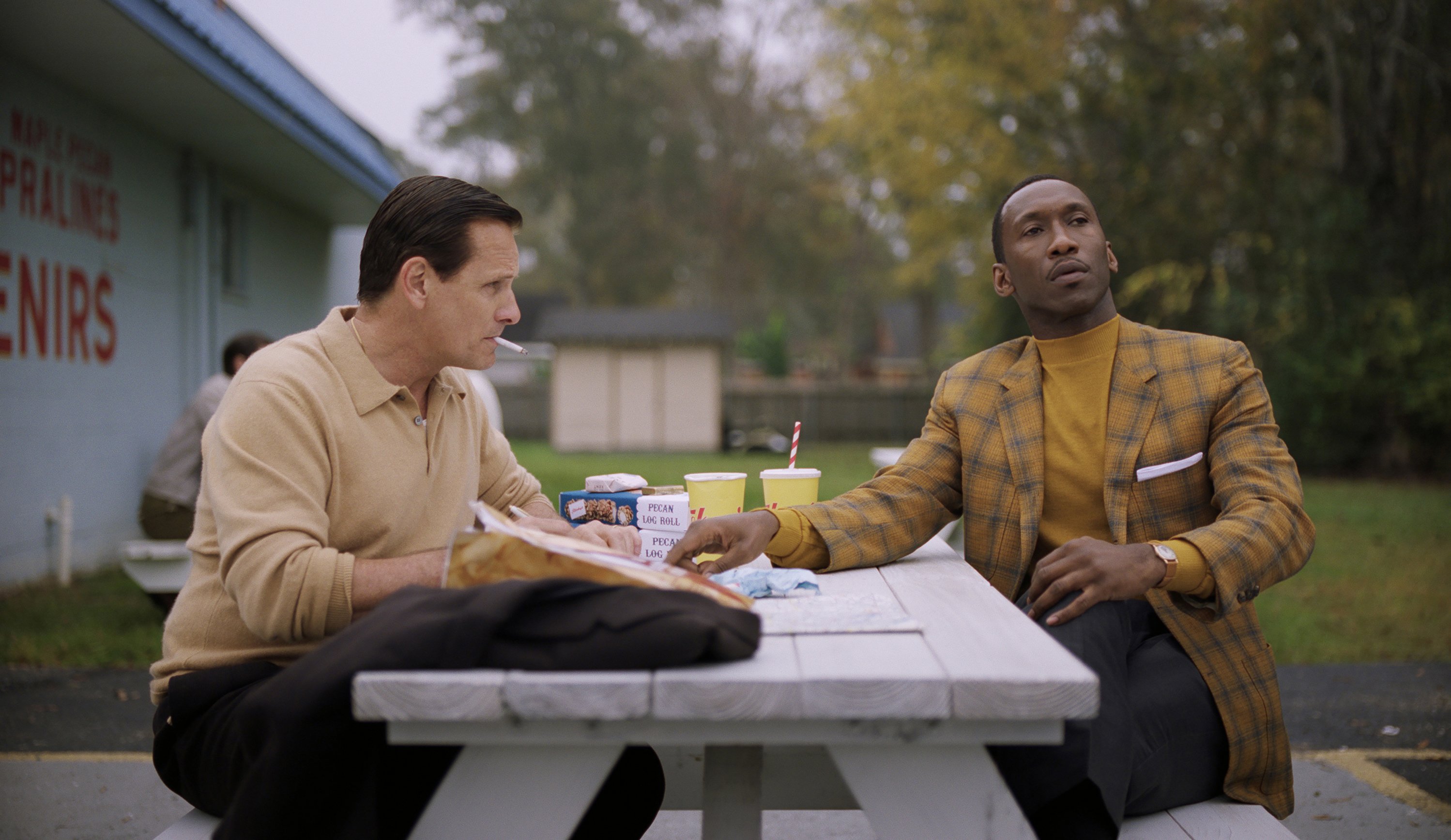 I also need to learn how to look good in yellow.
Tony Lip (Viggo Mortensen) is one of your typical Italian Americans living in NYC in the 1960's. He has a loving family, a very big extended loving family, and he knows everyone around town. He also has a bit of an anger problem, and a fighting problem, so he uses his skills to make sure that people don't ruin events. He works at a fancy club and makes sure that other customers don't have a bad time. Thankfully, he is not involved in the mob.
But he has to find work for a few months as the club closes down for renovations. The mob wants him, but he doesn't want to get involved in that stuff. He gets a job opportunity to be a driver for some doctor. It turns out this doctor is a musician, a black musician. Dr.Don Shirley (Mahershala Ali) has multiple PhD's, is a classically trained pianist, and has made several records. He lives in Carnegie Hall, that is how seeped in the musical world he is. But Shirley wants to branch out, he wants to go on a tour around America, for less money, but to help change the world. He wants to go down south, to the racist epicenters and showcase his own talents.
Dr. Shirley is not a dumbass, and that is why he needs a driver who can handle specific situations. A driver who can guarantee him access between venues, to deal with the racist whites, and to help out along the way. And I guess Tony Lip is that guy.
Also starring Linda Cardellini, Sebastian Maniscalco, Dimiter D. Marinov, Iqbal Theba, and Mike Hatton.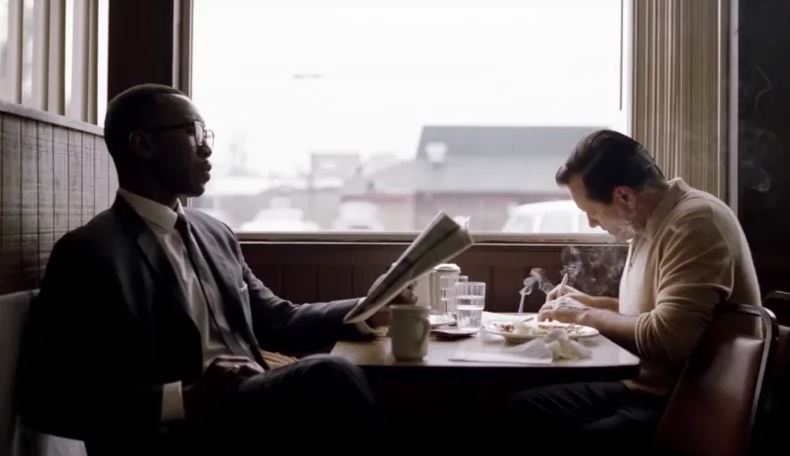 Are you sure they drove around? All I see is them eating.
Green Book is destined to be a favorite film amongst movie goers this season. Coming out in Thanksgiving is definitely a good call. It might not be a family favorite, given the R rating from language throughout it, but people will enjoy the story. It is a different sort of heartwarming tale.
You know. Racist white guy getting over himself to realize this black boss is a good person as well, and he can learn from him, and teach him, and they can grow old and happy together. Even if he is black!
And that is really where my issues from this movie come from. It almost treads into the white savior problem of these films. First of all, yes this is a true story, and yes, these people were friends for the rest of their lives until they both died. That is totally fine! What seems odd though is that despite all of the recent trends, they decided to make this movie from Tony's point of view. Tony is white and an American people can relate to, in order to see the film. But this could have been a very different film about a musician, who has all of these skills and degrees, still having to deal with a very racist world in the 1960's (versus our regular racist world now).
We could have saw him have the decision to do the tour, and then put out the ads for a driver, do the research and let the white guy be mysterious. Let the white guy be off putting and odd. There is no real reason why it couldn't be like that, given that it is just about these two individuals. They just had to make the black man the mystery and the strange thing here, when both individuals could have been the case.
Telling a story about an individual getting over racism is fine, sure, but it is one we have seen over and over again. The filmmakers have still not gotten over their ability to tell stories in ways that actual resonate with people of color to tell their story, but instead, piggy backing off of the white narrative.
Overall it was just disappointing to see it like that. A film that could have taken some risks and chose not to take any. In terms of acting, Ali and Mortensen are both phenomenal. They are worth the price of admission. I just can't help but imagine how much better it could have been if it worked to address the social concerns in a more proactive way.
2 out of 4.