November 15, 2017
Goon: Last of the Enforcers
I. Love. Goon.
I did not do a best of list of 2011, but if I did, Goon would have certainly been on in it. It was such a surprise of a film. I don't except a lot out of hockey movies, nor do I expect a lot out of Seann William Scott films, but something magical came together to give a movie that was hilarious, brutal, but still full of heart at the same time. And it told a different sort of hockey story. A different sort of underdog.
It was the perfect storm.
And then they said there would be a sequel. This time it would be written and directed by Jay Baruchel who wrote the first film. It would be Goon: Last of the Enforcers and it would come out eventually.
So it took six years yes. And Canada had it released in theaters briefly in March with no knowledge of when it would come to America, theatrically, DVD, or otherwise. And at some point it was just here, I saw the Blu-Ray at used movie store. I freaked out, excited, and scared.
As much as I loved Goon, I had big fears that a sequel would just be utter shit, as a lot of comedy sequels tend to do.

Turning the whole thing from a comedy into a romance is a bold choice as well.
Doug Glatt (Seann William Scott) is ready to start a new season as a Halifax Highlander, but with a big change. He is going to be the captain. This upcoming season is a bit of a weird one, as there is a lockout in the NHL, so more and better players are in their league than normal and people are actually noticing them for once, including the media. They have a new owner, Hyrum Cain (Callum Keith Rennie) a former player himself.
During their first game, Glatt gets into a bloody fight with Anders Cain (Wyatt Russell), an up and coming violent winner, and yes, son of their new owner. Glatt gets his ass handed to him and his right arm injured, putting him out potentially for good. His right hand is so messed up, if he fights again, it will quickly get fractured and fuck it up permanently.
So Glatt is ready to retire on that note. Eva (Alison Pill), his now wife, is also pregnant and worried about him, so he gets a steady job in some insurance company. He hangs his skates up for his family, as the Highlanders begin to lose and lose. The owner makes changes that seem to threaten the franchise and the careers of his friends. That is not good. There is no way Glatt could come back, right? Not with an inability to fight. He would just have to be a player mostly. It might be crazy enough to work…
Also returning are basically everyone from before: Marc-Andre Grondlin, Liev Schreiber, Kim Coates, Jay Baruchel, Jonathan Cherry, George Tchortov, Karl Graboshas, Trent Pardy, and Richard Clark. It also brings in Elisha Cuthbert and T.J. Miller!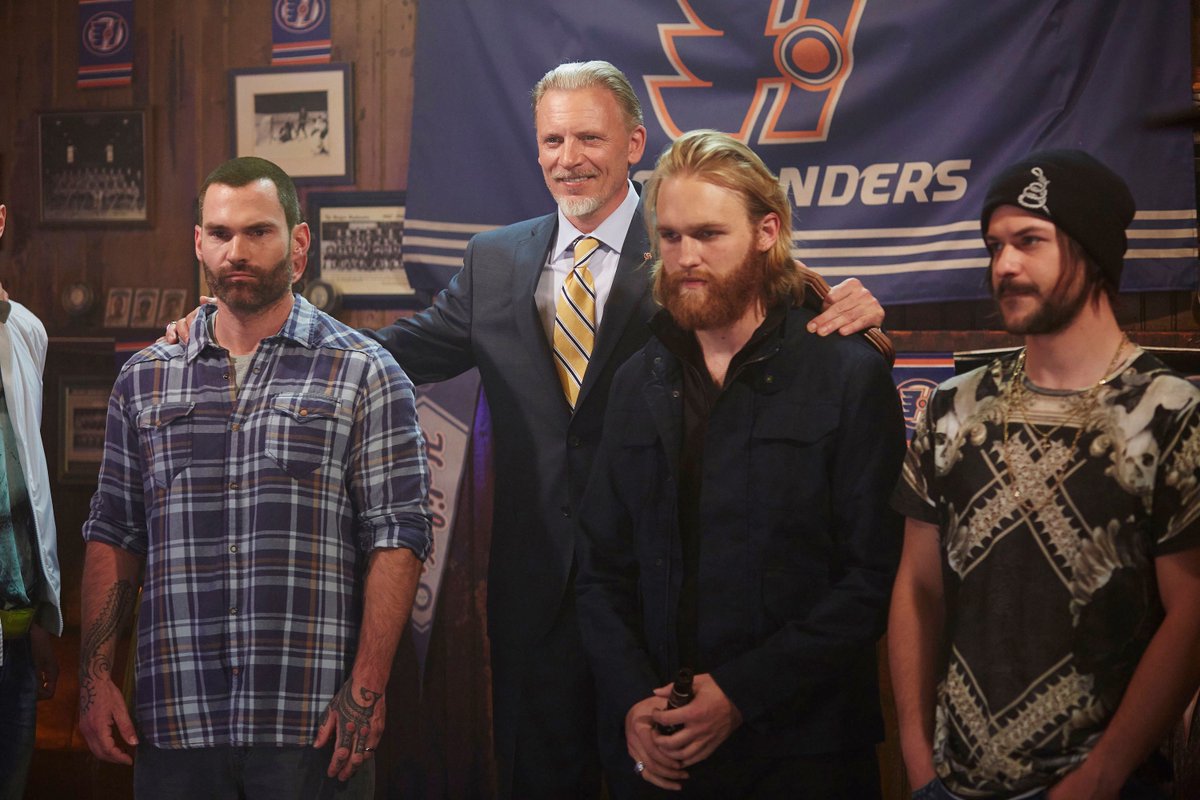 New guy definitely wins the beard game if anything.
A lot of the same happens in the Goon sequel, thankfully. We still have the locker room playful banter that makes up a decent portion of the original. A lot of the skaters are the same. The old captain has retired and is now just a coach, along with the same old coach as well. Just a new owner, a new player, and the same supporting cast.
Pill's character has changed for the worse. She is worried about her husband, and pregnant, but she really doesn't get to have a lot of good moments unlike the first film. She rocked originally when she was a hot mess, but I guess it is development. Glatt feels like the same old character, which feels great, although the time between the films is a bit up in the air. I definitely enjoyed seeing Rhea in a roll that felt natural as well.
Unfortunately, Russell's new antagonist, though threatening, was all over the place. They tried to place it all under just anger issues, but it is really hard to understand him as a person, and feels like he would just do what a writer wants, not like how an actual person might react.
Jokes are still there, they just didn't hit as hard. Some really funny moments, but I have already forgotten basically every best moment, unlike the best moments from Goon which I have quoted for years.
All in all, it is just an okay film. It won't tarnish the memory of the first film, but also, it is one I won't ever need to go back and see again. Oh well. Just don't make it a trilogy and end it poorly.
2 out of 4.