December 21, 2011
Gnomeo and Juliet
Thanks to Wall-E, people realized that all "kids movies" didn't have to be dumbed down or feature only "lesser" humor. But guess what? Those movies are the easiest to make. Not in terms of work on CGI and what not, that can take forever, yes. But in terms of an interesting plot or comedy? Don't even have to try. Afterall kids, are easy to amuse and if anyone grades you too harsh you can say "Hay! This isn't meant for you adult! Get away!" and be done with it.
And then sell more toys. Or lawn Gnomes.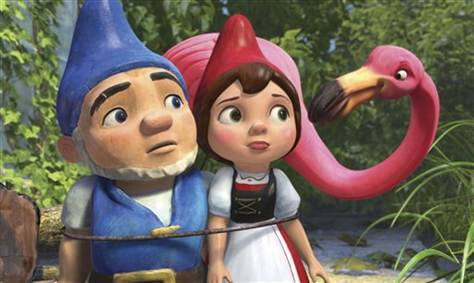 Or whatever lawn ornaments people don't seem to care about anymore!
The Gnomeo and Juliet plot I shouldn't have to go over, but here it is quickly. Instead of neighboring families, it is just two neighbors. Who live in a duplex like thing, but they dislike each other. Yes, their last names are the expected ones, and one really likes red, one really likes blue. They also both have a shit ton of color appropriate gnomes and etc on their lawn. I assume that their dislike makes them have a competition with each other over who can have the most ridiculous shit.
Gnomeo (James McAvoy) and Juliet (Emily Blunt) eventually find each other, in a neighboring abandoned property. Also there is a flamingo (Jim Cummings) there. BUT WHY MUST THEIR HATS BE DIFFERENT COLORS. We also have Michael Caine as head of the Reds, and Jason Statham as Tybalt. Patrick Stewart voices William Shakespeare. Because of course he is in this movie.
Also, hopefully you like Elton John, because he is an executive producer, which means that the only music in this movie is his. The orchestra versions of Crocodile Rock and Saturday Night's All Right For Fighting threw me off at first. But it was worse when it was his same songs, but with lyrics changed for the movie.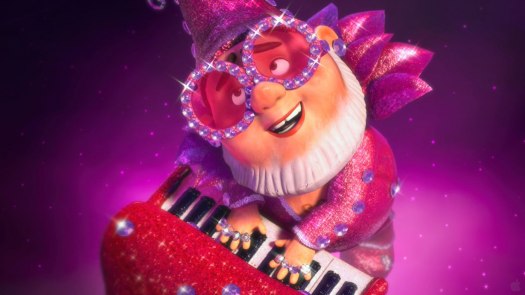 There are a few other subtle hints at his involvement.
Obviously the story is nothing new, and ends differently for the kids. Here is where I overthink things. In this vague world, inanimate objects can talk. Even a statue thats hundreds of years old. But so can the toys, like that doll. But why not the chair? Or laptop? They are also inanimate objects, and probably even more advanced than just…pottery pot like lawn gnomes. Where is the line drawn, filmmakers? Exactly. There is no line.
But yeah. You expected this rating anyways.
1 out of 4