August 1, 2018
Get Me Roger Stone
Oh yes, political documentaries.
There are gallons and gallons of these things pouring out, trying to keep up with the scandals and political movements forming.
Trump hasn't made anything easy, but he has given jobs to people who want to make documentaries. It also seems like ant documentary, regardless of subject, will involve Trump somehow and the state of the world and blame him. It's insane some of the connections.
Now, for Get Me Roger Stone, it is inherently political and related to the Trump presidency. It is about Roger Stone, an extremely famous Republican political advisor, infamous for his past and the lengths he would go to in order to win.
And yes, Roger Stone is potentially the reason why Donald Trump ran in the first place and eventually won.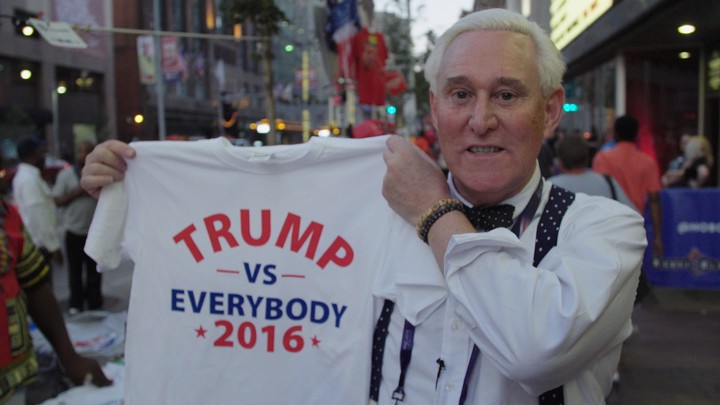 Oh, everything about this is punchable.
I will admit that learning about Stone was rather interesting. He was technically involved in the Watergate scandal when he was only 19 years old. He wasn't a big part or anything, but involved nonetheless. This fame led to more opportunities, including eventually leading the Young Republicans.
Eventually, he became a lobbyist and had a big firm that also represented Republicans. He helped elect them to positions of power and then lobbied them for favors. It was previously unheard about before.
He also worked with Paul Manafort, who you may know is going under trial for many various reasons relating to his work before and during the Trump campaign. Unfortunately, this documentary came out in 2017, well before a lot of this information became public.
At this point there is no reason not to assume Stone as well was involved in some underground things. This documentary doesn't talk about Russia at all, but in a few years it can probably be updated with at least an hour of content.
It is a shame that I am left feeling that this story isn't finished. But really, this documentary is about Stone's past and how he helped shape the 2016 elections (and many more). What we know now is that this documentary unknowingly probably didn't tell the full story. There is a lot more moving pieces and it is just extremely unfortunate for the documentary.
But really I can't hold it accountable for that. It is still very detailed and yes I learned a lot.
Give it a watch, it is on Netflix and it will make you hate aspects of politics even more.
3 out of 4.