April 9, 2013
G.I. Joe: Retaliation
G.I. Joe: Rise of the Cobra came out in 2009 and was a shit storm, just a big shit storm. I wasn't reviewing movies four years ago, but if I was, I would have lampooned it so hard, in every orifice it had. It had some amusing parts, that red head was hot, but whatever. Not even Joseph Gordon-Levitt, right before his big claims to fame could save it.
So why did we get G.I. Joe: Retribution? Who knows. Can't say it interested me at all to say it. What is with the cast overhaul? There is like, 2-3 characters the same in this movie. No Dennis Quaid, or Marlon Wayans, or Mr. Eko. All big parts of the first. I guess if you want to distance yourself from a bad movie, you should just replace basically everyone? I guess.
But no JGL to return as the Cobra Commander really irritates me. Hopefully they didn't just try to fanservice this movie up with random shit.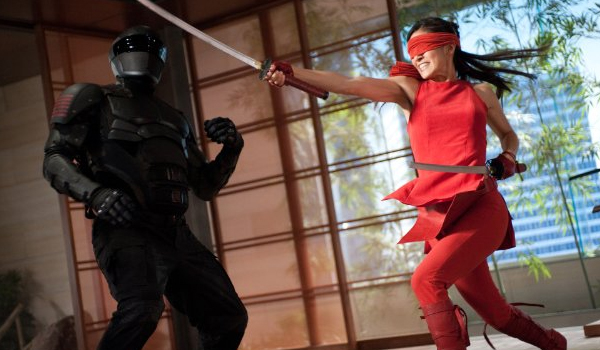 NOW WITH EVEN MORE NINJAS! Fuck.
Hah, Duke (Channing Tatum) is still here! Now he leads his unit, along with his (clearly always been there) buddies of Roadblock (Dwayne Johnson), Lady Jane (Adrianne Palicki), and Flint (D.J. Cotrona).
Well, they decide to save the day again, but for some reason they get ambushed and most of their unit (a bunch of nameless people) die! What, how could this be!
Oh that rascally President (Jonathan Pryce) did it! But why would he? Must be some sort of nanobot doppelganger! How crappy.
Well, they are assumed dead now, and must go undercover, finding the original G.I. Joe (Bruce Willis) to help them. BUT LETS NOT FORGET ABOUT Snake Eyes (Ray Park). Ninjas are cool, and he is a Joe as well. But now he is with Jinx (Elodie Yung), the sister of Storm Shadow (Byung-hun Lee) (What, you thought he died in the first film? Pfft!). They have to bring Storm Shadow to justice, because the "Blind Master" (RZA. Yep) said so. Something about family honor.
But oh yeah, President is not really the President! The Cobra Commander must behind this. Hopefully he doesn't threaten to destroy every major world power and successfully take out London. What? He takes out all of London? Holy shit! That should have huge repercussions that they will definitely deal with in the movie or the sequel. Ugh.
The Joes better figure out how to stop this, and get themselves back into good grace, before they make a trilogy and kill off the one or two links left to the first film! Also featuring Walton Goggins as a hilarious warden, and Ray Stevenson as a not so funny bad guy named Firefly.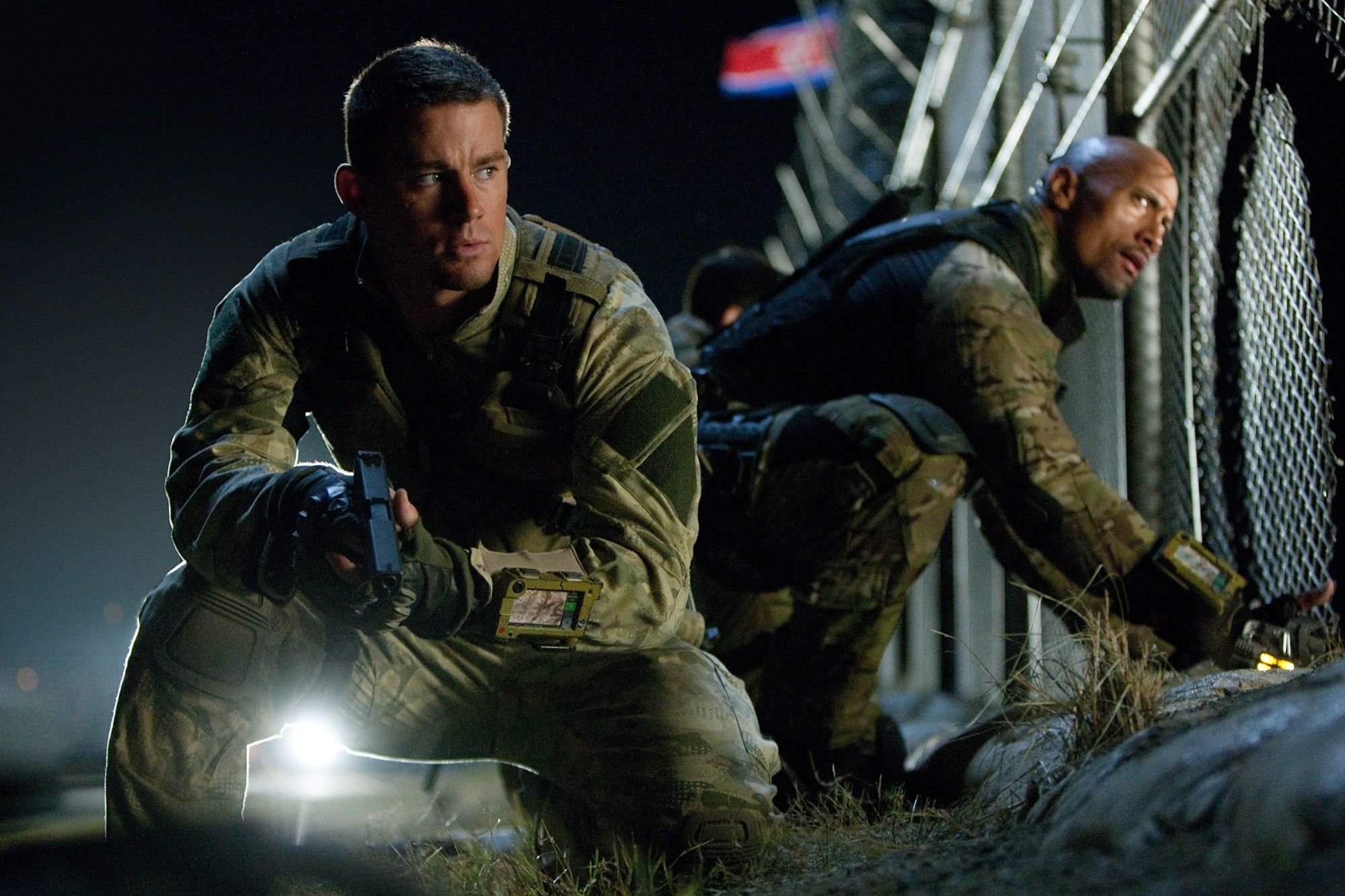 Channing is just wondering why The Rock and Bruce Willis are in every dang action movie now (and how can he get that honor).
To answer that above question, the Rock is actually a decent actor. It is just getting overkill.
Woo! I found this movie at least entertaining. Strange huh? Some of the action scenes were fantastic, and nicely spread out enough to be enjoyable. There was a lot that I disliked of course. Only one main woman (not including the other ninja), and they had to use her looks I think three times to advance the plot. How convenient. Flint was a useless character, and Jane's background was pointless. The Storm Shadow backstory didn't make any dang sense when you look at how time works. Too many ninjas just might spoil the bunch. (In the film, they go to a ninja factory basically).
Not to mention no Joseph Gordon-Levitt! Boo!
Really, a problem I was confused with is that the movie felt like it went entirely too quick. One of those films that takes a long time to build up and climax, and once it gets great, it is solved quickly and over. I hate feeling unfulfilled, but it was already 110 minutes long. I think it could have added an additional half hour to it (if they changed the movie around for an extra assault) to really enhance it overall. But if they added more time, they might have added even more bad plotlines. That would be the real shame in the end.
Okay action movie, definitely better than the first. But still has a long way to go!
2 out of 4.