September 25, 2013
From Justin To Kelly
#900. Hooray. Not technically an important number, but it is 100 from 1000, which is sexy as shit.
For this milestone review marker, I have decided to tackle a movie that definitely falls outside of my time range. It came out in 2003, but was such a bomb, that I am pretty sure no one ever saw it, and it was given the Gigli treatment. The movie you know was bad before it came out, and were willing to trash it without seeing it.
I mean, I am not saying this movie didn't warrant that treatment, for so many obvious reasons. But just how bad was From Justin To Kelly?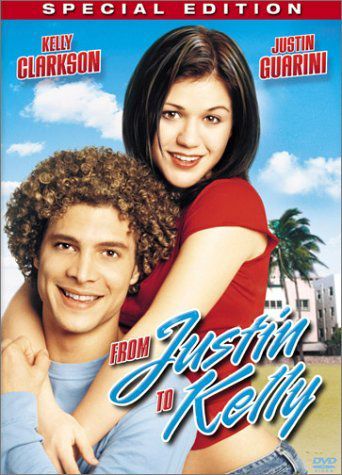 I mean, these two kids look like they are at least clean right?
But first, let's make sure you all understand where this film came from. In 2002, American Idol was born. A huge sensation and hit, it captivated audiences, because it honestly brought something new. The viewer was given the power, it was live, not some just random panel of judges. Oh, and that Simon, he was a mean one.
Well, our final two contestants were Kelly Clarkson and Justin Guarini and America was left wondering who would win, who!? Well, clearly we know the winner now. Kelly Clarkson is a big star. Justin Guarini is better known as Sideshow Bob from The Simpsons. Despite that, a year later, they decided to ride their fame to the ground and release a movie that probably cost $5 to make, to make America love them even more!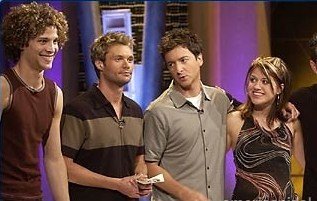 They also had two announcers that year. Did you forget about Brian Dunkleman?!
No, fuck that. It is movie time.
Spring break movie time.
Unfortunately, this movie is rated PG, so any closeness to Spring Break will be missing from this film. Either way, this movie takes place almost entirely in the sun, on a beach, where people sing dance and sing some more!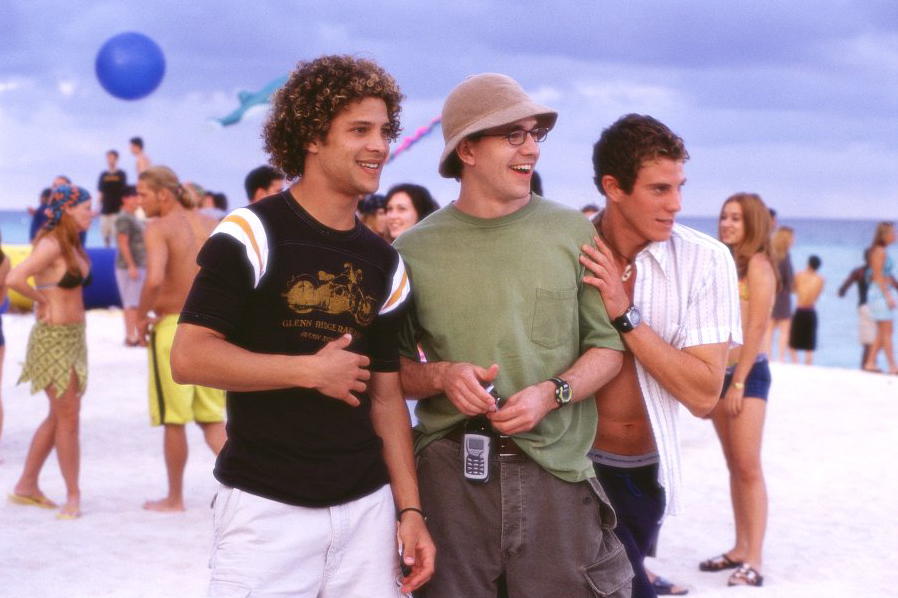 Where a bro, can be a bro.
First we have our guys! Of course we have Justin, who gets to play himself, from Philly originally but now lives in the beach area. He and his bud, Brandon (Greg Siff) are working on starting a business. A party business, and what better place to start than Spring Break. They can make cash and have fun at the same time. Justin is the type who has a different woman every night, so this is just more opportunity for hot passionate hook ups!
Brandon keeps getting in trouble with the law, a hottie cop (Theresa San-Nicholas) giving him ticket after ticket. The third friend is Eddie (Brian Dietzen), who is a nerd and has been dating a girl on the INTERNET. Hah, what a creep! He plans on meeting her over the break, but he just can't find her.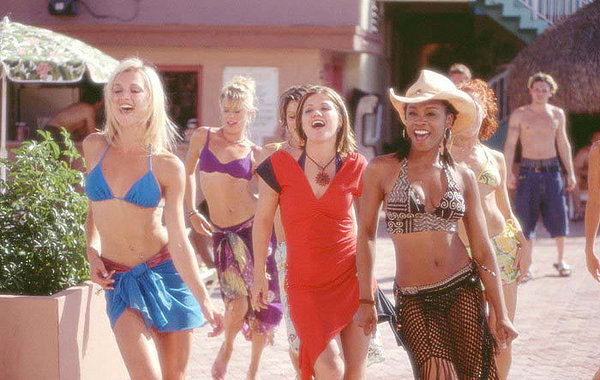 She ain't one of these ladies, that is for sure.
Then we have our girls, straight from Texas. Our main lead is Kelly, and she is a bit shy and doesn't get out that much, so her friends are responsible for bringing them along. Kelly isn't really looking for anything, just a break from the mundane. One of her friends is Kaya (Anika Noni Rose), falls in love with a random bus boy, gross. Her other "friend," Alexa (Katherine Bailess), likes to reject boys and play a tease. Ah, teenagers.
If you haven't noticed, despite the even numbers, no, we don't have three friends hooking up with three friends. That is good!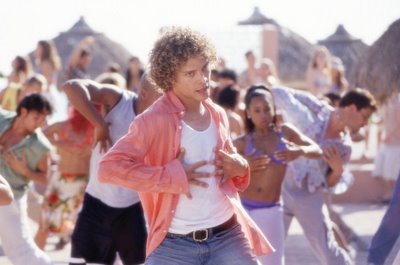 I really am telling a picture with these stories. Look how alone Justin is. He hasn't found Kelly yet!
Well, eventually Justin meets Kelly, and it is love at first sight. Just kidding, then the movie would be over. But there is some interest, so Kelly gives Justin her number.
Too bad he loses it somehow! Shit, she is also complaining about whipped cream bikini contests. He is totally running one of those later in the week. Oh well, might as well lie.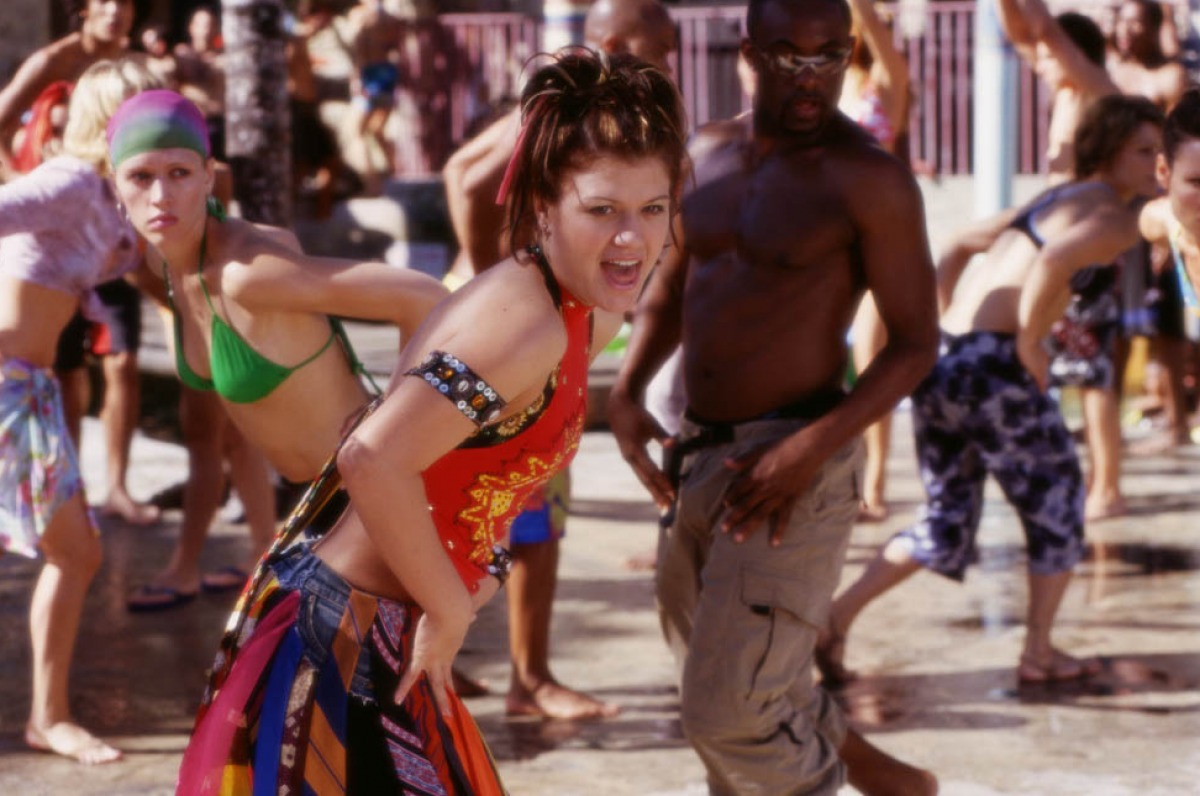 Oh no, she is also dancing alone. God, why can't they find each other and have the best love of all the times!
Well, he tries to get her number again from Alexa, who agrees, even though she is kind of interested in him too. Except she gives him her own number just to fuck with him. Alexa is a bitch.
So he is texting her for days but she will not meet up with him, despite their in person conversation. What is up with that? Kelly is left thinking that Justin is a player who didn't really want her, just a trophy number. Neither side is having any fun. Even when they do meet, they fail to mention the lack or awkward text communication, and end up having their own real life problems. Jeez, why can't it just work out perfectly?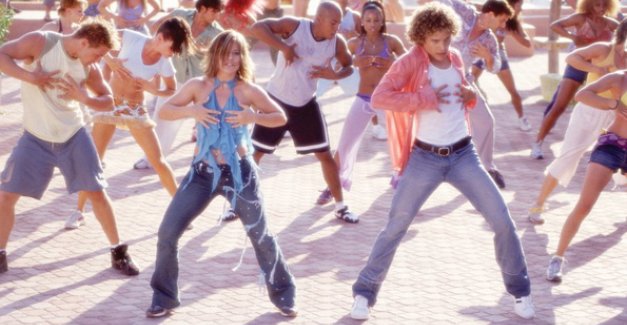 Well, there is progress here. At least they are dancing near each other.
Long story short, EVERYTHING WORKS OUT FOR THE BEST. Kelly finds out Alexa is a whore. Kira gets with the bus boy who also doesn't lose his job. Eddie makes other friends and his online girlfriend is for real! Brandon, after shenanigan after shenanigan, is able to meat the cop in her off time and she totally digs him too.
Oh, and Justin and Kelly found out they love each other or something. Time to give up those player hater days and foster this love that will totally last forever, since they live in Texas and Pennsylvania. Also, singing!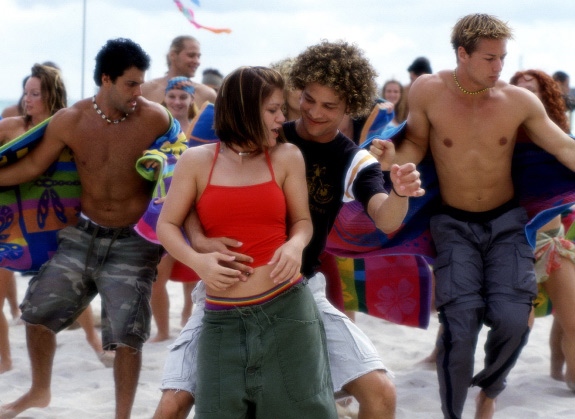 Boom. These pictures were a metaphor. And all basically the same bullshit beach.
Big cash cow organization makes a movie, and I am left wondering a few things.
1) Why the fuck did they not cast more members of the final six/eight. I know they have them all under contract, they signed most of them to deals and forced them to go on tour. They'd do anything to get their names out. Why cast even less well known people to star in the other roles. It'd make sense if they threw in a Matt Damon or someone real somehow, but this is just two formerly unknowns getting to sing and dance with a bunch of extras. That is it. How lame.
2) Half of these songs are not unique in anyway. The CD for the film didn't even end up getting released, due to the large mass of boos and poor numbers. The only reason we know about some of them (because no one saw the movie) was their appearance on Clarkson fan sites and the main song, Timeless, appearing on Guarini's first (and only?) album. Despite that, no one wants to hear a cover of That's The Way (I Like It). No one. No one ever really wants to hear the real version either.
3) Where the fuck is my Ruben Studdard and Clay Aiken movie? They could have turned them into buddy cops who brought the southern soul to the streets of Memphis, or something. Fuck. I wish there was a movie for every season, especially because I'd watch them all.
The dancing was bad, the music was bad, the plot was pointless as fuck. The hate was well deserved, and we all knew it from the start. Time to go back to judging books by their covers.
1 out of 4.