Another movie where the subject and plot are all summed up with a verb. "What's the movie about?" Fighting. "Well what happens in it?" Fighting. "Is it any good?" Fighting.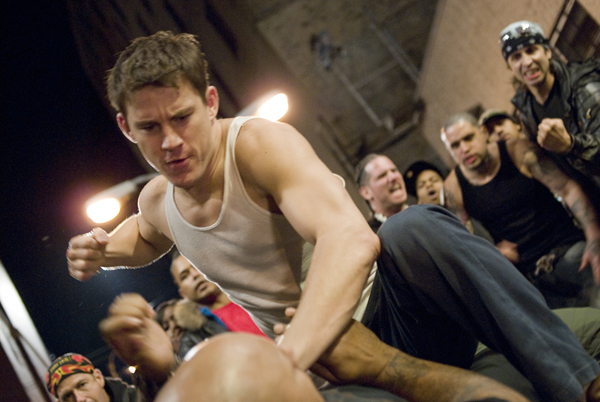 Fighting.
In this movie, Channing Tatum plays a, you guessed it, con-man. He sells some counterfit items on the street for quick bucks, hoping to scam people and quickly leave. He quickly gets in a scrum with some guys, after Zulay Henao realizes that the Harry Potter book is no where close to being legit. Terrence Howard sees this and eventually finds Tatum and gives him a proposition.
Fighting? For money? Sure! In fact he even used to pseudo-box for a college team, meaning he knows his way around a fight. Double win!
This is bare knuckled, illegal fighting stuff going on, where people can bet a lot of money on the outcome. Also means it is very dangerous with little to no rules involved. Shit. Tatum is living the big life, and winning against all odds. This makes Luis Guzman and other investors pleased. They do what anyone would do in that situation.
Set up a fight between him and Brian White, another legitimate boxer from the same college as Tatum. And they want Tatum to lose the fight. If he wins, he gets $100,000, but if he loses, he will get a lot more from the bets of Terrence Howard and his associates. At the same time, Tatum has begun seeing Zulay, the single mother waitress, who might also have a thing going on with Howard.
Is she a cheating ho? Will he lose the fight for the monies, or win and make dangerous people mad at him? Fighting???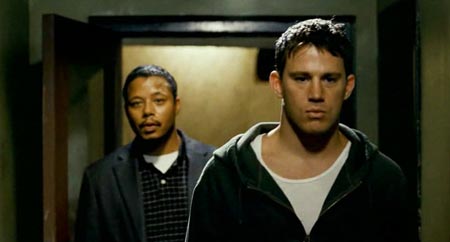 Fighting.
For a movie named Fighting, I thought there would be more of it going on. I think overall he is in four street fights, and not a single training/montage sequence. The first is quick, the second is weird, the third is verses an asian man, and the fourth the finale. Just seems like there isn't enough fighting in Fighting.
Terrence Howard also felt pretty bad to me in this movie. I feel as if his character mumbled the entire time, making it just annoying. He also was bad at being a "fighting pimp". Just none of it made any sense. Much like Tatum's relationship with Zulay (who is the character name and actress name. How weird!).
Obviously none of the characters really had any growth or development, so I guess the only saving grace is: Was the fighting decent?
Yeah. It was okay. But okay fighting in a movie called Fighting is probably a fail.
1 out of 4.