Okay, so. Listen up. Emma is a book made by Jane Austen. It is likely not one of her most famous books, because it doesn't feature alliteration in the title and is only one word.
Emma. with a period is a movie version of that book, of which we have already had movie versions, just not in a while.
One of the last times this was done as a movie was, of course, the movie Clueless! Oh you didn't know it was based on Emma? Most people didn't. I technically did not. I knew it was based on something but I kept forgetting what book that was. I read that fact several times, and you know what? In one ear and out the other.
But hey, now I saw a movie called Emma. so I can finally remember the Clueless fact.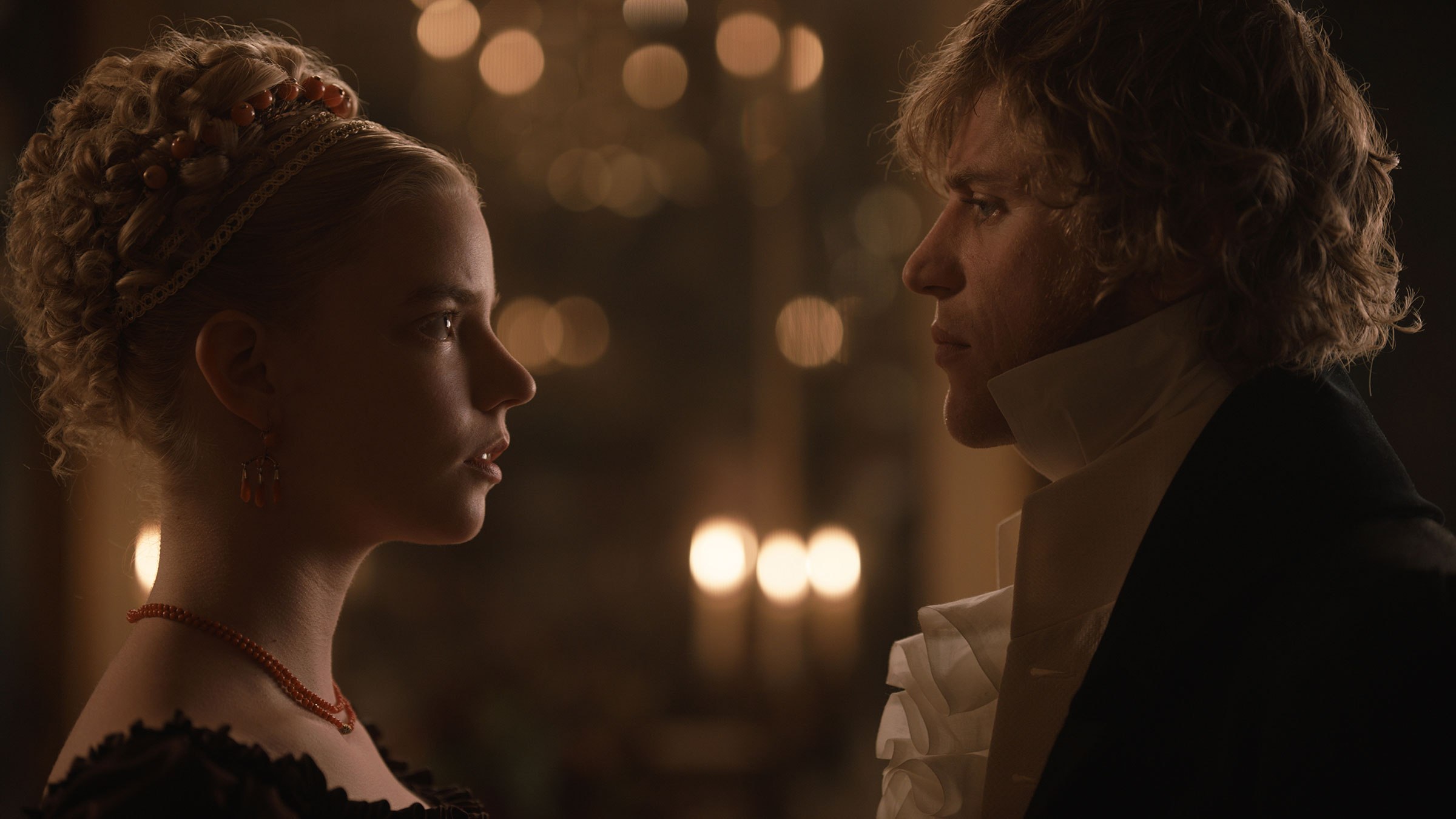 Bold move to get an Ed Sheeran looking guy for the lead.
Emma (
Anna Taylor-Joy
) is a woman with a lot of time on her hands. Tons. She has no schooling to keep her busy, she has not siblings in her home. She lives in it alone with her older father (
Bill Nighy
) who doesn't really want her to leave. He views the marriage of his eldest daughter as a mistake, and their house is empty without her now, so he is fine with Emma just staying around, not looking for a husband.
Emma doesn't have time for a man right now. She is rich, so she has very few people who could really help her station in life, so she makes her own fun. For example, she really likes to play match maker with people in the village. She really feels like she knows these villagers, poor and rich, and can find those star crossed lovers who would never have met without her help.
Her current plan? To match her friend, Harriet (Mia Goth) with the big eared but sort of cute priest (Josh O'Connor) in town. Her neighbor, a George Knightley (Johnny Flynn) thinks that Harriet should marry a local and honest farmer instead, so they both attempt to lure her in various directions, regardless of her own thoughts on the matter.
As for Emma? She might find love some day. Maybe Frank Churchill (Callum Turner) someone who is actually more wealthy and mysterious, who continuously does not visit their town because he is often "busy." Yes, she should focus on him and no one else. That is the best bet.
Also starring Myra McFadyen, Rupert Graves, Gemma Whelan, Amber Anderson, Miranda Hart, Tanya Reynolds, Isis Hainsworth, Vanessa M. Owen, and Suzy Bloom.
Mmmmmmmmmmmmmmmmm. Drama food.
If you don't think you would like this movie, just go ahead and ask yourself if you like'd Clueless. If you did, you might enjoy watching this movie just to compare it to Clueless to see how Clueless handled this old book. That is fun by itself.
Another pro for this movie is the colors and costumes. It is draped in decadence for the time period. The costumes pop, the outfits are awesome, and it makes me want to go to a Victorian era ball again in my life.
Music was also a strange highlight that I didn't expect. They use very time appropriate music as the backdrop, much like a modern film might. As a scene transition. And yet it feels so strange, just having it going on in the back like it is a pop song that helps with a scene transition. It fascinated me, and I thought for sure, eventually, they'd show that church choir or whatever belting out these tunes, and they never appeared. It was a weird feeling, but a weird feeling I enjoyed.
The story itself doesn't feel like it has the biggest amount of structure beneath it. It is obviously not a new story, given its old source, so that is one big reason why it will feel outdated. However, even taking that into context, the love story isn't the strongest love story and a story that is a bit of a downer. I didn't believe their love enough. Needed more time to grow it.
Hope they don't get divorced a year after marriage. Anyways, now I am going to rewatch Clueless.
3 out of 4.