December 22, 2015
Don Verdean
Nacho Libre. Napoleon Dynamite. Gentlemen Broncos.
Two of these films are well known. Both of them are universally hated or loved, with barely any room for middle ground. And Gentlemen Broncos was unfortunately never widely known on the radar, despite it being the strongest movie of the three for me. I also hated Dynamite, and loved Libre.
Well, now Jared Hess the director is back after a six year directing absence. Don Verdean. Bringing back a few actors he directed in Broncos.
And honestly, this should be enough information to give it a shot regardless of what it is about. Just for the experience. Just for the really quotable lines.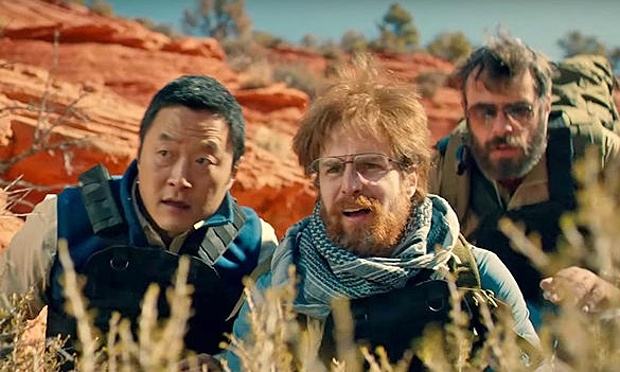 Surveillance does. I hate those
Don Verdean (Sam Rockwell) is a world famous Biblical archaeologist. He made his fame finding actual places and items from the Bible, helping Americans ignore faith and base their religion on facts! Like the scissors that cut Samson's hair!
I should have said "was" instead of "is" because times are hard now. He is mostly now just selling books and touring churches around the US, with his assistant Carol (Amy Ryan). That is until Tony Lazarus (Danny McBride) a pastor self proclaimed back from the dead, with his reformed stripper wife (Leslie Bibb), want to finance Don Verdean!
You see, they are losing followers and they need something big and splashy in order to get people back into the faith. So they will pay for his next expedition, the wife of Lot! But that is just the tip of the ice berg.
Either way, Verdean has the right frame of mind. He wants to help people, even if it involves lying. Then he gets too involved in his lies, and one of his Israeli workers (Jemaine Clement) finds out the truth, extorting Verdean. At the same time, a local priest, who used to be a Satanist (Will Forte) and his scientist friend (Sky Elobar) don't believe any of it. They want to prove he is a faker.
Also featuring Steve Park as a rich Chinese Christian man who also wants to get in on the action.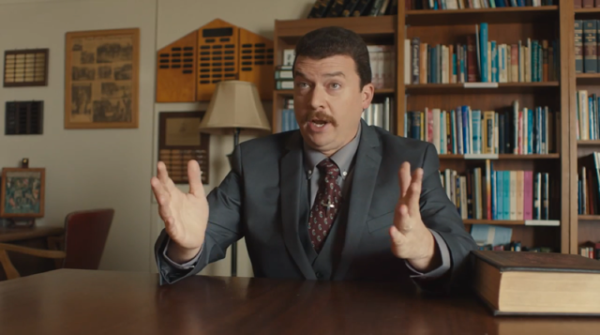 McBride seen here is of course discussing the size of Goliath's dick.
This is the type of movie where you should know exactly what you are going to get. If you saw any of the last three, it is very similar in terms of exaggerated characters and ridiculous lines. And for the most part, I loved it.
I was cackling to myself as I watched it, both due to the "clever" lines and the "clever" situations. Just seeing McBride as a pastor makes me laugh, because the casting choice is that brilliant. I was surprised by Ryan's character, because she did the timid/obedient Christian thing very well, and honestly, she rarely has big roles in what she works.
Clement made me laugh the most. It might be the first time a New Zealander has played an Israeli, taking his already strong accent and morphing it into an even stranger Israeli accent. It as so think, basically everything was comical. Rockwell did a fine job in the leading role, although I feel like his motivations were shaky throughout. I couldn't tell if he was intentionally lying every time or not.
My biggest gripe with the movie is unfortunately the ending. When things became more chaotic and things began to unravel, it just didn't feel like the same movie. It started to lose a bit of my interest and seemed to focus less on the funny characters and more on the "action." Quotes of course, because there isn't actually a lot of action, but it was still higher stakes and running and a couple of gun shots.
3 out of 4.