October 12, 2012
Damsels In Distress
Damsel in Distress? That is a pretty popular phrase. Probably considered a bit sexist now, since theres never a dame in distress, I guess.
Honestly, the main reason I watched this movie was because the cover was nice and pretty. I am sure the indie film will take all the support it can get, regardless of reasons.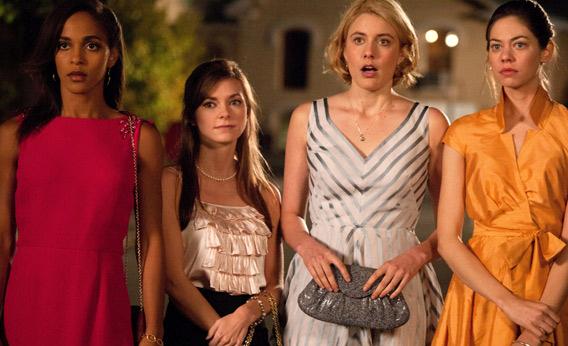 Hey I know…one of these people.
At some University, a prestigious one at that, there is a problem. Girls sometimes get depressed and kill themselves. Whether from break up or the large amounts of pressure placed on them, it apparently sucks more to be a woman. This happened enough that a group of girls took it on themselves to create a campus Suicide Watch Hotline. Lead by Violet (Greta Gerwin) and helped by her two eager friends, Heather (Carrie MacLemore) and Rose (Megalyn Echikunwoke).
What they tend to do is take a troubled person and introduce them to tap dancing, giving them an outlet to focus their energy and time on and gain a unique skill. And donuts. Interesting approach indeed. A transfer student, Lily (Analeigh Tipton) is invited to join their group and become what they feel are the social elite in their mannerisms, but in reality most people don't like them because they are rude and pompous.
The story of the movie is basically a year in their lives of college, their dealings with tap dancing and the local news papers manager (Zach Woods), their relationships with men (Ryan Metcaf, Hugo Becker, Adam Brody), and their own potential fall into depression.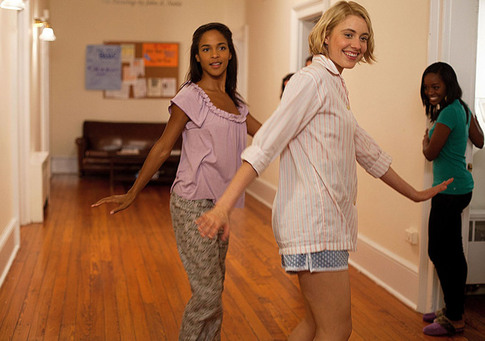 That's right. Just a simple tappa-tappa-tappa can heal all your woes!
Oh hey look, its Greta Gerwig, who I think I have in at least three reviews by now. She keeps popping up in these either indie or weird movies, must be what she likes (or is all she can get, one or the other). I can say I have liked her the most in this compared to her previous roles. She takes full command of this character and you will always go straight to her, possibly just because of the intense melodramaticness of it all.
But who cares if one actress did better than her other roles you probably didn't see her in? Hows the dang movie? Well the movie? It is weird, just not the same weird that I normally put to movies I like. I have a theory. Aliens. That must be it. I just don't know how a group can consider themselves so elite, and do such elite things, while being as hypocritical as they end up being. It is just so odd to watch, and figure out what the heck is the point of the movie.
But with that, I give you an average review. I mean, I don't think it was bad. It might have been good? But I might have to see it again. In like a year, yeah, then I can go back to it and remember nothing and try it again. Because right now I kind of have no idea really what the heck it was all about.
2 out of 4.