February 5, 2015
Citizenfour
If you are just catching up, I am attempting to hit all the documentaries nominated for the Oscars. Something I have never really attempted before (and still haven't done for any year). Last week I did Virunga, courtesy of Netflix.
Today I review Citizenfour, courtesy of the NSA. This is not to be confused with Citizen Koch, also from 2014, which was too muddled to make a good point.
No, this one is about a different man who has affected the world, Edward Snowden. More importantly, it is about him BEFORE and after he affected the world. If you can't remember, Edward Snowden is the whistle blower who gave out tons of information of illegal activity that the NSA was doing, namely spying on its own citizens.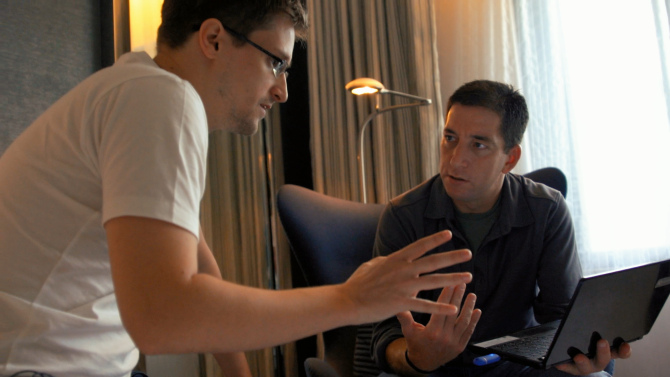 Whereas documentaries spy on people with their knowledge.
How did it get the information before? Well, Snowden realized this was a big deal, so he contacted Glenn Greenwald through encrypted means. He wanted to give him information. He also knew this information was so important, that they began filming the decision in Hong Kong, before the information officially became leaked.
So what does this documentary offer? Watching a man make one of the biggest life changing decisions of his life. You also get to see how much effort went in to protecting him and the journalists involved. How much time was spent being paranoid (for good reasons) and time to make sure their routes to the airport, to embassies, and all would not end with him getting put in jail.
It was pretty intense. And in fact, at times it felt a lot like a thriller. Which is pretty amazing for a documentary.
Like him or hate him (you SHOULD like him, by the way), Snowden was one of the biggest news stories over the last year, and did a lot to help world see what kind of fucked up things our government was doing.
Basically, he is basically a tech-Jesus. And this is the story of how it all went down, along with other information that you might not know about some of the shit the government did. Very informative, very intense.
4 out of 4.